(Treynor) -- Treynor's senior class has taken trips to Cedar Rapids and Des Moines already this year. Now, they can add a stay in Fort Dodge.
After several near-misses in recent years - following a state runner-up finish in 2013 - the 3A No. 7 Cardinals (30-3) clinched their fifth state tournament in school history with a 5-3 win over an unranked but game Southeast Valley bunch.
"It's really hard to put into words," Coach Kara Huisman said. "You leave your house and you think about you're going to state or your season is over. And the seven seniors - and when you have your daughter on the team - you just really hope things go your way."
For the most part, things did seem to go the way of the Cardinals, who had some fortuitous bounces and plays go for and against them at different points during a unique game.
In the first inning, Konnor Sudmann reached on a bunt single, stole second and then came in to score on a throwing error by the Jaguars (23-15), which won a road game over Carroll and a neutral site battle with Kuemper Catholic to reach the final.
The Cardinals held the 1-0 advantage until the third when Sudmann and company went to work again. The senior reached on a one-out bunt single, advanced to third on an Alyssa Kellar single and then was out at the plate on a safety squeeze bunt attempt by Stella Umphreys. However, Umphreys sped into second and beat the throw, allowing Kellar to come all the way around for the 2-0 advantage.
Generally, two runs might be enough for Treynor senior pitcher Sydni Huisman. However, Southeast Valley had an answer in the top half of the fifth, getting a two-out, two-run double by Chloe Hicks to tie the game. Hicks - the No. 9 hitter for the Jags - collected just her fourth hit, her first extra-base hit and her second and third RBI of the year.
"(Sydni) got a little out of rhythm in the middle of the game," Coach Huisman noted. "I think she tried to be a little bit too perfect. We told her to stop trying to be so perfect and to just play."
The Cardinals offense answered back themselves in the bottom of the inning. Sudmann, again, reached on an infield single, and Kellar followed with a single of her own. With runners on second and third, Umphreys grounded to third, and Sudmann was again thrown out at the plate. After an intentional walk to Sydni Huisman, Bella Dingus was hit by the first pitch of her plate appearance to give Treynor the lead right back.
"With Sydni being walked, I had a lot of confidence in the box," Dingus said. "I was hitting the ball hard recently, so I had a lot of confidence. But an RBI is an RBI."
Reagan Darrah followed with perhaps the biggest hit of the night, grounding a 1-2 pitch up the middle for a two-out, two-run hit to put the Cardinals on top by three runs.
"I just knew I had to get the ball on the ground, get a base hit and (extend the lead)," Darrah said. 
"I thought we battled really well after they tied it," Coach Huisman said. "Reagan Darrah's hit was key. I had a really good feeling about her at bat. She's come up big for us with two outs this year."
Southeast Valley added a run in the sixth, and they had the tying run at the plate in the seventh; but Huisman picked up her eighth strikeout of the game to send Treynor back to the state softball tournament.
"Ever since fifth and sixth grade, (state) is something I've been thinking about," Sydni Huisman said. "That was just kind of the tradition. I just thought, we're going to come here, and I'm going to do this. It's been a long time coming."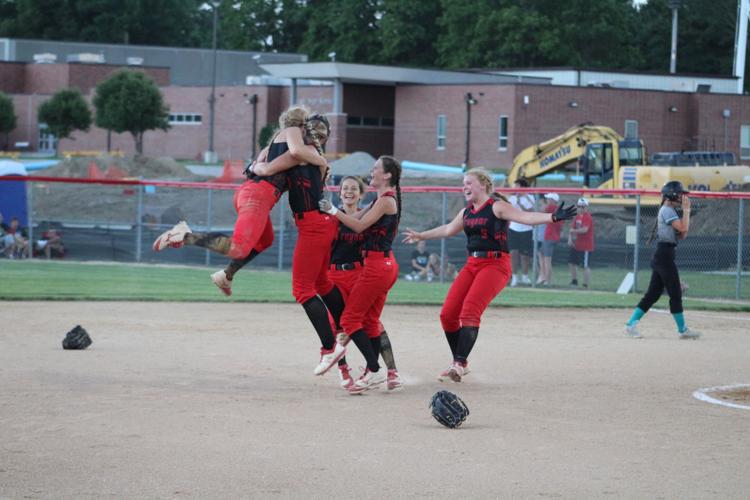 Huisman retired the first nine batters she faced, including a stretch of three straight strikeouts between the second and third innings. She added a combined four strikeouts looking in the fourth, fifth and sixth frames before one final K in the seventh.
"They didn't hit me as much at the beginning," Huisman added, "but they started getting time on me.  I just focused on hitting my spots and just keeping them on their toes. Ending it on a strikeout is what every pitcher hopes for."
Sudmann led the offense with three hits and her 39th and 40th stolen bases of the season. The standout basketball star and Briar Cliff recruit is in the midst of her first softball season since seventh grade, leading the team in hitting and playing everyday shortstop. A trip to Fort Dodge is exactly what she envisioned when making the decision to play in her senior season.
"I was like, what the heck," Sudmann said. "Sydni is my best friend, so I wanted to go out and help get her to state softball in her senior year."
Kellar added two hits, two runs scored and a stolen base while Dingus and Darrah also hit safely for the Cardinals. Umphreys and courtesy runner Alexis Kellar added one run scored each.
The Cardinals earned the No. 6 seed in the 3A state field and will meet No. 3 West Liberty next Tuesday, July 23rd at 11:30 AM. Many members of this year's softball qualifier also played key roles for the state volleyball participant and the state basketball champion. 
"I'm excited for them to have an opportunity to play in some more big games," Coach Huisman said. "The state softball tournament has a different feel to it. I'm really excited for them to experience the atmosphere and to go give it a run."
Hear the Cardinals in action at the state softball tournament on KMA Radio. Listen to the complete interview with Coach Huisman, Sydni Huisman, Sudmann, Darrah and Dingus below.