(Atlantic) -- The Clarinda tennis team continued their fantastic season on Friday in Atlantic, scoring 21 points to win a district championship and advancing a doubles team to the state tournament.
The Cardinals will send the unique doubles duo of Brady Williams and Alex Best, who differentiate in height by about 14 inches.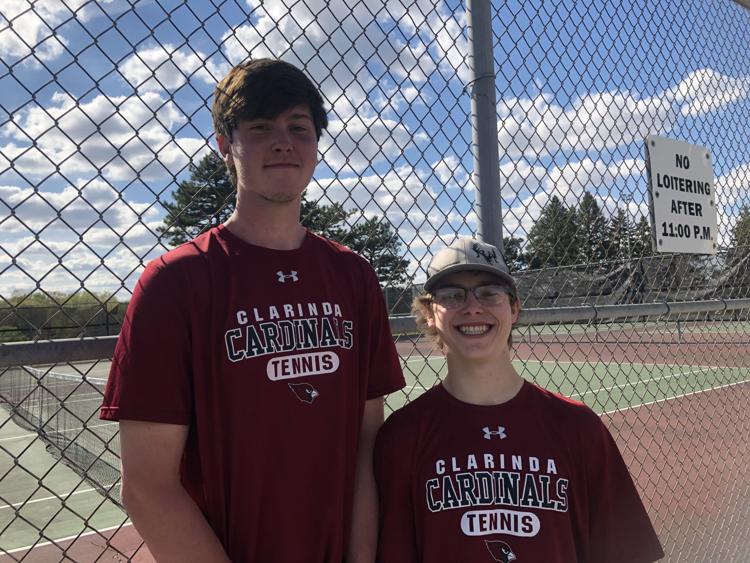 Best (at 6-foot-6) and Williams (at 5-foot-4) were seeded second to start the day and handled business in their opening round, taking a 6-3, 6-0 victory. Later, they advanced to the semifinals with a 6-3, 6-2 win and secured their spot in state with a 6-3, 6-4 semifinal triumph over a Norwalk pair.
The Clarinda duo lost in the doubles championship to AJ Clarkwilt and Drew Hall of Norwalk (6-3, 6-3). 
In singles action, Atlantic took the top two spots with Nile Petersen securing a second straight trip to the state meet with a 6-0, 6-0 win in the final over teammate Grant Sturm.
The unseeded Sturm had a Cinderella run through the bracket with a 6-1, 6-2 win over Tyler Courtier, an upset of second-seeded Adam Harris of Southwest Valley (1-6, 7-5, 6-5) and a marathon 6-1, 1-6, 7-5 win over No. 3 seeded JD Hitt in the semifinals to earn his trip to state.
Hitt and teammate Kory Rogers placed third and fourth in the singles bracket to clinch the district championship and a spot in next Saturday's substate final. Atlantic had 20 points in second and Norwalk was third with 18. The Trojans will host Norwalk in a preliminary substate dual Saturday morning.
View a full video interview with Williams and Best below. Full results are also embedded below the video.