(KMAland) -- The KMA Sports All-Decade Series continues with a look at the wonderful world of Ar-We-Va – Arcadia, Westside and Vail.
Real quick, my wife and I really had our kind of first date at Homer's Bar and Grill in Vail. It was more of like a "meet up" than a date, but she fell for my charm instantly and we will always have Homer's to thank for that. So yeah, I have a little special place in my heart for the Rockets, especially those that hail from Vail (poetry, my friends). Anyway…
THE AR-WE-VA FILE
There were nine state qualifications for Ar-We-Va during the decade, spanning 2010 through 2019. It started with an unexpected state baseball trip in 2010 and continued with girl's state tournament appearances in 2011, 2012 and 2013 and state football appearances in 2011, 2014, 2015, 2016 and 2018. They also had spurts of major success in volleyball and boys basketball and were decent at some points in softball.
Here's a quick look at each of "The Big Six" sports:
VOLLEYBALL – Record: 149-98. They were 23-9, 22-9 and 24-11 in 2010, 2011 and 2012 and had five other winning records. That's right, there was just one year during the decade where they were not above .500.
FOOTBALL – Record: 49-41. It's crazy to see the growth of this program through the decade, bottoming out at 1-8 in 2013 and then quickly rising to 5-5, 8-3, 8-3, 7-3 and 10-1 marks. Put another way, they were 15 games below .500 the first four years of the decade and then 23 games above the next five years. They never did make it to the UNI-Dome, but they sure did accomplish a lot.
GIRLS BASKETBALL – Record: 147-95. The Rockets were dominant for the first seasons of the decade, posting a record 82 games above .500 and going to the aforementioned state tournament in three of those years.
BOYS BASKETBALL – Record: 168-54. Man, they had some TEAMS. If boy's basketball districts/regions were constructed the way girl's basketball was/is they would definitely have some that played in Des Moines. Alas, they had some pretty tough teams they ran into in district play. The record the last six years is a combined 129-12. Yeesh.
SOFTBALL – Record: 74-129. The softball program had a 16-9 and 12-8 record in the middle of the decade, but they've struggled a bit since. They're currently 4-7.
BASEBALL – Record: 115-93. Interestingly enough, the 2010 team that went to the state tournament got hot at the right time and went just 13-14 for the year. They've had six winning seasons since then and are currently 5-4.
They've also had at least five medalists – Drew Schurke (1), Keegan Simons (3) and Leslie Luft (1) collecting those – at state track.
On with the athletes that were included in yesterday's Athlete of the Decade poll:
Emilee Danner, Class of 2019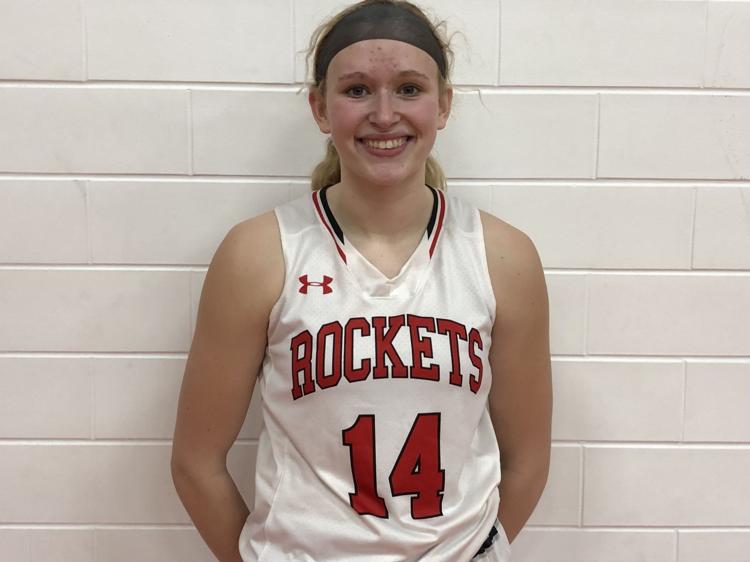 Danner's exploits and list of accolades are a long one. She was a dominant, dominant athlete with over 1,000 career points in basketball, did anything and everything in volleyball and was a terrific softball player when she played it. Frankly, her success may have been a bit overshadowed since the teams she played for struggled at times.
Jake Danner, Class of 2017
The all-time leader in 8-man history in career passing yards, and it really isn't that close. He threw for 7,536 yards to surpass East Mills' Luke Schafer (6,538 yards). He also has the record for most career completions and ranks fourth in career passing + rushing yardage and eighth in career touchdown passes. He also scored over 700 points in basketball and hit .453 in his senior baseball season.
Paige Danner, Class of 2014
The eldest Danner and the one that set the tone for the family. She scored over 500 points in her senior season, averaging 22.0 while shooting 45.1 percent from the field. Her final career numbers: 1,565 points, 298 assists, 415 steals and 344 rebounds. Oh – and she was a solid hitter and setter in volleyball and hit between .303 and .453 in her final four years of softball.
Megan Ehlers, Class of 2013
Ehlers was an outstanding setter for some solid volleyball teams, finishing her career with over 1,900 assists. She also hit .333 as a sophomore and .454 with a .758 slugging percentage in softball during her senior summer. She led the 2012-13 state basketball team in assists (78) and steals (101).
Melissa Greve, Class of 2011
Greve was a solid hitter and blocker for Ar-We-Va's best volleyball teams in the decade, and the leading scorer for the Rockets in her junior and senior basketball seasons. That senior season proved to be the beginning of their back-to-back-to-back trips to the state tournament.
Amy Hinners, Class of 2013
Hinners averaged over nine points and led the 2013 state runner-up in rebounds. She also had a team-high 256 kills in her senior volleyball season, and hit .314, .325, .354 and .391 in her final four softball seasons.
Alex Kock, Class of 2017
You know the Danners and the Schurkes from the vaunted Class of 2017, but Kock was an absolute monster as well. In his senior season, for instance, he had 111 tackles, including 14 solos for loss and seven solo sacks. He ended his career with 231 total tackles and 33 solo tackles for loss. He was also a valued member of their record-setting passing attack, had 617 points and 580 rebounds for his basketball career and hit .400 or better in his final three baseball summers.
Dani Kock, Class of 2012
Kock was a double-double machine in basketball, finishing her career with 972 points and 846 rebounds. She also had 448 kills and 274 blocks in her volleyball career.
Zack Kraus, Class of 2017
Another Class of 2017 member that deserves big kudos, Kraus was another receiving weapon for Danner and a key defensive player for the successful Rockets turnaround. He led the team in tackles his sophomore season, had 69 receptions in his final three football seasons and was first on the team with eight solo sacks in his senior year. He had over 200 points in his sophomore, junior and senior basketball seasons and hit better than .370 in each of his last two baseball seasons.
Derek Schurke, Class of 2017
Hope you're not tired of the Class of 2017. Schurke is one of 14 8-player athletes ever to score more than 90 touchdowns, ranks fifth in career receiving touchdowns (45) and is the all-time leader in receptions (283) by 92(!) and has more receiving yards than anyone in 8-player history (3,645). In basketball, he had 1,232 points, 296 assists and 188 steals for his career, and in baseball he hit .468, .500 and .441 in his final three years.
Drew Schurke, Class of 2019
Schurke finished out his track career with his first state medal earlier this spring, and he's currently in the midst of a baseball season that has him hitting .526. That's after a .456, .468 and .358 average the previous three seasons. Of course, he was also a record-setting receiver/kicker, finishing with 642 total points scored (10th all-time), 39 touchdown receptions (8th), 177 total receptions (3rd), 2,581 receiving yards (6th), 140 made PATs (6th) and 12 field goals (4th). His basketball totals: 1,259 points, 379 assists and 192 steals.
Keegan Simons, Class of 2019
Simons is a three-time state track medalist in the high jump, an outstanding quarterback with 3,442 career passing yards and 46 touchdowns and a ridiculous basketball star that had 460 points, 311 points and 31 blocks in his senior year. That was preceded by a 325-point, 272-rebound, 22-block junior season. Just monster numbers. And yes, he's good at baseball, too. He is currently hitting .400 with 10 steals after hitting .346 last year and .379 the year before that.
Austin Stoelk, Class of 2015
Interestingly enough, he has played with and coached many of the names on this list. Stoelk – the current baseball coach – hit .417/.493/.550 in his senior baseball season and also had a .311/.391/.459 line as a sophomore. Basketball may have been his best sport, though, as he led the Rockets in scoring all four years of high school and in rebounding two of those four years. His totals – 1,336 points and 659 rebounds. In football, he shifted from quarterback early in his career to receiver late, finishing with 34 receptions and 511 yards in his senior season.
WHO DID I MISS?
Phew. That's some list. A lot of accolades and achievements involved in this, which is what you would expect from a school that had nine state appearances during the decade. Some other names that I wrote down:
-Morgan Roecker (Class of 2012): She led two very good Ar-We-Va volleyball teams in hitting in her last two years and averaged 11.2 points per game in basketball in her senior season.
-Jessica Hausman (Class of 2013): Another volleyball standout that averaged 2.52 kills per set as a senior and hit .420 in softball later that same year.
-Kyrsten Lampman (Class of 2015): She hit .415/.457/.569 in her junior softball season and averaged double digits in her junior and senior years of basketball.
-Blake Liechti (Class of 2012): A very, very good baseball player that hit .400/.596/.450 in his senior year.
-Neil Liechti & Jeremy Ehlers (Class of 2010): Their basketball, track and baseball seasons are the only seasons in the books for this decade. They were best known for leading the Rockets to the state tournament. Liechti hit .453/.534/.653 and Ehlers was at .417/.500/.560. Other seniors like Ryan Schurke, Matt Dalton and Derrick Cornelius were important pieces of that state team.
YOUR PICK
Well, it's a really tight one, but as of this very moment, Drew Schurke is the choice. Drew had a monster senior season that also included a trip to the state golf tournament (with Carroll). His classmate Keegan Simons is second while Paige Danner, Derek Schurke, Amy Hinners and Emilee Danner are also generating some love.
MY PICK
Drew Schurke is a great pick, and I wouldn't have any problem making the same one. As I was going through this, he was definitely one on the top of my mind along with all the Danners and his brother Derek. You can't leave out Simons, either, considering his final two years rival any other two years anybody else can put together. So…I'll ride the fence here and say – I'm fine with any of the Danners or Schurkes or a Simons. What wonderful careers.
WHO'S UP NEXT?
Atlantic, get your votes ready. You're next later this afternoon. The Ar-We-Va poll linked here will be up until tomorrow morning.
Send any questions, comments and/or concerns to dmartin@kmaland.com.