(KMAland) -- The Fall Sports Preview extravaganza continues today with a look at Class 8-Man District 8.
FALL PREVIEW LINKS 
FOOTBALL: Class 8-Man District 7
FOOTBALL: Class A District 10
FOOTBALL: Class 1A District 9
FOOTBALL: Class 2A District 9
FOOTBALL: Class 3A District 9
FOOTBALL: Class 4A District 7
VOLLEYBALL: Hawkeye Ten Conference
VOLLEYBALL: Western Iowa Conference
VOLLEYBALL: Corner Conference
VOLLEYBALL: Pride of Iowa Conference
---
MARTIN BLOG FALL PREVIEW NO. 11 -- CLASS 8-MAN DISTRICT 8
 Audubon Wheelers — 2018 Record: 6-3 overall, 5-2 district
Coach: Sean Birks
OVERVIEW: Audubon had another fine season last year, rebounding from a pair of early season, tight losses to a pair of eventual quarterfinalists to win five of their final six. It's that sixth that likely still has a sour taste in the mouths of the Wheelers, which lost just three seniors and returns plenty of production.
OFFENSE: Senior Skyler Schultes was one of the best dual-threat quarterbacks in 8-man last year, throwing for 954, rushing for 1,136 and accounting for 40(!) total offensive touchdowns in nine games. Fellow senior Kaiden Smith had 572 yards and 12 touchdowns on the ground and finished with 229 and three through the air. Juniors Ethan Klocke and Joel Klocke combined on 34 receptions for 560 yards and eight touchdowns. The crazy thing is that the Audubon offense could be even more multi-faceted if sophomore Gavin Smith takes over at quarterback, and sophomore Braden Wessel and senior Jackson Jensen emerge as even bigger threats this year. That gives you a lot to prepare for, huh?
DEFENSE: They do lose their top tackler and two of their top four in that category, but these guys are pretty loaded, too. Smith (56.5 tackles, 4 TFL, 2 sacks, 4 INT) and senior Luke Mosinski (51 tackles, 14 TFL, 4.5 sacks) had huge years. The Klockes had 37 (Ethan) and 27 (Joel) tackles and both intercepted two passes. Jensen (28 tackles), senior Marcus Olsen (28.5 tackles, 4 INT), Smith (11 tackles) and seniors Eric Hermansen (11 tackles, 2.5 TFL) and Tanner Petersen (10 tackles, 1 TFL) are also back.
CONCLUSION: There is a lot of elite talent and production on this roster - offense and defense. Even their kicker (Jensen) and punter (Schultes) are back in the fold. Like last year, they're going to find out a lot about themselves very early with matchups against East Mills, Remsen, St. Mary's, Fremont-Mills and Exira/EHK by the end of week three.
Boyer Valley Bulldogs — 2018 Record: 1-8 overall, 1-6 district
Coach: Cody Malone
OVERVIEW: The Bulldogs scored at least 26 points in nearly half of their games last year, but they just couldn't keep the other teams off the board. This is a wild, declarative statement, but this may have been the best 1-8 team in the state. Nine seniors are gone, but there's plenty of returning production in this year's senior group.
OFFENSE: Part-time quarterback and current junior Gavin Reineke threw for 531 yards and four touchdowns las t season, leaning on seniors Dylan Berens (34 receptions, 359 yards, 4 TD), Lucas Berens (14 for 151) and Hunter Soma (27 for 188, TD), who also had a team-high 477 rushing yards and seven touchdowns. Junior Jesse Soma (11 receptions, 94 yards) and sophomore Jaidan TenEyck (5 receptions, 65 yards & 96 rushing yards on 9 carries) are also worth watching this season.
DEFENSE: It's a lot of the same on this side of the ball, except leading tackler Tyler Brummer has graduated. Jesse Soma had 48 tackles, and Dylan Berens added 44.5 tackles with a pair of tackles for loss. Hunter Soma (35 tackles, 2.5 TFL), junior Michael Heffernan (23.5 tackles, 3 TFL), TenEyck (18 tackles, TFL) and Lucas Berens (12.5 tackles, 1 TFL) are others that were key contributors last season.
CONCLUSION: A year older, wiser and potentially better means Boyer Valley may not have the best 1-8 team distinction any longer. They've got a bunch of weapons they can use on offense and plenty of the same dudes (and more) returning on defense. I'd be shocked if they're not improved.
CAM, Anita Cougars — 2018 Record: 6-3 overall, 4-3 district
Coach: Joe Wollum
OVERVIEW: There were some pretty big names in an eight-person senior class last year when the Cougars had such wins as Stanton, Coon Rapids-Bayard and Audubon. They finished the season on a three-game win streak, and even though they are a different team this year, that's a real nice boost heading into 2019.
OFFENSE: When it comes to offensive production, there are really only two key players returning. Quarterback and senior Nate Hensley threw for 1,328 yards and 12 touchdowns while sophomore Lane Spieker had 157 yards on the ground. Their top three rushers and top four receivers are gone. However, there are some younger kids with some familiar last names that got time on D a year ago. I'm guessing their time to shine on the O is coming this year.
DEFENSE: Sophomore Cade Ticknor had a heck of a year last season, finishing the season with 35 solos, 45 total tackles and three tackles for loss. He's the top returning defender. Meanwhile, junior Ethan Arp (31.5 tackles, 2 TFL, 1 sack) and senior Ethan Steffensen (30 tackles, 7 TFL, 3 sacks) were also outstanding. Sophomore Colby Rich (7 TFL, 5 sacks) and senior Ben Tibken (8 & 3) combined on 15 TFLs and eight sacks, and sophomores Joe Kauffman (20.5 tackles, 2 TFL) and Spieker (16 tackles) and junior Connor McKee (12 tackles) were also contributors last year.
CONCLUSION: They have a lot more than you might have thought after losing a really strong senior class. There are plenty of multi-sport athletes that have had success in other sports or have pedigrees. Oh, and they do have the second-longest win streak in the district. Watch out for the Cougars.
Coon Rapids-Bayard Crusaders — 2018 Record: 4-5 overall, 3-4 district
Coach: Chris Mohr
OVERVIEW: They only had four seniors last year, and with potentially nine seniors on this roster you have to think this is a year they've been pointing to. Last year's group had two of their five losses come to the final possession, but they couldn't quite keep up with Audubon, CAM or Exira/EHK.
OFFENSE: The standout rushing duo of Jeffrey Eagle and Peyton Clipperton are back for their senior seasons. Clipperton had 831 yards and 13 touchdowns while also passing for 414 and seven scores. Eagle, meanwhile, went for 1,139 yards and 20 touchdowns on the ground. They also have the returning help of seniors Jacob Hoffman (179 rushing, 2 TD), Jalen Rosenbeck (107 rushing, 3 TD) and Blaine Dudley (139 receiving, 3 TD). 
DEFENSE: On defense, they bring back seven of their top nine tacklers. Junior Kale Pevestorf had 49 tackles, five tackles for loss and three sacks, and classmate Aaron McAlister had 36 tackles, 5.5 TFLs, four sacks and four fumble recoveries. Eagle (33 tackles, 2 TFL, 1 sack), Hoffman (31.5 tackles) and Clipperton (27 tackles, 4 INT) are offensive standouts that also do big things on defense. And junior Josh Ramirez (29.5 tackles, 5.5 TFL, 2.5 sacks) was hugely successful as a sophomore. Sophomore Gabe Obert (23.5 tackles) and seniors Rosenbeck (11.5 tackles) and Dudley (10.5 tackles, 2 TFL) also had nice years in 2018.
CONCLUSION: I think they have the perfect formula - a terrific running game and what should be an ever-improving defense. They're jam-packed with plenty of talent and experience, and they proved how good they can be with some of their tight losses (one for instance came to Newell-Fonda). CRB is yet another major threat to win the district.
Exira/Elk Horn-Kimballton Spartans — 2018 Record: 9-2 overall, 6-1 district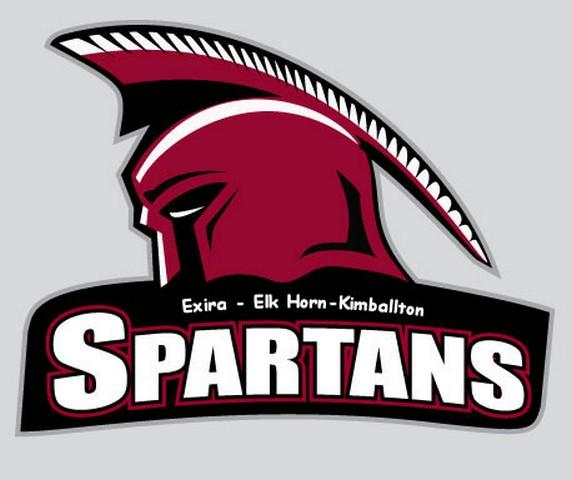 Coach: Tom Petersen
OVERVIEW: There were eight seniors last year, and they were absolutely outstanding. Some of the best to ever strap them up for the Spartans, and I believe three of them will play at the next level. They won their first six, lost tight to Woodbine, won three more and then got romped by a full-steam-ahead Fremont-Mills team with a chip on their shoulder in the quarters.
OFFENSE: There are 11 seniors this season and many of them reside on the lines, which bodes well for what Coach Tom Petersen likes to do. Quarterback Tyler Petersen played a bit as a sophomore, throwing for 573 yards and eight touchdowns. Senior Creighton Nelson figures to be a very large part of this year's offense after rushing for 81 and receiving for 51 last season. Look for guys like Wyatt Fahn, William Paulsen and David Nelson to potentially be some leaders up front.
DEFENSE: The defense lost its top two tacklers, but seniors Cade Bruns and Ethan Conroy had big junior seasons, too. Bruns had 54 total tackles and 1.5 tackles for loss while Conroy absolutely beat some offenses down with 53 total tackles, 12 total tackles for loss and six total sacks. Nelson (27 tackles, 3.5 TFL, 2 FR) and senior Ev Carroll (8.5 tackles) are a couple other important contributors to last year's D.
CONCLUSION: If you look at the pure production returning for the Spartans, you'd be hard-pressed to pick them over some of the other teams mentioned. However, we know better than that, right? Coach Tom Petersen's program very rarely has a down year, and I wouldn't expect one now.
Glidden-Ralston Wildcats — 2018 Record: 6-3 overall, 4-3 district
Coach: Kreg Lensch
OVERVIEW: Is everybody ready for the revived and revamped Glidden-Ralston? The Wildcats won five of their first six and lost two of their final three to finish with a great bounceback season. They had just four seniors last year of varying production levels, and they should have a nine-person class of seniors this year with some big goals on their mind.
OFFENSE: That starts with a dude at quarterback where senior Grant Borkowski had 1,516 yards passing and 23 touchdowns to go with 825 and six on the ground. He was just a complete star, and Coach Lensch let him do his thing. He also brings back his top four receivers, including junior Brigham Daniel (31 receptions, 666 yards, 7 TD) and senior Nathan Brant (27 receptions, 382 yards, 9 TD). Seniors Grant Fleecs (159 receiving, 2 TD) and Ian Schoenherr (140 receiving, 3 TD) are also back. Brant (314 yards, 6 TD) and Daniel (262 yards, 2 TD) even did a little work on the ground a year ago.
DEFENSE: The top six tacklers are back. Let's start again with Borkowski, who had 58.5 tackles to lead last year's team. Brant, meanwhile, had 54.5, including a team-high 44 solos and added 4.5 TFLs. Fleecs picked up 45.5 tackles and six TFLs while Daniel had 41 tackles and NINE picks. Borkowski had five interceptions of his own. Don't throw near those dudes. Seniors Luke Handlos (39.5 tackles, 9 TFL, 5.5 sacks), Mason Janssen (30 tackles, 3 TFL), Austin Snyder (19.5 tackles, 4.5 TFL) and Schoenherr (17 tackles) are also joined by junior Kyle Olberding (20.5 tackles, 2.5 TFL) on an absolutely stacked defense.
CONCLUSION: These guys are going to be good, right? I mean, really good. If Borkowski is even better this season it makes for a scary proposition for opponents. And then add in the fact the improvements a ballhawking defense likely will see, the Wildcats are going to definitely be in the mix in a loaded district. 
West Harrison Hawkeyes — 2018 Record: 0-9 overall, 0-7 district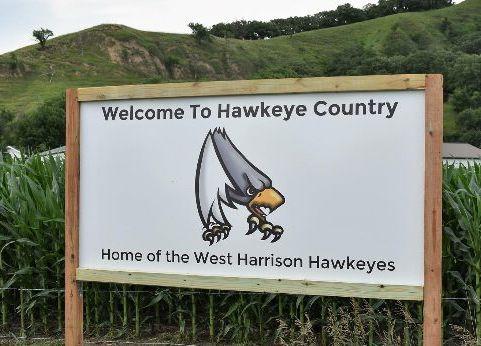 Coach: Andrew Stevenson
OVERVIEW: The Hawkeyes did not win last year, but when you're in this district there's not a ton of shame in that game. I mean, you want to win, but you also realize you're just playing an onslaught of great teams week to week. They lost just four seniors and bring back what could be a 10-person senior class this year.
OFFENSE: Senior quarterback Colby Neill threw for 1,168 yards and 12 touchdowns last year, and he will have two of his top receivers coming back to help him try to do it even better this year. Fellow seniors Nick Rife and Tyler Melby had 312 and 169 yards receiving, respectively. Rife added 93 yards rushing while senior Carter Nelson (73 receiving) and junior Grant Gilgen (71 receiving) are other returning offensive contributors. 
DEFENSE: Four of their top five tacklers from last year's team return to the fold this year. Rife was a stud on defense with 67 solos and 87 total tackles, including three for loss, and had a team-high four interceptions. Melby added 50 solos, 77 total tackles and five solo tackles for loss. Gilgen (34 tackles), senior Mason Sherer (33 tackles), Neill (17.5 tackles) and junior Bracken Pavlik (15.5 tackles) were joined by seniors Jeff Perry (13.5 tackles), Carter Nelson (12.5 tackles, 2 TFL, 2 sacks) and Cody Radil (11 tackles) in contributing on last year's D.
CONCLUSION: How crazy are you willing to get? This team went 0-9 last year, they returned many of the best pieces of the team and are still playing in one of the best districts in the state. They've got to feel pretty good about their returning roster, but this district is very unforgiving.
Woodbine Tigers — 2018 Record: 5-4 overall, 5-2 district 
Coach: Dustin Crook
OVERVIEW: What a breakout. Woodbine started last year 1-4, but there were some signs of some good things here and there. Then they finished the year on a four-game win streak with wins over CAM and Exira/EHK included in that. That's the longest win streak in 8-man KMAland.
OFFENSE: Wyatt Pryor is back for yet another year under center. The senior threw for 1,883 yards and 23 touchdowns and rushed for 462 and 10 more scores to lead the way. His younger brother and junior Layne Pryor added 56 receptions for 854 yards and eight touchdowns, and senior Brock Leaders pulled in 23 balls for 487 and nine touchdowns. Sophomore Dylan Hoefer (112 receiving, 2 TD) could also see a breakout this season. They did lose a 1,000-yard rusher in Tyler Coberly, so it will be interesting to see who steps up into that role. Some candidates: senior Jack Nelson and junior Caleb Wakehouse. 
DEFENSE: The younger Pryor had a team-high in solos (53), total tackles (82.5) and interceptions (3) last year. Hoefer was also a monster with 56.5 tackles, 12 solo tackles for loss and six solo sacks. Wyatt Pryor (44.5 tackles), Wakehouse (29.5 tackles), sophomore Cory Bantam (17 tackles) and Nelson (13.5 tackles) were also standouts on defense. 
CONCLUSION: This is going to be a good team. You know it, I know it and they certainly know it. I think they'll contend every Friday night, too, and they are on my short list of district champion contenders. Whomever does win this league is going to be pretty battle-tested.
---
PREDICTION 
How wild is this? One of these teams is going to finish sixth: Audubon, CAM, Coon Rapids-Bayard, Exira/EHK, Glidden-Ralston or Woodbine. That's insane to me. I actually think the league is even better this year than it was last year, and it was completely outstanding last year. 
The Pick: Audubon. The Wheelers are absolutely loaded, and it's likely they're going to be even tougher to defend this season. Speaking of defending, they should be really, really good there, too. They're just seemingly really good everywhere on the field.
Send any questions, comments and/or concerns to dmartin@kmaland.com.