(KMAland) -- It's high time we get rolling on some fall sports previews. And we begin with Class 8-Man District 7. With the changes that have been made, it's 19 days from opening night for all but one of these teams.
CLASS 8-MAN DISTRICT 7 
Bedford Bulldogs — Record: 3-6 overall, 3-4 district
Coaches: Matt Ambrose & Jeremy Nally
Overview: A senior class that could have at least 10 members in it leads the way here for the Bulldogs, which will be looking for a rebound year after a tough go at it last season. Seven seniors, though, have graduated so there is some replacing to do.
Offense: Quarterbacks/running backs/receivers and seniors Cooper Nally and Brennan Sefrit return to the fold, and that should help any and all matters. Nally threw for 477 yards and 10 touchdowns against just one pick last year. He also rushed for 278 yards and four scores. Sefrit was the top receiver (5 catches, 147 yards, 3 TD) while senior Jacob French had a team-high eight rushing touchdowns and junior Eli Morris topped the team with 362 yards.
Defense: Dylan Swaney looks to be the top returning guy on defense after ranking second on the team with 41.5 tackles last season. Senior Talon Riedel added 30.5 tackles, and Nally (23.5 tackles, 2 INT), Morris (20.5 tackles, 6.5 TFL, 4.5 sacks), French (20.5 tackles) and junior Jed Weaver (20.5 tackles). 
Expectations: The Bulldogs should feel pretty good about some of their returning pieces, and the fact that they could have as many as 10 seniors leading for them. There's not better time than now for that group to get the program back on track.
East Mills Wolverines — Record: 7-2 overall, 5-2 district  
Coaches: Claude Lang & Kevin Schafer
Overview: Last year's smallish senior class gives way to an even smaller senior group this year. However, these seniors - like last year's - are highly productive in terms of offensive production. There's a strong bang for their buck.
Offense: Senior Michael Schafer will be arguably the top returning quarterback in the district. We know, for sure, he is that in terms of passing production. Schafer slung it around 252 times last year for 2,003 yards and 28 touchdowns. He brings back his running back in junior Jackson Wray (410 yards, 4 TD) and his top receiver in senior Nic Duysen (56 receptions, 832 yards, 13 TD). That Schafer-Duysen combo will be tough to stop.
Defense: Duysen was a heat-seeking missile on the defensive side last year, too, finishing the season with a team-high 79.5 tackles to go with 21 total tackles for loss. They'll miss Trevor Glockel and Nate Richardson here, but watch for junior Nolan Smiley, who had 12 total tackles for loss and 6.5 sacks in a strong sophomore campaign. Wray (41.5 tackles), junior Jack Anderson (38 tackles, 10 TFL, 7 sacks, 4 FR) and junior Brody Gordon (25 tackles, 6 TFL) are other terrific mainstays on a defense that should be pretty salty.
Expectations: Could they be the clear No. 2 in the league this season? The Wolverines would love to get back into the postseason. It obviously won't be easy to get past the team we're about to learn about, but the expectations there are likely a playoff trip.
Fremont-Mills Knights — Record: 11-2 overall, 7-0 district
Coach: Jeremy Christiansen
Overview: The offense lost a lot of production with the graduation of Mason Vanatta and a few of his friends, but they welcome back junior Division I recruit Seth Malcom. Even though the next level sees him as a linebacker (and for good reason after 101 tackles and 18 solo tackles for loss last season), he is a beast on offense, too, finishing last year with 1,202 yards and 25 touchdowns on the ground.
Offense: Taking over at quarterback should be senior Colton Hauschild, who rushed the ball a little bit and threw the ball a little less last season. But he's a fine athlete, and he's been biding his time and waiting his turn to prove what he can do. Most importantly, the offensive line should again be massive and very good with the return of junior Cooper Langfelt and senior Clayton Stille. 
Defense: Maybe the offense takes a step back (but also maybe not). That might not matter, though, considering the defense that returns. We mentioned Malcom, but the top three tacklers are back from last season in Malcom, Hauschild (78 tackles) and senior James Switzer (71 tackles, 5.5 TFL). Stille (33.5 tackles, 6.5 TFL) and fellow seniors Daniel Vanatta, Eli Owen and Colton Moore should also figure into the mix. And I've heard a couple of freshmen are on their way that could really help out in the linebacking group. 
Expectation: The expectation is the same as it's been for the last 10 seasons. Win, win a lot and win by a lot.
Griswold Tigers — Record: 2-7 overall, 2-5 district  
Coach: Andy Everett 
Overview: Griswold enters their second season in 8-man football, and they return a large portion of their team. Only four seniors are gone, but this year's senior group is pretty small, too, with what could be around five. That said, nine juniors could return this season.
Offense: Coach Everett likes to run the ball, and he has no fewer than five guys that have proven they can do it pretty well. Quarterback and senior Derek Mueller actually slung it around a little - I said a little - last season, throwing for 410 yards on 25.6 yards per completion. Of course, the ground is where the bread is buttered for the Tigers. Mueller had 870 yards and 18 touchdowns on the ground while junior Brendan Atkinson went for 862 and 8 and junior Zane Vance had 446 and 3. Juniors Jayden Amend and Lane Mueller could be bigger pieces of the offense this season after combining for 272 yards on 46 carries last year.
Defense: Five of their top seven tacklers are back from last season's team. Derek Mueller had a team-high 51.5 tackles last year while junior Colten Tasto led the team with six tackles for loss and five sacks. Lane Mueller (29.5 tackles), Vance (28.5 tackles), Atkinson (26.5 tackles) are also among that group. Seniors Sage Archibald and Seth Butler and juniors Amend and Sam Olsen were others that got plenty of tick on the defensive side last season.
Expectations: Improvement. The team is in good territory to make a definite improvement on the field and - in turn - in the win column.
Sidney Cowboys — Record: 5-4 overall, 4-3 district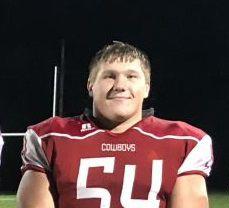 Coach: Donnie Sears
Overview: Sidney lost nine seniors from last year's squad, which adds to an even bigger group from the year before. A possible eight seniors this year will try to keep things moving in the right direction.
Offense: There's not a whole lot we can glean on how this offense will look just based on last year's statistics. We do know there will be some holes created by the reigning KMAland Lineman of the Year and Northern Iowa commit Thomas Wilson. Sidney used three QBs last year, and the one they used the least was current sophomore Matthew Benedict, who may or may not be this year's signal-caller. Junior Tyler Hensley could get a lion's share of the carries after averaging 8.4 yards on 28 totes last season.
Defense: Their best and most productive defensive player last year was Wilson, who finished the season with a team-high 40 solo tackles, 51 total tackles, 14.5 total tackles for loss and four total sacks. Their next four tacklers, though, graduated. Senior Nicholas Massey had 28.5 tackles and three tackles for loss, and sophomore Brydon Huntley finished with 20.5 tackles. 
Expectations: They used a lot of seniors last season, but they also used a lot of juniors and there are others that were just waiting for their turn. The Cowboys will have good numbers, they will play good football and they will look to have another year of winning football.
Stanton/Essex Trikings — Record: 7-3 overall, 6-1 district (Stanton) & 1-8 overall, 1-6 district (Essex) 
Coach: Jeff Grebin
Overview: I'm guessing they will be called the Vikings, but I threw my own little nickname in there because I'm weird. Essex could bring 10-12 juniors and seniors to Stanton this year. Last year's Vikings had a lot of senior production, but there were only six on the roster. There will probably be about half that this year.
Offense: How will Coach Grebin use this highly-talented quarterback trio? Senior Keygan Day (1,327 passing yards, 300 rushing yards, 29 total TD) and junior Colby Royal (592 passing yards, 13 TD) split time for Stanton last year while senior Colton Thornburg (1,022 rushing yards, 722 passing yards, 24 total TD) called signals for Essex. Chances are Day and Royal continue their timeshare, and Thornburg moves around the field to run and catch the ball. But that's pure speculation. Senior Easton Hultman (22 receptions, 273 yards, 6 TD), junior Tucker Hadden (104 receiving yards, TD) and sophomore Logan Roberts could be additional offensive threats this year for the….all together now, Trikings.
Defense: Stanton's top two tacklers have graduated, but they do bring back three of their top five overall. Hultman (63 tackles), Roberts (59.5 tackles) and Day (58.5 tackles, 2 INT) lead the way from the Stanton bunch. Hadden (33 tackles) and senior Caden Henderson (28 tackles) are among the leaders from the Essex group. There are a bunch of others like juniors Royal, Peyton Meek, Philip Franks and Mason McClarnon and sophomores Jack Roberts, Levi Martin, Quentin Thornburg, Bryan Gore and Tristan Frank that could contribute to the D this year.
Expectations: Let's see - Stanton lost Drake Johnson, who did so many things offensively and defensively for the Vikings last year. Now, they add an Essex group that is headlined by Thornburg and bring back some of their other standouts. Am I crazy to think this is another playoff team? Even with some questions up front, I'm guessing they are treating this season as so.
PREDICTIONS 
Give me Fremont-Mills to win the league and East Mills to finish second, but I do so hesitantly with what Stanton/Essex could put together with their skill players. Bedford, Griswold and Sidney should also be competitive for that No. 2 spot. This is a pretty balanced, albeit small, league, frankly.
Send any questions, comments and/or concerns to dmartin@kmaland.com.