(KMAland) -- Here's a story about how Twitter can help you get a Corner Conference volleyball preview done.
Very difficult to complete volleyball conference previews when I open last season on QuikStats and this keeps happening. 🤔😵🙁 pic.twitter.com/4d3Neo91oV

— Derek Martin (@d2mart) August 9, 2019
I don't know if this is something @IGHSAU can fix, but I'm going to go on and tag you fine folks anyway. 🤗🤗🤗

— Derek Martin (@d2mart) August 9, 2019
I can't fix it but I've notified the programmers.

— IGHSAU (@IGHSAU) August 9, 2019 
And now, here we are...
FALL PREVIEW LINKS 
FOOTBALL: Class 8-Man District 7
FOOTBALL: Class A District 10
FOOTBALL: Class 1A District 9
FOOTBALL: Class 2A District 9
FOOTBALL: Class 3A District 9
VOLLEYBALL: Hawkeye Ten Conference
VOLLEYBALL: Western Iowa Conference
---
MARTIN BLOG FALL PREVIEW NO. 8 -- CORNER CONFERENCE VOLLEYBALL
East Mills Wolverines — 2018 Record: 28-6 overall, 5-2 conference
Coach: Connie Blank
HITTING: I think they're going to be pretty decent in this category. And yes, I'm being sarcastic. They'll be better than decent. Senior Alex Knop has been one of the best hitters in the area for years and she is coming off a terrific 4.46-kill per set season with a brilliant .340 efficiency. She's joined by junior middle Rachel Drake, who broke out with 1.42 kills per set last season. Senior Dezirae Drake (1.12 kills per set) and junior Kaylor Horgdal (1.21 KPS) will also figure into the mix here. Sophomore Randi Knop (0.35 KPS) and maybe a surprise - or not a surprise - freshman might also get some swings.
SETTING: Both Drake (5.22 assists per set) and senior Lexi Ungry (3.29 APS) shared the setting duties last year, and they're both back to help run the show again. With all the returning hitters around them, you can't ask for much more.
DEFENSE: Knop was the leader in digs (3.24 per set) as she's a splendid six-rotation all-around player. However, the loss of Kassidy Croghan, who they moved back to libero midseason last year to solidify their defense, might be felt. Or…there might be a freshman here, too, that could help. Dezirae Drake (2.19 DPS) and junior Ebonee Drake (2.16 DPS) were also over two digs per set, and Ungry was at 1.87. Rachel Drake, meanwhile, was a force at the net with 83 total blocks last season. Dezirae, Knop and Ungry  were all between 23 and 37 swats.
CONCLUSION: I'm going to take a deeper look at the rest of the conference before I say anything too boastful about East Mills, but they have all the pieces you could ask for in a team. Hitting, setting, defense, coaching. It's all there.
Essex Trojanettes — 2018 Record: 3-23 overall, 1-6 conference
Coach: Allen Stuart 
HITTING: Last year's team went through the whole life-without-Daiton deal, and they had a couple sophomores step up. Now juniors Elise Dailey (1.33 kills per set) and Sami York (0.47 KPS) will hope to improve on those numbers this year. They did lose three of their top five hitters, though, and that will be a tough replace.
SETTING: Lexi Burnison was a multi-year starter at setter, and she has unfortunately graduated. Junior Helen Nicholas appears to have done some setting at some point last year. That, of course, could have been some out-of-system stuff, so I'm not going to speculate much further.
DEFENSE: Senior Camryn Chambers and Dailey are the only returning players that averaged over one dig per set. Senior Ainsley Byers was at 0.76 DPS. Dailey and York were the leading blockers, combining for 62 swats last season.
CONCLUSION: Coach Stuart returns to the sideline! That's pretty fun. Dailey and York will have to carry a big load for this year's team, and they'll need to solidify a setter if they're going to have success. 
Fremont-Mills Knights — 2018 Record: 22-14 overall, 6-1 conference 
Coach: Tracy Malcom
HITTING: Their top and most-used hitter Sophie Phillips has graduated, but they will return their next six in terms of kills. Junior Kenna Howard is going to have a big breakout. She played really, really well down the stretch last season and finished the year with 1.24 kills per set. It'll help, too, that she is going to be surrounded by some other very good hitters like seniors Courtney Goodman (1.24 KPS), Lydia Alley (1.64 KPS) and Rachel Wietzki (1.30).
SETTING: Sophomore Kaelynn Driskell was a nice surprise - at least for me - last year. She stepped in to the setting position and did a tremendous job working the ball around to F-M's hungry hitters. Driskell, who averaged 5.34 assists per set, goes for an encore in her sophomore year.
DEFENSE: Senior Elizabeth Bartles led the team last year with 1.69 digs per set, and she will hold down the back row this year. Wietzki (1.32 DPS) and Driskell (1.07) were also over one per set while seniors Ellie Crom (0.95 DPS), Lillian Mahaney (0.64 DPS in 11 sets) and Athena Wendland (0.40 DPS in 30 sets) could also factor in. And they will be really good at the net with Alley's 90 total blocks being joined by Howard (75 total) and Wietzki (73). 
CONCLUSION: They were this close to taking that regional final and running with it against East Mills. I still contend whomever won that third set was going to win the match - and it was very close. Anyway, Fremont-Mills is nearly completely intact. Yes, Phillips is a loss, but I think the improvements we will see from Howard, Alley, Goodman and company will more than outweigh that. I'm bullish on the Knights. 
Griswold Tigers — 2018 Record: 9-19 overall, 3-4 conference
Coach: Jody Rossell
HITTING: Griswold's top two hitters - Brittney Beebe and Makenna Potter - have graduated. Senior Loryn Peterson, the only other player that averaged over one kill per set (1.25 to be exact), is back to lead this year's group. In a two-setter offense, junior Mikala Pelzer (0.80 KPS) also got plenty of swings off, and senior Jocelyn Amos (0.57 KPS) will need to be ready for more chances in the middle.
SETTING: As mentioned, Coach Rossell ran two setters last season. Pelzer was one of those and averaged a team-high 3.44 assists per set. Junior Haylee Pennock was the other, and she averaged 3.10 APS. Assuming they stick with this pairing, that can only mean good things for cohesion, chemistry and quickness. I call it the three Cs, except one is a Q.
DEFENSE: Peterson led the team with 3.12 digs per set last season, but I'm taking a shot that sophomore Anna Kelley will be the back row leader this season after 2.53 digs per set as a freshman. Pelzer (1.89 DPS), senior Lilly Jennum (1.50 DPS) and Pennock (1.39 DPS) were other helpers in this category. At the net, it's all about the athletic and lengthy Amos, who had a team-high 57 total blocks. The next two blockers are gone.
CONCLUSION: The top two hitters have moved along, but I think Griswold is well-positioned to be better than last year. They have one of their setters back, and I think Peterson and Amos - along with help from Pelzer - will be ready to take on a bigger load this season.
Sidney Cowgirls — 2018 Record: 39-3 overall, 7-0 conference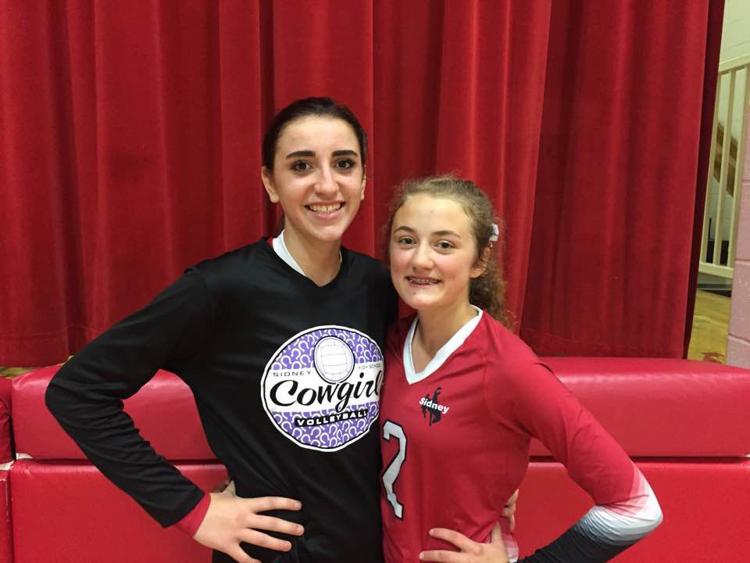 Coach: Amy McClintock 
HITTING: You got lost in watching Camryn McClintock and Kelsey Hobbie fly all around the net that you forgot that they had five girls averaging 1.11 kills per set or more last season. Hobbie is going to get the most swings - you know this. She averaged 3.06 kills per set and hit .392 for the season. It's unfortunate Makenna Jarosz (ACL) is out for the year because she was about to explode into a star. So, that means seniors Maddy Duncan and Presley Brumbaugh will carry some big weight after 1.23 and 1.11 kills per set, respectively.
SETTING: She's simply the best. Senior Olivia Larsen had another 1,000+ assists last season and averaged 9.42 per set. Who's to say she can't even do more than that this year? She's a really fantastic player, folks. You need to see her while you can.
DEFENSE: Excuse me while I shed a tear over the fact that Jaden Daffer isn't going to be flying all over the gym floor while I'm broadcasting this season. And I'll excuse all the other coaches in the area while they don't. Anyway, Brumbaugh (2.38 DPS), Larsen (2.25 DPS) and Duncan (2.19 DPS) play all the way around. Hobbie (0.89 DPS) can do it a little. But that libero position is open. The best blocker on the team position is not. That's Hobbie, who had 55 total last season.
CONCLUSION: I understand Sidney will have a couple freshmen that could contribute this season. Whether or not that's at the libero position, I do not know. I do know that replacing Daffer and McClintock will be really difficult. I think, though, you'll see a really good Cowgirls team by the end of the year. And you know, maybe it won't take them that long.
Stanton Viqueens — 2018 Record: 15-22 overall, 4-3 conference 
Coach: Jody Druivenga 
HITTING: Two out of the top three hitters on the team are gone. However, those two are the only two seniors on last year's roster. And junior Tara Peterson led the team with 2.32 kills per set last season. Seniors Kami Tibben (1.11 KPS) and Anika Wenstrand (1.01) were also over one kill per set, and another senior Carlee Culbertson (0.84 KPS) was close. I do have a feeling the hitting on this team will be a bit transformed with some incoming freshmen, but we'll see.
SETTING: Both junior Nicole Vorhies and senior Devin Isaacson are back after sharing the setting duties last season. They averaged 3.55 and 3.34 assists per set, respectively, last year. Being back and being experienced are both good things for this Viqueens group.
DEFENSE: Junior Brooklyn Adams was tops in the digs category at 2.88 per set last season. Peterson (2.34 DPS) handled her biz all the way around, and Isaacson (1.53), Tibben (1.50) and Vorhies (1.22) were also more than willing to help with over one dig per set each. Wenstrand, meanwhile, had 37 blocks last year and 31 of them were tabbed solos. That's good.
CONCLUSION: I think Stanton is potentially going to be the most improved team in the conference. I want to find out just how good these freshmen are going to be before I go too crazy, but I have a feeling they're going to be pretty darn good. 
---
PREDICTION
I think you're crazy to pick against Sidney at this point. The Cowgirls have controlled the conference for at least four years, and I'm not just talking about volleyball. They've been nabbing championships in every single sport. So, why would I go and make an enemy out of myself by picking someone else to win the conference? 
The Pick: Yeah, it's Sidney, but I am really high on East Mills, Fremont-Mills and Stanton. These figure to be four legit teams to watch.
Send any questions, comments and/or concerns to dmartin@kmaland.com.