(KMAland) --  It's a two-for-one Sunday. The Hawkeye Ten volleyball conference continues to lead the way in KMAland. Last year, we had a state champion that didn't even win the league. It was also a bit of a transition year for the conference with only one team making state. I will take the over on that this year.
On with it…
MARTIN BLOG FALL PREVIEW NO. 2 - HAWKEYE TEN CONFERENCE VOLLEYBALL 
Atlantic Trojans — 2018 Record: 8-28 overall, 0-10 conference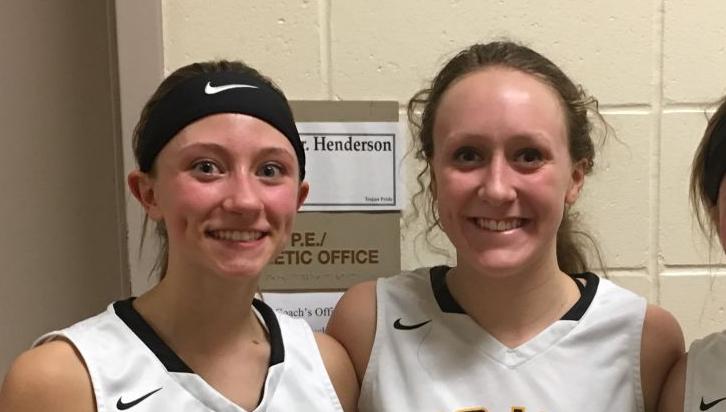 Coach: Michelle Blake
Hitting: The Trojans have one girl that averaged over one kill per set last season, and it was junior Alyssa Derby, who had a fantastic breakout season with 2.07 KPS. Fellow junior Caroline Pellett was next at 0.89 and is due for a similar breakout. Their next three hitters from 2018 have since graduated.
Setting: Good news here, too. Junior Haley Rasmussen is, statistically, one of the top five returning setters in the conference as she averaged 4.93 assists per set last season. Her command of the offense - and the return of her top two hitters - should only help.
Defense: Senior McKenzie Waters held the back row down with 3.33 digs per set last season. Meanwhile, Derby and Pellett both proved to be all-around six-rotation players with 1.85 and 1.46 DPS, respectively. Juniors Maycie Waters and Mia Trotter could also see plenty of back row chances this season after finding a little time a year ago. At the net, leading blocker Taylor Hansen is gone so most of the blocking opportunities will likely come from Derby (31 total blocks) and maybe Rasmussen (11 blocks).
Conclusion: Their core four - Derby, Pellett, Rasmussen and Waters - are outstanding athletes that have grown used to winning in other sports. I think they see a solid jump in victories this fall.
Clarinda Cardinals — 2018 Record: 9-22 overall, 3-7 conference 
Coaches: Kaitlin Allen & Macy Elwood
Hitting: Senior Morgan Lihs is one of the top returning hitters in the conference at 3.11 kills per set, and she will continue to get plenty of chances after 821 attempts a year ago. Look for senior Hallee Fine to see an uptick in her chances after 1.51 kills per set last season. Junior Faith Espinosa (0.64 KPS in 2018) should also be up for the task.
Setting: Your guess is as good as mine here. Taylor Wedemeyer was one of the top setters in the area and state, and she is gone. The good news is that they have a coach - Stanton alum Macy Elwood - that knows a thing or two about a thing or two when it comes to setting.
Defense: Their top three in digs per set are gone, but juniors Saige Brown and Teya Stickler are back after 1.56 and 1.53 digs per set, respectively, last season. Sophomore Paige Millikan saw 12 sets of action and averaged 1.08 DPS as a freshman. Another sophomore Riley Morgenstern could also have plenty of chances here. At the net, Lihs had 74 total blocks (0.81 per set), which is the third-best average returning in the league. Fine was fine (yes, I did do that) there, too, with 16 swats.
Conclusion: If they find a capable setter or two, that setter or two will be happy to know that they have one of the conference's top hitters to set to. Can they improve on 9 overall and 3 in the league this year? That will depend on how good that setter (or two) is and what other hitters can step up.
Creston Panthers — 2018 Record: 10-19 overall, 2-8 conference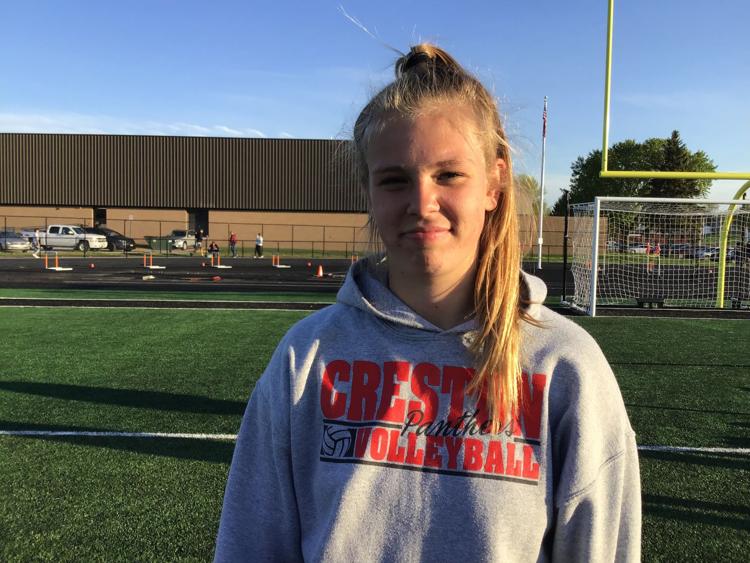 Coach: Traci Haley 
Hitting: Two of their top three hitters are back, and it's led by one of the overall top hitters in the conference - junior Kelsey Fields. Can she possibly improve on 3.48 kills per set? Maybe, but I would bet the already-solid .234 efficiency goes up for sure. Senior Emma Hanson is also back after averaging 1.87 kills per set last season, and sophomore Brianna Fields (0.66 KPS) and junior Samantha Dunphy (0.61 KPS) had solid numbers that should go up with more chances this year.
Setting: Breanna Ross is gone after setting for parts of three seasons, but junior Rylie Driskell appears ready to step right into the role. She played 32 sets last season and was able to average 1.28 assists per set. It could be a seamless transition.
Defense: Three of their top four blockers return with Hanson, Dunphy and Fields combining for 1.36 blocks per set last season. The back row is in capable hands with multi-year starter Makenna Hudson at libero. She's fantastic and averaged 3.90 digs per set last season, ranking third among returning defenders. Junior Peyton Rice and Driskell also averaged over one dig per set last season.
Conclusion: The Panthers might be due for a big breakout here. Depending on how the rest of the teams look, I could certainly see Creston move up two to three (or more?) spots this season in the league.
Denison-Schleswig Monarchs — 2018 Record: 15-18 overall, 2-8 conference 
Coach: McKenzie Mich
Hitting: The offense had five girls average over one kill per set last season, and three of them are back. Junior Hannah Neemann led the bunch with 1.94 kills per set, and Allana Arkfeld was on point with a .318 kill efficiency while putting down 1.42 per set. Finally, junior Paige Andersen is back after averaging 1.07 KPS. In addition to that, junior Ellie Magnuson had a solid 0.92 KPS average in 49 sets played last season. 
Setting: More good news. Senior setter Tia Petersen returns after averaging 7.18 assists per set - the second-highest returning average in the Hawkeye Ten. With all of that offensive firepower returning around her, this offense should produce.
Defense: Here is where the Monarchs will have to find some new faces to replace Alex Mohr, who held the back row down for four years. Neemann is the leading returnee in digs per set (1.45), and Petersen was also at 1.02. But who will be the full-time back row force here? It could be sophomore Sophie Sonnichsen, who averaged 0.91 digs per set last season. Senior Payton Goslar is another possibility. The good news here is that they have three terrific blockers - Arkfeld (0.76 blocks per set), Andersen (0.63) and Neemann (0.41) - that will help opposing hitters from getting clean looks. Both Arkfeld and Andersen are top five returning swatters in the conference.
Conclusion: Is it just me or is Denison-Schleswig about to have one of their finest seasons in years? With a strong, cohesive offense and terrific length at the net, the Monarchs certainly have the pieces in place.
Glenwood Rams — 2018 Record: 17-14 overall, 5-5 conference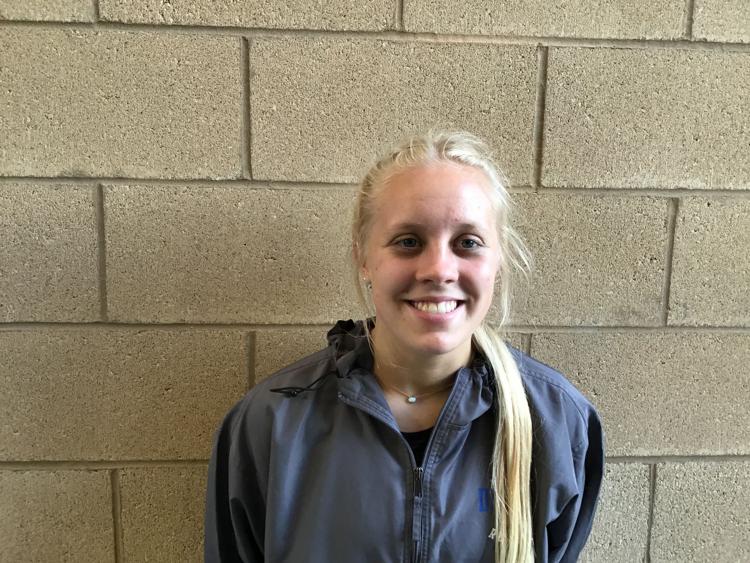 Coach: Chelsey Hirt
Hitting: Four of their top six hitters are gone, but two of their top three are back - and they add another nice piece to that mix. Junior Elle Scarborough is a shining star that is about to see her 2.55-kill per set average jump a significant tick. That's my prediction anyway. Senior Joslyn Lewis hit in 1.89 per set a year ago, and sophomore Coryl Matheny was at 1.70 with Clarinda as a freshman. Sophomore Brynlee Arnold figures to also soon be a force in the middle.
Setting: Glenwood had three girls set last season and two of those are back. Senior Taryn Bertini (3.43 assists per set) and junior Grace Boles (3.30 APS) should be more than productive in leading Coach Hirt's 6-2 offense this season. 
Defense: There aren't many better liberos in the area than Jaeda Wilson - a senior that averaged 3.66 digs per set last season. Junior Kelly Embray (1.81 digs per set) all had a fine season in this area, and Bertini, Boles and Scarborough were all between 1.10 and 1.66 DPS. On the surface, with the top three blockers gone, it looks like the Rams might have trouble at the net defensively. However, would you want to try to hit through Arnold, Scarborough and Lewis? I know I wouldn't. Of course, I'm just a broadcaster.
Conclusion: A broadcaster that believes Glenwood female athletics is about to have one heck of a year. And it's going to start on the volleyball court where plenty of talent remains from last year's winning team. I think they hit at least 20 overall victories.
Harlan Cyclones — 2018 Record: 18-21 overall, 5-5 conference 
Coach: Willie Baughman
Hitting: The Cyclones lose their top three hitters from last season, but I tend to feel like there are enough athletes on this team that the replacement job won't be quite as pronounced as the numbers say. Junior Macie Leinen is primed for a big season after averaging 1.44 kills per set a year ago. Sophomore Zophie Hendricks (1.02 KPS) and juniors Lauren Andersen (0.94 KPS) and Jandy Petersen (0.41 KPS) are other hitting options this year.
Setting: A good setter is always more difficult to replace than hitters, in my opinion, and Harlan had a really good one last year in Kara Weis. Enter, junior Ashley Hall? Hall did a little setting - maybe mostly from the back row - and averaged 0.36 assists per set.
Defense: If Hall is not the setter this year, Harlan will again use her in the back row where she averaged 3.96 digs per set - the second-highest returning average in the conference. She probably sticks there. Maybe. Senior Elise Juhl, Andersen and senior Haley Manz are others that averaged at least one dig per set last season. As for blocking, Olivia Petersen and Anna Ahrenholtz led last year. Andersen and Leinen, though, were right behind them, combining for 60 swats, and will be big in this regard.
Conclusion: Harlan has plenty of athletes on the roster. You're always concerned, though, when you're working in a new setter. Sometimes that's not as big of an issue as I make it out to be, considering the work they put in during the summer and the fact that someone has usually set for all their life and are just waiting for a chance. Harlan should be more than fine again this season.
Kuemper Catholic Knights — 2018 Record: 45-1 overall, 9-1 conference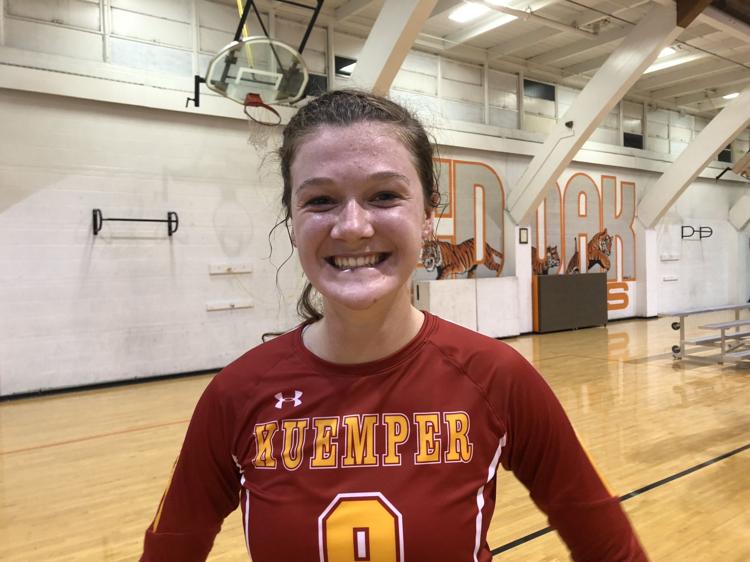 Coach: Keith Stickrod
Hitting: The defending state champions of Class 3A lose a really good senior class. There's no doubt about that. However, when you can bring back a dominant leader like Kara Peter (3.28 kills per set) in the middle, you've got to feel pretty good. Add in that senior Anna Niehaus (1.78 KPS) was terrific last year, and senior Madison Leonard (0.44 KPS) is more than ready for her chance, and I like the looks of their offense.
Setting: The KMAland Setter of the Year Maci Overmohle has graduated. I seem to remember the KMAland Setter of the Year graduating from Kuemper two years ago, too, and it worked out just fine. Senior Mariah Naberhaus may be the heir apparent after averaging 2.24 assists in 34 sets last season. 
Defense: In terms of digs per set, no returning player in the conference averaged more than senior Mallory Badding (4.64 to be exact). And when you add the fact that Peter had 0.82 blocks per set at the net last year, it's going to make it very difficult for opposing hitters to get a ball down. Sophomore Kenya Trausch (1.26 digs per set), Peter (1.30 DPS) and Niehaus (0.92 DPS) will add to that difficulty.
Overview: Look, I'm not going to get too overly concerned about anything Kuemper volleyball right now. They lost A LOT of production, but Coach Keith Stickrod has that program humming. I've heard mention of a strong freshman class, and it's likely there were girls that just couldn't find tick last season that are more than ready to lead this team back to Cedar Rapids.
Lewis Central Titans — 2018 Record: 21-14 overall, 7-3 conference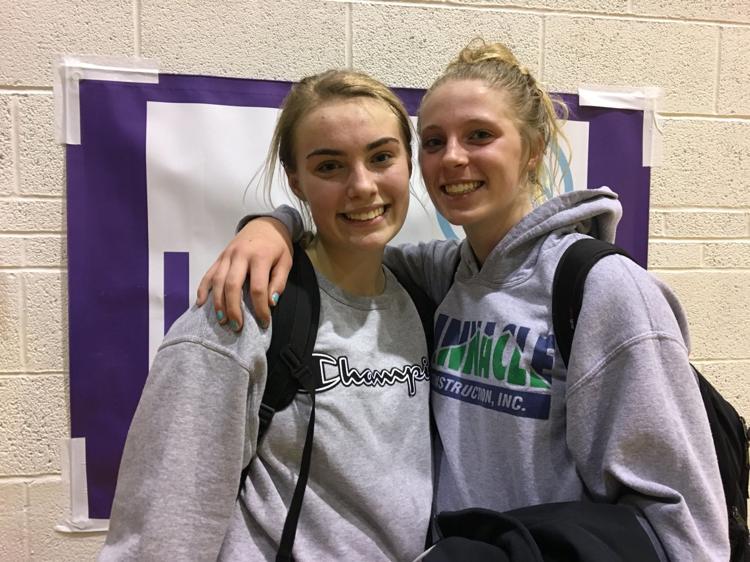 Coach: Mike Bond
Hitting: The reigning KMAland Offensive Player of the Year and Northern Iowa commit Megan Witte is the top hitter in the conference. She's also among the top hitters in the state. Can she equal her 5.07 kills per set from last year? Can she better it? If she hits at .357 efficiency (or better) again this year, there's a good shot at it. Fellow senior Delaney Esterling is also a force and averaged 2.23 kills and hit .307 efficiency. That's a dastardly duo that will also be joined again by junior Madisyn Havermann (1.54 KPS) and seniors Lauren Payne (0.52 KPS) and Presley Rodenburg (0.51 KPS).
Setting: Coach Bond used a trio of setters last season, and they are all back. Senior Natalie Driver average 6.13 assists per set while sophomore Karly Brown (3.29 APS) and junior Macy Mulder (3.05 APS) also got some time at the setter position. They're in good shape here, too.
Defense: If there's one thing to feel really, really good about (and there's actually more than one thing), it would be the back row defense. Seniors Rachel Cushing (3.18 digs per set) and McKenna Paulsen (2.95 DPS) are so tough to get a ball down against, and Witte (2.42 DPS) and Driver (1.64) can also handle themselves quite well as they move around the rotation. Even better, Esterling is the top returning blocker (1.00 blocks per set) in the conference, and Payne, Witte and Havermann all had 45 blocks or more.
Conclusion: Everything is in place for a big season. The Titans should be a top 10 preseason team in the state after seeing incredible improvement throughout the year. They were playing like one of the top 8-10 teams in Class 4A by the end of the year, and I have no doubts that will carry right over to this year.
Red Oak Tigers — 2018 Record: 25-13 overall, 7-3 conference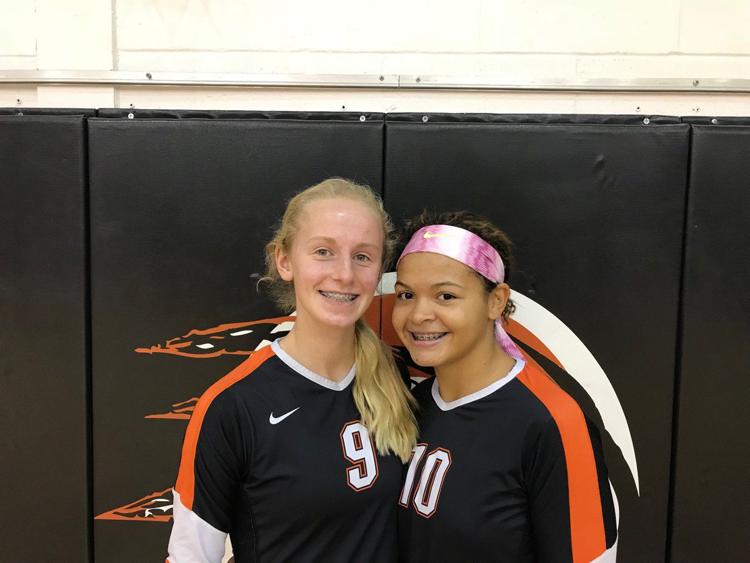 Coach: Angie Montgomery 
Hitting: They might end up being OK this year in this spot. Wink-wink. Coach Montgomery has her top four hitters coming back. Seniors Sophie Walker and Chloe Johnson averaged 3.78 and 3.46 kills per set as juniors, and sophomore Lexi Johnson was at 2.14. Senior Allie West more than held her own in the middle with 1.02 kills per set last season. They did lose a couple role-playing hitters, so there will be some extra swings available. I'd go ahead and give them to those four mentioned.
Setting: They might be OK here, too. Another wink-wink. Three experienced setters return to the fold with juniors Chloe DeVries and Abbey Jones coming off great years with 5.67 and 4.64 assists per set, respectively. Senior Ellie Rengstorf was injured for the back half of the year after averaging 4.56 dimes in 18 sets. The biggest problem for Coach Montgomery might be trying to figure out how this is going to work out with three really good setters. That's a good problem, by the way.
Defense: I guess maybe the answer is using one of them as a libero after the graduation of Kate Carlson, who led last year's team with 3.80 digs per set. Walker (3.53 DPS) and Johnson the elder (2.72) can handle their own, and the trio of setters were also 1.46 or better. Walker, West and Johnson the younger combined on 101 blocks and were the top three at the net last season.
Conclusion: Talented, experienced and deep. Red Oak also figures to be a top 10 preseason team, and that should set up nicely for another one of those early-season spectaculars with Kuemper Catholic, who may have a shot at being ranked, too. Wink-wink AGAIN.
Shenandoah Fillies — 2018 Record: 21-10 overall, 5-5 conference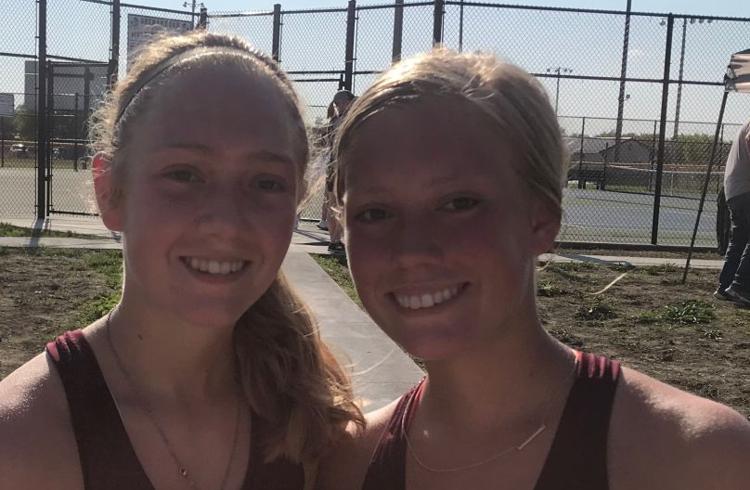 Coach: Toni Comstock
Hitting: There are some major pieces gone from the offense. That includes the 4.32 kills per set from Kealey Anderson and the 3.67 from Logan Hughes. Even Mariah Munsinger - another graduate - averaged 1.20. The top returning hitter is senior Roxy Denton, who hit out of the middle and averaged 0.74 kills last season. Senior Nichole Gilbert is set for an uptick in chances, too, after 0.31 a year ago.
Setting: The good news is that they return one of the top setters in the area in senior Nichole Gilbert. She knows how to work Coach Comstock's offense, and she will more often than not put it in the right spot for Denton and her sister. Who else can step up and hit, though?
Defense: The Gilbert sisters averaged 5.20 digs per set together last season. They were two of the top five in that category. The other three are gone. So are the next three after that. Senior Claire Adkins and potentially junior Jasmine Rogers figure to be in the mix for some back row chances. Meanwhile, Denton is the team's top returning blocker after 38 swats a year ago.
Conclusion: Anytime you lose two terminators like Anderson and Hughes (along with the rest of a really solid senior class), there are going to be some questions. Maybe they've been answered already this summer. Maybe they will be answered in camp. Maybe they will be during the season. Or maybe they won't. We're fixing to find out.
St. Albert Saintes — 2018 Record: 23-6 overall, 10-0 conference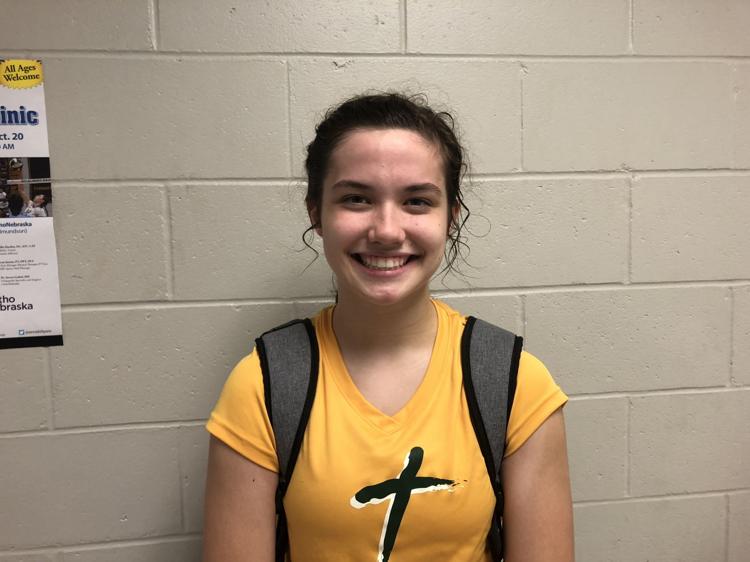 Coach: Angie Lantz
Offense: Junior Allie Petry is a top three to five hitter in the conference and area (that's a compliment!) and averaged a massive 3.72 kills per set a year ago. Her .254 kill efficiency in the conference is good, but I think she would agree that can even improve. And if (when) it does, it's going to make St. Albert even more dynamic. Seniors Jordyn Blaha (1.59 KPS), Olivia Barnes (1.38 KPS) and Bel Pershing (0.93 KPS) are also back for the defending Hawkeye Ten champions. Look for a big year from fellow senior Veronica Svajgl, too. 
Setting: Coach Lantz largely used two setters last year, and Alesha Johnson has graduated and moved on to college ball. Senior Olivia Barnes will likely take over the primary setter role. Of course, there remains a chance Coach Lantz sticks with the 6-2. In that case, we'll have to find out what's what in that regard.
Defense: Two stalwarts in the back row - Maggie Wettengel and Emily Recher - are gone. That means someone needs to step up. Petry is terrific in a six-rotation role (3.55 digs per set), and Barnes was at 1.98 on average. Blaha probably sees more time in a six-rotation role as well. They weren't a big blocking team last year, but the blocks they did get came from the graduated Bailey White. Barnes, Petry, Pershing and Blaha were between 19 and 22 swats each.
Conclusion: The Saintes shocked the house by winning the Hawkeye Ten title last season. What do they have for an encore? It will be difficult, but they definitely have plenty of talent. One I didn't mention but should is sophomore Lauren Williams, who impressed this past spring in track. I would expect she might have a say on this year's team, which will again be in the conference title mix.
---
Here's a list of the top returning hitters, setters, defenders, swatters and servers:
Top 10 Returning Hitters (by kills per set) 
1. Megan Witte, SR, Lewis Central (5.07 KPS)
2. Sophie Walker, SR, Red Oak (3.78 KPS)
3. Allie Petry, JR, St. Albert (3.72 KPS)
4. Kelsey Fields, JR, Creston (3.48 KPS)
5. Chloe Johnson, SR, Red Oak (3.46 KPS)
6. Kara Peter, SR, Kuemper Catholic (3.28 KPS)
7. Morgan Lihs, SR, Clarinda (3.11 KPS)
8. Elle Scarborough, JR, Glenwood (2.55 KPS)
9. Delaney Esterling, SR, Lewis Central (2.23 KPS)
10. Lexi Johnson, SO, Red Oak (2.14 KPS)
Top 5 Returning Setters (by assists per set) 
1. Nichole Gilbert, SR, Shenandoah (8.79 APS)
2. Tia Petersen, SR, Denison-Schleswig (7.18 APS)
3. Natalie Driver, SR, Lewis Central (6.13 APS)
4. Chloe DeVries, JR, Red Oak (5.67 APS)
5. Haley Rasmussen JR, Atlantic (4.93 APS)
Top 5 Returning Defenders (by digs per set) 
1. Mallory Badding, SR, Kuemper Catholic (4.64 DPS)
2. Ashley Hall, JR, Harlan (3.96 DPS)
3. Makenna Hudson, SR, Creston (3.90 DPS)
4. Jaeda Wilson, SR, Glenwood (3.66 DPS)
5. Allie Petry, JR, St. Albert (3.55 DPS)
Top 5 Returning Swatters (by blocks per set)
1. Delaney Esterling, SR, Lewis Central (1.00 BPS)
2. Kara Peter, SR, Kuemper Catholic (0.82 BPS)
3. Morgan Lihs, SR, Clarinda (0.81 BPS)
4. Allana Arkfeld, SR, Denison-Schleswig (0.76 BPS)
5. Paige Andersen, JR, Denison-Schleswig (0.60 BPS)
Top 5 Returning Servers (by aces per set) 
1. Haley Manz, SR, Harlan (0.51 APS)
2. Hannah Neemann, JR, Denison-Schleswig (0.49 APS)
3. Sophie Sonnichsen, SO, Denison-Schleswig (0.48 APS)
4t. Taryn Bertini, SR, Glenwood (0.45 APS)
4t. Nichole Gilbert, SR, Shenandoah (0.45 APS)
---
PREDICTION 
The only thing I can really go of off is returning production. I **think** Kuemper Catholic will be among the elite, but we don't really know that yet with all that they have to replace. I will definitely include them in what I think is a four-horse race for the conference title. There's Kuemper, there's defending champ St. Albert and there's what I see as the two favorites based on returning production - Lewis Central and Red Oak.
You take the field, I'll take those four at this point. Either way, it should be fun, competitive and terrific in the Hawkeye Ten - again.
Send any questions, comments and/or concerns to dmartin@kmaland.com.