(KMAland) -- The Fall Sports Preview extravaganza continues today with a look at KMAland girls cross country.
FALL PREVIEW LINKS 
FOOTBALL: Class 8-Man District 7
FOOTBALL: Class A District 10
FOOTBALL: Class 1A District 9
FOOTBALL: Class 2A District 9
FOOTBALL: Class 3A District 9
FOOTBALL: Class 4A District 7
FOOTBALL: Class 8-Man District 8
FOOTBALL: Class A District 9
VOLLEYBALL: Hawkeye Ten Conference
VOLLEYBALL: Western Iowa Conference
VOLLEYBALL: Corner Conference
VOLLEYBALL: Pride of Iowa Conference
VOLLEYBALL: Rolling Valley Conference
---
MARTIN BLOG FALL PREVIEW NO. 14 -- KMALAND GIRLS CROSS COUNTRY
HAWKEYE TEN CONFERENCE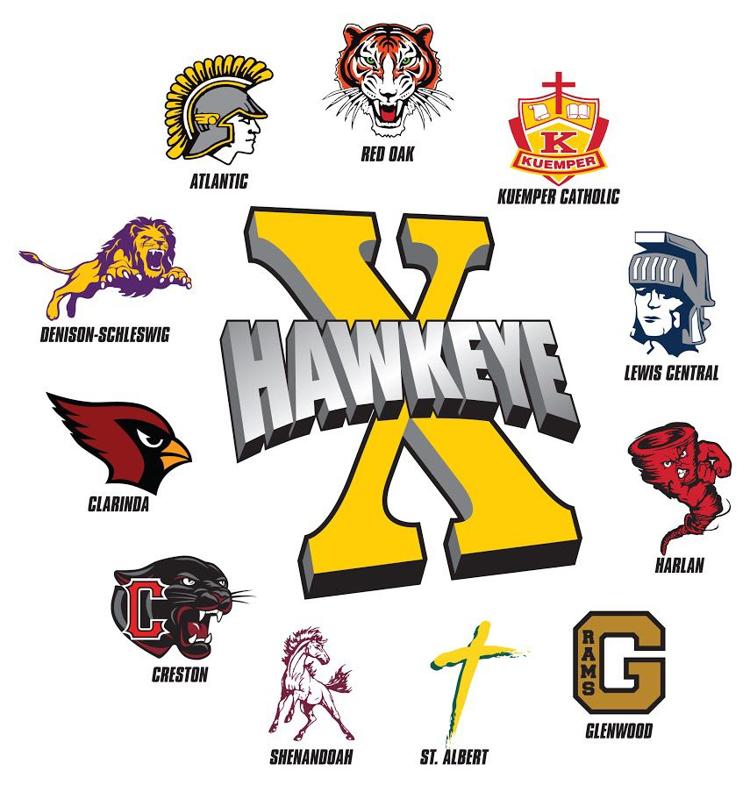 Four schools - Atlantic, Glenwood, Harlan and Shenandoah - qualified for the state cross country meet a year ago. The Rams were third, Atlantic was seventh and the Cyclones eighth in Class 3A while Shenandoah placed 13th in Class 2A. On with the team previews:
Atlantic Trojans — 2018 H-10 Finish: 3rd (83 points)
Coach: Dan Vargason
The Trojans lost two of their scorers from last season, but they bring back junior Taylor McCreedy, who is now the favorite to win the conference championship. Junior Pluma Pross (15th) and classmate Madison Botos (20th) also scored at last year's meet, and sophomore Addie DeArment and senior Katie Saluk were not far behind in 26th and 31st, respectively. 
Clarinda Cardinals — 2018 H-10 Finish: NTS
Coach: Jane Mayer
The Cardinals had just three runners at last year's conference meet, and they lost one of those. Sophomores Ashlyn Eberly (38th) and Paige Millikan (56th) are back, though, and have a year of experience under their belts. Now, they will add a very solid freshman class, led by Mayson Hartley, who has been lighting up junior high and other meets for several years.
Creston Panthers — 2018 H-10 Finish: 4th (98 points)
Coach: Pat Schlapia
Six of the seven runners from last year's team will return, but they did lose second runner-up Brielle Baker to graduation. Her sister Braelyn Baker is a junior and was right behind her in fourth-place while fellow juniors Paige Davis, Ali Christensen, Morgan Buxton and Angelina Chuong went 13-39-41-42. Sophomore Hannah Rounds is also back after finishing 55th.
Denison-Schleswig Monarchs — 2018 H-10 Finish: 6th (157 points)
Coach: Nick Bradley
The Monarchs were one of the top teams hit by graduation from last year. They lost the 7th, 18th, 33rd and 57th place runners in last year's conference meet. Returning are sophomores Ana Lara (49th) and Juliana Barajas (58th) and junior Evelyn Lopez (66th).
Glenwood Rams — 2018 H-10 Finish: 2nd (52 points)
Coach: Dani Woodman
While Janette Schraft - last year's H-10 and state champion - is gone, the Rams have to feel pretty good about their returning core. Juniors Abby Mcintyre (5th), Erin Schultz (17th) and Lauren Becker (19th) are returning to the fold. The Rams also lost three other runners that finished in the top 29. 
Harlan Cyclones — 2018 H-10 Finish: 1st (51 points)
Coach: Doug Renkly
The defending conference champion (and a state qualifier at that) will return six of their seven varsity runners from last year. That's led by sophomore Kaia Bieker, who had the high finish on the team (6th). She's joined by fellow sophomores Reagan Wicks (11th) and Liv Freund (16th), junior Abi Baldwin (21st) and seniors Abby Alberti (12th) and Lucy Borkowski (14th). They're loaded.
Kuemper Catholic Knights — 2018 H-10 Finish: NTS 
Coach: Mark Kloser
The Knights only had two runners last season. One of those two are back in junior Bailey St. Peter, who placed 60th at last year's meet in Glenwood. We'll see what this year has in store very soon.
Lewis Central Titans — 2018 H-10 Finish: 5th (146 points)
Coach: Taylor May
Top 10 runner Haley Bach is back for her junior season after finishing ninth in the conference and qualifying for state in Class 4A. Senior Isabella Smith took 27th in last year's conference race while sophomores Natalie Smith and Ella Humlicek ran close behind her in 30th and 35th, respectively. Senior Emma Christensen (52nd) is also back for a Titans team that lost just two runners.
Red Oak Tigers — 2018 Finish: 9th (234 points)
Coach: Sueann French
The Tigers return all of their team from last year, and that can only mean good things. Junior Alexa McCunn had a great season last year, which was capped by a 23rd place finish at the conference meet. Her fellow juniors Eva Sherman, Cami Porter and Maci Graber were 51st, 63rd and 64th, and sophomore Aedynn Graham (59th) and senior Haley Plambeck (53rd) also bring back experience.
Shenandoah Fillies — 2018 H-10 Finish: 7th (175 points) 
Coach: Liz Skillern
The Fillies keep finding ways to qualify for the state cross country meet, and they will bring back five runners that ran in the conference meet. Junior Brenna Godfread (32nd) is complemented by sophomores Sarah Gilbert (36th) and Hadlee Kinghorn (47th) and senior Hannah Mulligan (44th). They have lost two terrific stalwarts in Claire Campbell and Carlie Manrose, but Coach Skillern always seems to find a way.
St. Albert Saintes - 2018 H-10 Finish: 8th (233 points)
Coach: Russ Sindelar
The Saintes bring back their top runner in sophomore Brenna Smith, who came in 34th at last year's H-10 meet. Junior Emma Gardner (61st), senior Abi Sherbondy (62nd) and sophomore Keely Socha (67th) are other potential returnees to this year's team.
PREDICTION 
The top team last year brings back six of their seven runners. While the one loss will be felt, it's hard to bet against Doug Renkly's group.
The Pick: Harlan
---
CORNER CONFERENCE
There are six schools with cross country in the Corner Conference. Here are the coaches:
Clarinda Academy: Taylor Wissel
East Mills: Joe Wortman
Essex: Jasmine Glasgo
Fremont-Mills: Mike Wood
Griswold: Teresa Engler
Sidney: Steve Meyer
Stanton: Kevin Blunt
From what I was able to find, there were two potential returning cross country runners in the league that participated at last year's state qualifying meet. Those girls are senior Emma Seipold of East Mills and senior Danica Laumann of Sidney. Sidney's Savannah Hall will also run cross country full time this year. Feel free to hit me with any other information I could potentially add on any of the Corner Conference teams (dmartin@kmaland.com).
---
WESTERN IOWA CONFERENCE
The WIC has two teams returning that went to the state meet last year, as well as a number of other individuals. Among those two teams - the state champs. On with the team-by-team….
AHSTW Vikings — 2018 WIC Finish: 2nd (63 points)
Coach: Jenny Hamilton
The freshmen from two years ago are now juniors. Chloe Falkena and Julia Kock both had strong years with 6th and 8th place finishes, respectively, at the WIC meet. They also qualified for state and placed 32nd (Kock) and 39th (Falkena). Fellow juniors Jade Draman (16th), Holly Hoepner (18th) and Claire Denning (28th) and sophomore Jordan Blotzer (37th) also ran among the top seven at last year's WIC meet. They are a real threat to make a second state appearance in three years.
Audubon Wheelers — 2018 WIC Finish: 5th (105 points)
Coach: Pete Dammel
Sophomores Grace Slater and Hannah Thygesen both had fantastic seasons a year ago as freshmen. Slater qualified for the state meet, and Thygesen ended up medaling at state track. Both were in the top 10 (9th and 10th) at the WIC meet. Other returnees are from the junior class - Katelyn Nielsen, Kodie Sporrer and Chloe Andersen, girls that went 29-48-58 at the the conference meet.
IKM-Manning Wolves — 2018 WIC Finish: NTS 
Coach: Robert Cast
The Wolves bring back all three of their runners from last year's WIC meet. Junior Emma Beerman was a 15th-place finisher at the meet while sophomore McKenna Mullen was 20th and classmate Macie Doyel ran 53rd.
Logan-Magnolia Panthers — 2018 WIC Finish: 1st (31 points)
Coach: Kelli Gaukel
The defending state champions of Class 1A - a dominant champion, by the way - is absolutely loaded again. They bring back starring seniors Taylor Sporrer (2nd in WIC last year),  Kylie Morrison (4th) and Violet Lapke (21st in state), as well as classmate Olivia Diggins (30th). Juniors Marissa Brenden (11th) and Erica Nolting (14th) also return alongside super sophomore Courtney Sporrer (3rd). Simply put - they're still loaded and will be the No. 1 team in the preseason state rankings.
Missouri Valley Big Reds — 2018 WIC Finish: NTS
Coach: Scott Cihacek
Senior Claire Hansen has graduated while junior Ela Rangel should be back for the Lady Reds. Rangel placed 41st at last year's WIC meet.
Riverside Bulldogs — 2018 WIC Finish: NTS 
Coach: Jared Hoffman
The Bulldogs had four runners at last year's conference meet and two of those girls are gone. That includes multi-time state qualifier Alexis Post. Senior Maggie Boruff leads the way this year after finishing 13th at the WIC meet. Her classmate Cailee Manzer placed 50th at the meet.
Treynor Cardinals — 2018 WIC Finish: 4th (93 points)
Coach: Dan Schleisman
The Cardinals have four of their top seven runners returning this season, led by senior Tori Castle. Castle, also a state qualifier, got her sports year started on the right foot with a great season in cross country. That included a fifth-place finish at the WIC meet. Other returnees include junior Claire Yochum (23rd), sophomore Josie Davidson (32nd) and senior Allison Young (36th).
Tri-Center Trojans — 2018 WIC Finish: 3rd (64 points)
Coach: Alexia Cochran 
Last year's state qualifier and 12th-place finisher will return six of their seven runners from the WIC meet. That's led by defending conference champion and junior Peyton Pogge. Pogge loses teammate Tristen Hughes, but sophomore Karis Corrin (17th) and seniors Amanda Brich, Tatum McKee, Paige Skow and Trinity Weer (22-24-25-31) are all coming back for what figures to be another state qualifier contender.
Underwood Eagles — 2018 WIC Finish: NTS
Coach: Eric Hjelle 
Underwood had three runners at the WIC meet last season, and they are all returning runners. Juniors Rachel Pinchot and Madi Ogle were 26th and 43rd, respectively, while sophomore Josie Rosas ran 55th.
PREDICTION
Never has a prediction been so easy. Logan-Magnolia is not only the favorite to win the WIC, but they're the heavy favorite to win another state championship. I will say this, though, the league may very well get three teams and plenty of individuals to Fort Dodge this year. This is a really, really deep league.
The Pick: Logan-Magnolia
---
PRIDE OF IOWA CONFERENCE 
The Pride of Iowa Conference didn't get a chance to hold their cross country meet last season. Stupid weather!
Bedford Bulldogs
Coach: Tim Gallagher
Bedford returns three of their six runners from the state qualifying meet, including junior Carmen Perdew and sophomores Hayleigh Vinzant and Willow Miller. Of course, the Bulldogs loss of Emma Lucas will loom large for this year's team.
Central Decatur Cardinals
Coach: Reece Tedford
The Cardinals have all seven returning runners from last year's Class 2A SQM in Panorama. They will be led by sophomore Kiera Fonseca, who was just seven places out of a state-qualifying position last year. Fellow sophomores Brianna Fonseca, Grace Pulton and Chloe Hamaker are also back. Juniors Kaydee Swartz and Isa Cote were both in the top 51 at the SQM, and senior Lauren Saxton was not far behind that. I'd watch for the Cardinals this year in the POI.
East Union Eagles 
Coach: Richard Bryson
Look for the Eagles to be a real player in the Pride of Iowa Conference this season, too. They bring back state qualifier and junior Gabrielle Valencia, and she is joined by a veteran crew of seniors Molly McNeill, Taylor Miller and Kate Sutton and juniors Maddy Hayes, Mattie Riemenchneider and Ansley Waigand. McNeill was the high finisher - other than Valencia - at the SQM (taking 48th).
Lenox Tigers 
Coach: Curtis Fisher
For most of the season, Lenox had four girls running on their cross country team. At the SQM, it was down to three. Junior McKinna Hogan was one of those, and she was able to qualify for the state cross country meet with a 15th place finish. Fellow junior Cassidy Nelson could have joined her if not for injury. Those two will lead the Tigers this season with the loss of a pair of seniors.
Martensdale-St. Marys Blue Devils 
Coach: Andrea Benson
The Blue Devils have their top two returning runners from last season back in the fold, and they will be joined by two other returnees. Senior Skylyr Stewart placed 55th at the Marshalltown SQM while sophomore Maggie Girardi was 81st. Juniors Jensen Archibald and Grace Hart also ran at the meet and bring back experience for this year's team.
Mount Ayr Raiderettes 
Coach: Deb Larsen
Coach Larsen and the Raiderettes bring back five of their seven SQM runners. That's a group headed by junior MaKayla Jones, who narrowly missed a state qualification. Fellow junior Alexa Smith, seniors Rachel Gregg and Elizabeth Sobotka and sophomore Ryleigh Haveman will round out a strong group of experienced runners.
Nodaway Valley Wolverines
Coach: Darrell Burmeister
The Wolverines have a pretty good group returning that includes two state qualifiers in senior Reagan Weinheimer and junior Sophia Broers. Seniors Mallory Kuhns (36th at SQM) and Madison Van Otterloo and sophomore Erin Ford are also back after running for the Wolverines last year.
Southeast Warren Warhawks
Coach: Jim Carr
The Warhawks had just one competing runner at last year's SQM in Marshalltown, and junior Kylie Forkner is that one. She's back for another run - all pun intended - at it.
Southwest Valley Timberwolves 
Coach: Jason Hults
Southwest Valley's top two runners from last year's SQM are returning, and they're returning with some experience. Juniors Halle Pearson and Aubrey Boswell were 45th and 62nd at Guthrie Center last season while junior Sydney Davies and senior Bella Johnson also return to the fold for the T'Wolves.
Wayne Falcons 
Coach: Rebecca Roberts
The Falcons could return five of their seven SQM runners from last season. Sophomore Maddy Wood leads the way after running pretty well in Marshalltown with a 59th-place run. Senior Laney Christian, juniors Mya Willey and Jaide Harvey and sophomore Abigayle Henderson are other returnees for Coach Roberts and Wayne.
PREDICTION 
Nodaway Valley would have been a real favorite to win last year's POI championship if they had run it. Now, fingers crossed, that they will - and with a lot returning from that team - it's difficult to pick against Coach B and his team.
The Pick: Nodaway Valley.
---
ROLLING VALLEY CONFERENCE
You can correct me if I'm wrong here, but I found only six schools from the Rolling Valley Conference that have cross country teams. Those that don't - Ar-We-Va, Glidden-Ralston and Paton-Churdan. Here are the rest…
Boyer Valley Bulldogs — 2018 RVC Finish: 1st (38 points)
Coach: Kent Hall
The Bulldogs won last year's Rolling Valley Conference behind a first-place finish from junior Kylie Petersen. Senior Marie Hanigan also returns to the fold after finishing third (also behind a Boyer Valley runner - Katlyn Tremel, who has graduated). Another senior Sky Freeman also ran well at the RVC meet, placing 20th. Last year's JV runners and seniors Nicole Behrendt and Carly Lehan should help in replacing four seniors on last year's varsity team.
CAM, Anita Cougars — 2018 RVC Finish: 3rd (70 points)
Coach: Todd Russell
The Cougars have a strong junior core among their returnees from last season's third-place finish. Whitney Holaday and Emily Plagman are among those juniors and finished 5th and 8th, respectively, at last year's RVC meet. Fellow juniors Cadance Stepheson (13th), Jade Jackson (22nd) and Carlee South (32nd) are also back. So is senior golf superstar Sammi Jahde (31st). This has all the makings of another solid year for the Cougars.
Coon Rapids-Bayard Crusaders — 2018 RVC Finish: NTS
Coach: Elizabeth Larscheid
Coon Rapids-Bayard did not have anybody running at last year's RVC meet. However, they did have four runners at the SQM in Guthrie Center. That group was led by sophomore Brynn Bass, who had a solid 49th-place finish on her way to what turned out to be a really nice freshman year of sports for her. Sophomores Bridget Shirbroun and Alexis Kautzky could also return for the Crusaders. 
Exira/Elk Horn-Kimballton Spartans — 2018 RVC Finish: 2nd (40 points)
Coach: Terry Weisenborn
Exira/EHK just missed on winning an RVC championship last year, and they bring back a solid group that could make a push for that first place spot this season. While they did lose fourth-place finisher Shelbi Wilson, they do return three girls that finished in the top nine - sophomores McKenzie Yoshida (6th) and Kate Hansen (7th) and junior Camryn Paulsen (9th). Senior Ellie Schultes (15th) and juniors Claire Schuleter and Tatum Grubbs are also back after placing 21st and 25th, respectively. 
West Harrison Hawkeyes — 2018 RVC Finish: 4th (71 points)
Coach: Troy Maasen
The Hawkeyes had some very good numbers last season, and in cross country - especially in the small classes - that can lead to some good fun. Sophomores Kali Peasley and Sage Wallis had strong finishes, placing 10th and 11th, respectively, at last year's RVC meet. Senior Jayden Kraft wasn't too far behind in 14th. Senior Sabrina Rife and junior Chloe Green are also returning varsity runners while junior Beatriz Palmero and sophomore Rachael Olson could help fill in for the two seniors Coach Maasen lost from last year's squad.
Woodbine Tigers — 2018 RVC Finish: NTS
Coach: Rod Smith
Woodbine had just two runners at last year's RVC meet. One of them was a senior and one of them was Audrey Ireland. The junior placed 12th at the meet last season and should be back to lead this year's team. Maybe she'll even add a teammate or two from the freshman class.
PREDICTION
Boyer Valley had some great numbers, and they had some great runners. They narrowly edged Exira/EHK, which will bring back a lot, too. It'll likely be a two-horse race between these two schools again.
The Pick: Boyer Valley by a hair.
---
MISSOURI RIVER CONFERENCE
Bishop Heelan Catholic Crusaders — 2018 MRC Finish: 1st (22 points)
Coach: Todd Roerig
The Crusaders were dominant champions at last year's MRC meet, finishing with five in the top seven before a fifth-place team finish at state. That was led by the returning conference champion, 11th-place Class 3A finisher and senior Amber Aesoph. They lost the third, fifth and sixth-place runners, but they will have the seventh-place finisher in sophomore Mia Conley returning to the fold. Junior Emma Hutchinson (19th) and senior Brenna Joyce (20th) also ran varsity while sophomores Hannah Fitzpatrick and Taylor Jochum and seniors Liz Meyer and Sydney Pratt could be the fill-ins for the five departed seniors. They may not be quite as good as last year, but they'll be a huge player in the MRC and regionally.
Council Bluffs, Abraham Lincoln Lynx — 2018 MRC Finish: 4th (84 points)
Coach: Traci Stoop
When I looked at the MRC meet results from last year, it had AL's entire lineup as freshmen. Good thing I know better! (Note: Sure hope these other teams are correct.) They lost their top runner - Kenzi Brown - and another in Jeanette Juarez. However, the rest of the seven are back, led by seniors Moriah Heilesen (12th), Hayleigh Vandervelde (18th), Clare Plummer (28th) and Ashley Hipnar (48th). Junior Belinda James (21st) also had a nice run at the MRC. With two gone, sophomore Bella Cain and junior Bernice Monge could jump into the varsity lineup.
Council Bluffs, Thomas Jefferson Yellow Jackets — 2018 MRC Finish: 3rd (81 points)
Coach: Doug Muehlig
The great Doug Muehlig had a solid team a year ago, and they should be pretty good again with a potential five returning among their top seven runners. At the MRC meet, senior Jasmine Ramos was 10th while junior Hannah Belt had a solid 14th-place finish. Sophomores Mackenzie Harstad (24th) and Shaeley Bose (54th) and senior Suzie Miller (27th) were also among the top seven runners for TJ at last year's MRC meet. With two seniors gone, look for sophomores Jackie Moreno and Regan Gant to potentially move into the varsity lineup. They were 57th and 62nd last year at the MRC meet.
Sergeant Bluff-Luton Warriors — 2018 MRC Finish: 6th (144 points)
Coach: Monte Larson
Tri-Center and Morningside great Monte Larson leads the way for the Warriors again this year. And they bring back all seven of their varsity runners from last year's MRC meet. That's led by senior Leila Laureano, who took 11th place. The rest of the group includes seniors Chloe Black (35th) and Alyssa Skatges (42nd), juniors Linkynn Garrett (34th), Katherine Aymar (36th) and Jenna Ryan (37th) and sophomore Sabrina Hazuka (32nd). 
Sioux City East Black Raiders — 2018 MRC Finish: 2nd (74 points)
Coach: Nick Gaul 
Sioux City East loves their cross country running. They had 22 runners at the MRC meet last season, and of their top seven, six of them are potentially returning. Sophomore Kaia Downs was a beast last season, and she finished second at the MRC meet and 12th in Class 4A's state meet. Seniors Karlee Phillips (15th) and Olivia Barnes (29th), juniors Katie Lammers (13th) and Lydia Heald (43rd) and sophomore Sydney Helt (16th) were also among the seven varsity runners from last season. Their top two JV runners ran close to one another at the meet - junior Karlie Stoos and sophomore Emma Steele. They should be among the favorites to replace the departed senior Alee Lewis. But again, there will be a lot of competition.
Sioux City North Stars — 2018 MRC Finish: 5th (97 points)
Coach: Abdier Marrero
Junior Lillian Garay - a state qualifier last year - had a strong season as a sophomore, finishing in fourth place at the MRC meet to lead the Stars. Fellow juniors Emma Kelley (17th) and Mia Norton (30th) are also back while seniors Chirstina Ly (31st) and Monica Olson (41st) and sophomore Nicole Zuehl (23rd) return to the fold. They lose just one among their top seven at the meet, so sophomores Aphraditie Hancock (best name ever) and Megan Kopp will look to move up the line this year.
Sioux City West Wolverines — 2018 MRC Finish: 7th (213 points)
Coach: Christine Poeckes 
The Wolverines will bring back their top six runners from last year's MRC meet. Juniors Holland Larned and Madison Evans placed 39th and 40th, respectively, last year while sophomore Xitali Sanchez was 51st, right ahead of returning senior Kamaria Jones (52nd). Also returning to the fold should be senior Kazzandra Vazquez (67th) and junior Shewit Gafo (84th). Junior Gabbie Garcia-Rivera should slot in nicely after narrowly missing the seventh spot for varsity last year.
Le Mars Bulldogs (NEW TO THE LEAGUE)
Coach: Linda Meis
The Bulldogs had three state qualifiers last season, and they bring back two of those girls in seniors Kara Albrecht and Chloe Calhoun. Fellow seniors Sarah Meis and Paige Washburn are also back, and junior Caroline Meis and sophomore Katie Cunningham also return to the fold for what looks to be a solid team in 2019.
PREDICTION
I predict Amber Aesoph and Kaia Downs have some amazing battles throughout the season. I also think Sioux City East will gain a bit on Heelan with how things worked out with graduation. Still, there's a lot of ground to make up.
The Pick: Bishop Heelan Catholic. 
---
BLUEGRASS CONFERENCE 
I don't have results of the Bluegrass Conference meet last year, and I don't know for sure if it actually happened (or if there even is one). I do know that I was able to track down some SQM results from the teams that did have runners. Here's a look at that.
Diagonal Maroons
Coach: Matt Warren
I don't have any evidence of a Diagonal cross country runner last season. I checked the SQM they were assigned to, but it doesn't appear as though anybody ran for them. If I'm wrong - or if you have any further information on this team - please feel free to email dmartin@kmaland.com.
Melcher-Dallas Saints 
Coach: Amy Stuart
The Saints return one of the best distance and cross country runners in the area. Junior J'Lyn Knutson had a splendid season with a third-place finish at the Marshalltown Class 1A SQM. She then went on to place 25th at state. She'll look for even more this season. She could also be joined by teammate and fellow junior DoraMae Bennett, who also ran at last year's SQM.
Moravia Mohawks
Coach: Darcie Whitlow
The Mohawks had three runners last year at their SQM in Iowa City, and two of those girls have graduated. The lone potential returnee from last year's team is senior Melissa Hanson. 
Orient-Macksburg Bulldogs 
Coach: Grant Bohlke
(Copy and paste) — I don't have any evidence of an Orient-Macksburg cross country runner last season. I checked the SQM they were assigned to, but it doesn't appear as though anybody ran for them. If I'm wrong - or if you have any further information on this team - please feel free to email dmartin@kmaland.com.
Twin Cedars Sabers 
Coach: Trent Verwers
Twin Cedars had just one girls runner last season, and it's a pretty familiar name. Sophomore Brooke Roby - well known for her exploits in a number of sports and for my iMac continually autocorrecting her last name to Roxy - ran 48th at last year's SQM in Iowa City. If she returns, she'll definitely be one to watch in the area.
---
Please send any corrections, questions, comments and/or concerns to dmartin@kmaland.com.