(KMAland) -- Tri-Center and Treynor have owned the Western Iowa Conference for a number of years. Underwood, once also in that mix, looks primed for a huge season. Time for another Fall Sports Preview.
FALL PREVIEW LINKS 
FOOTBALL: Class 8-Man District 7
FOOTBALL: Class A District 10
VOLLEYBALL: Hawkeye Ten Conference
---
MARTIN BLOG FALL PREVIEW NO. 4 - WESTERN IOWA CONFERENCE VOLLEYBALL
AHSTW Vikings – 2018 Record: 26-11 overall, 5-3 conference  
Coach: Kelsey Muxfeldt
Hitting: The Lady Vikes return their top hitter in senior Kinsey Scheffler, who averaged 2.69 kills per set and hit .268 efficiency, but they lose their next two. Junior Kailey Jones (0.94 KPS) will see an uptick in chances. After that, it's up in the air. There will definitely be some new faces and names emerging for AHSTW this season.
Setting: AHSTW ran a 6-2 last season with the graduated Kyley Nelson and sophomore Ally Meyers working the two spots. Meyers averaged 2.38 assists per set and should slide into the primary role this year. Whether they run a one-setter or two-setter offense this year is up in the air. You know, like a set.
Defense: Senior Paige Osweiler has the third-highest digs per set average returning in the conference. She averaged a gaudy 3.53 digs per set, so AHSTW is more than set in this regard. Meyers (1.42 DPS), senior Baylee Meyers (1.36 DPS) and junior Claire Harris (1.13 DPS) are other returnees at over one dig per set last season. At the net, Jones had a team-high 41 blocks while Scheffler was third with 29. That's the extent of their returning swats.
Conclusion: AHSTW had a breakout season a year ago, and even though they did lose a number of solid contributors, I would expect they will be just as good (if not better) as last year. Their top returning hitter is back, one of their setters is back and they are in really good shape defensively. Expect another winning season.
Audubon Wheelers – 2018 Record: 11-21 overall, 2-6 conference
Coach: Elizabeth Stein
Hitting: Top hitter Keaton Wessel has graduated, but they return a solid senior class full of contributing hitters from a year ago. Seniors Leah Subbert (1.02 KPS), Melissa Deist (0.96 KPS) and Mallory Riebhoff (0.82 KPS) make for a fine and experienced trio of hitters for this year's Wheelers.
Setting: They will have to replace setter Gianna Knueven, and that could fall to sophomore Jaci Christensen. Christensen looks to have done a little setting at different points through the year, averaging 0.33 assists per set. That could have just been out-of-system stuff, though, so I don't want to speculate any further than I already have.
Defense: The top returning libero in the conference, according to the numbers, is back. Senior Rylie Hartl averaged 4.29 digs per set while Subbert also did strong work around the rotation at 2.43 DPS. Junior Madison Vorm (1.11 DPS) is another back row possibility for Audubon. Riebhoff (45 blocks), Deist (35) and Subbert (24) were the top three in blocks last season, and I see no reason for that to change this year.
Conclusion: The Wheelers continue to take baby steps, but I think this could be the year they take a giant leap. If they get their setting figured out, there's a nice trio of experienced hitters they can turn to. And we know the back row defense is going to be a stalwart.
IKM-Manning Wolves – 2018 Record: 14-17 overall, 4-4 conference  
Coach: Kathy Lage
Hitting: The Wolves had a bit of a down year last year, and it was kind of surprising considering all the seniors they had on their roster. Their top seven hitters have all graduated. Senior Lexi Branning did play in nine sets and had 10 kills. She could be an option. Other than that, we'll see some new faces and hear some new names very soon.
Setting: Sadie Thompson was a great setter for the Wolves, but she has since graduated. Senior Miranda Benton, it appears, may have done a little bit of setting. But it was very little, and I hate to speculate without knowing the complete ins-and-outs of the IKM-Manning program.
Defense: Good news here. Senior Emily Kerkhoff had another fine season holding down the back row and finishing the year with 2.99 digs per set. Senior Mya Nelson also did a nice job in the back row with 1.31 DPS. Maybe one of those two – or both – could move into the setter role this year. The blocking is like the hitting. Their top seven are all gone.
Conclusion: IKM-Manning is certainly bringing a bit of a different look – in terms of roster diversity – this year. Last year, we knew those seniors were going to lead the way. This year, a lot of it is up in the air. Still, the Wolves seem to produce volleyball talent year in and year out. I wouldn't expect too big of a drop off (if at all).
Logan-Magnolia Panthers – 2018 Record: 12-16 overall, 3-5 conference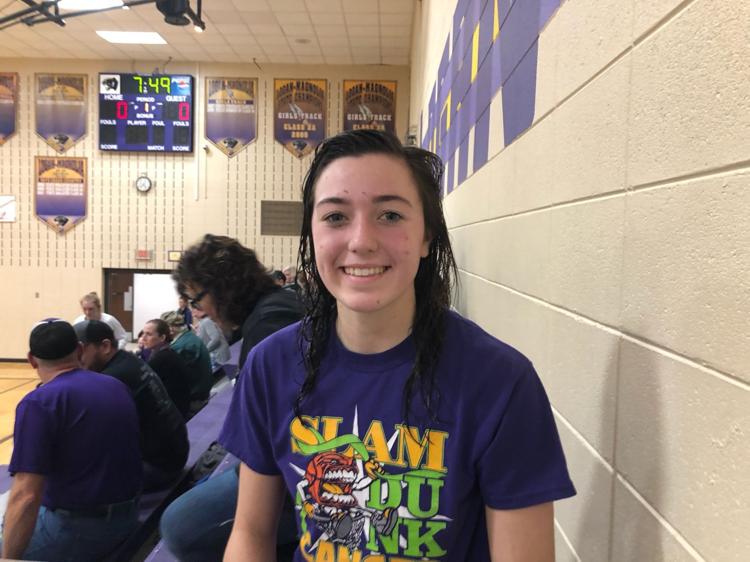 Coach: Faith Bruck
Hitting: Four of their top six hitters are back, including the top two – junior Courtney Ohl and senior Kylie Morrison. Ohl averaged 1.65 kills per set and Morrison was at 1.46. Sophomore Ruby Nolting (0.97 KPS) and senior Jaice Johnsen (0.76 KPS) are also back and could see their roles grow.
Setting: Junior setters Ashlyn Doiel and Emme Lake are also returning to the mix after averaging 3.14 and 2.75 assists per set a year ago. This is music to the ears of the Lo-Ma faithful, as bringing back four top hitters and two setters can only mean good things for the chemistry and cohesion of their offense.
Defense: Johnsen and Morrison pulled double duty, leading the team with 2.65 and 2.39 digs per set, respectively, last year. Junior Ashley Christians (1.54 DPS), Ohl (1.44), Lake (1.16), Doiel (1.13) and junior Emilie Thompson (1.04) were also over one dig per set. That's the top seven in the category – all back. They do lose a significant presence at the net in Alexis Christians. Nolting's 17 blocks is the top returning number on the team.
Conclusion: If the only thing you're somewhat worried about is blocking then you have to feel pretty good about Lo-Ma's chances for success this season. Don't get me wrong, they'll need to get some touches and would sure prefer someone fill in for Christians' 40 blocks last year, but there's a lot of experience returning to the fold. Lo-Ma looks to be in good shape for an improvement.
Missouri Valley Big Reds – 2018 Record: 19-17 overall, 2-6 conference
Coach: Josie Esser
Hitting: Star hitter Carter Crispin has graduated and moved on to the college game, but they do return their next four hitters from last season. That's led by senior Megan Winchester, who averaged 1.38 kills per set. The others will definitely have plenty of chances. Those others include junior Carlie Winchester (0.88 KPS) and senior Patricia Bostwick (0.85 KPS). Look for more from senior Payton Hilts and junior Claire Clausen, too.
Setting: Senior Brianna Ladd stepped into a primary setting role last season, and she should be ready to take it on full force this year. She averaged 0.80 kills per set, but I'd expect that number to go down a tick this year as she focuses more on setting where she averaged 2.70 assists per set.
Defense: Two girls that averaged over 3 digs per set last season are gone – Crispin and libero Jordyn Gilpin. Ladd is the top returning player in that category with 2.10 DPS. Clausen and junior Lauren Austin also averaged over one dig per set in the time they played last year. Senior Julia Janssen could also help in this role. Megan Winchester is the conference's third-ranked returner in total blocks (43), and Carlie Winchester had 22. Those numbers could go up, providing a solid duo at the net.
Conclusion: Hey, anytime you lose someone like Carter Crispin, who played all the way around for four years, it's going to be difficult to replace. That said, I think Missouri Valley still has some pieces in place to continue to be more than competitive in 2019.
Riverside Bulldogs – 2018 Record: 7-24 overall, 0-8 conference
Coach: Michaela Schwartzkopf
Hitting: There were only two seniors on last year's team, and neither of them did much hitting. So, their top seven hitters are back. That's led by seniors Jadyn Achenbach (2.06 KPS), Abi Petersen (0.95) and Meghan Reed (0.53); juniors Kya Hackett (1.10), Ella Hensley (0.96) and Emily Brown (0.54 in 13 sets); and sophomore Izzy Bluml (0.94 KPS).
Setting: Even better, all those hitters return their junior setter Kenna Ford, who averaged 4.52 assists per set. Senior Ashlynn Amdor also averaged 1.41 assists per set, and she is also returning to the mix.
Defense: Senior Gracie Bluml was tops on the team last year with 2.77 digs per set. Junior Ari McGlade was another back row stalwart that averaged 1.77 DPS. Achenbach (1.26), Ford (1.20) and Amdor (1.13) also averaged over one dig per set. There wasn't a whole lot of blocking, but those that did block are back, too. Achenbach (18 blocks), Hensley (14) and Hackett (12) were tops there.
Conclusion: There's a lot of experience returning, and knowing these girls, it's also a lot of athleticism. The Bulldogs should be the most improved team in the conference. I would be very surprised if they don't double their win total. Maybe that's aggressive, but I like aggressive.
Treynor Cardinals – 2018 Record: 33-8 overall, 7-1 conference
Coach: Kim Barents
Hitting: Well….the only real way to know exactly what the Treynor offense will look like is to attend, work or live in the Treynor district. Their top seven hitters – all that averaged 1.02 or more kills per set – are gone. Senior Kennedy Elwood is the top returning hitter at 0.49 KPS.
Setting: Their top two setters are also gone. Elwood is tops in returning assists – 18 total and 0.30 per set. That's all likely out of system stuff, so I wouldn't count on Elwood being the top hitter AND setter.
Defense: Their top five in digs per set have graduated or moved away. Junior Stella Umphreys (1.18 digs per set) and senior Tori Castle (1.15 DPS) saw some time last year and handled their business when they entered. Elwood is also the returning leader in blocks (12). Junior Anna Halverson had eight blocks in 23 sets – a pretty good ratio.
Conclusion: They lost A LOT, and they don't return a whole lot of varsity time. The only other player not already mentioned that saw some varsity time was junior Malloy Helvie, who played three sets. So…it's up in the air what this team will look like. Still, I have faith in Coach Barents and the Treynor program, culture and system. They might not be 33 wins good, but they will still put a good outfit out on the court.
Tri-Center Trojans – 2018 Record: 31-8 overall, 8-0 conference
Coach: Amy Wingert
Hitting: Their star trio of senior hitters – Emma McDonald, Brooklyn Hundt and Olivia Maassen – have graduated. However, they're well-positioned to have some of their role players from last year step into starring roles this season. Junior Presley Pogge averaged 1.05 kills per set while sophomore Tatum Carlson (0.54 KPS) had a solid freshman season. Junior Kylie Alfers played just seven sets, but she delivered 0.43 KPS when she did play. She could be a solid piece of their offense this season.
Setting: Lilly Dahir was one of the top setters in the area during her time in a Tri-Center jersey, and now she hands it off to…?? Sophomore Miranda Ring did set a bit, averaging 1.15 assists per set. It could be her turn.
Defense: Maassen, Dahir and Hundt did more than set and hit. They also played terrific defense, averaging 2.52 digs per set or more. Carlson and Pogge were also terrific in this regard with 2.43 and 2.29 DPS, respectively, and sophomore Marissa Ring was at 1.04 DPS. Pogge was an impact player at the net, too, with 33 total blocks. Miranda Ring is the next-best in that regard with 14 total swats last year.
Conclusion: A new coach, a new-look team and I think it's going to be the same old successful Tri-Center. They might take a little bit to work into their roles, but the returning pieces are nice and I've heard good things about their freshman class.
Underwood Eagles – 2018 Record: 23-13 overall, 6-2 conference
Coach: Paula Carman
Offense: Can you say loaded? They bring back the first and third-ranked returning hitters in the league with juniors Macy Vanfossan and Zoe Rus averaging 3.12 and 2.64 kills per set, respectively. Senior Lauren Brown (1.13 KPS) is also among the top eight returning hitters.
Setting: The top returning setter in the league is also back for the Eagles. Junior Peyton Cook averaged 5.74 assists per set and will have three talented hitters to continue to add to that average.
Defense: Senior Erica Rowe had a 3.69-digs per set average last season – the second-highest returning average. Vanfossan (3.05 DPS), senior Erin McMains (2.56 DPS), Rus (2.45) and Cook (2.07) were also all over two digs per set. Even junior Allie Robertson and senior Ashlyn Torneten should be suitable defensive standouts if need be. At the net, Brown (0.73 blocks per set) is the top returning blocker in the league while Vanfossan (40 blocks), Cook (33) and Rus (26) all had 26 or more swats.
Overview: The Eagles last went to the state volleyball tournament 15 years ago. I think it's time to get serious about ending that drought. They should be a top 15 preseason team in the state, and with the teams ahead of them in the league having to replace a lot, this is your WIC favorite.
---
PREDICTION
I gave away the prediction with the last sentence of the preview. I don't feel too badly about it. You had to wait all that time to find out. Now you know.
I like the Eagles to take the WIC this year, but I don't think Tri-Center is going to be willing to give up the crown too easily. Treynor is a wild card that you just expect to always be good while AHSTW has plenty returning from a team that had one of its most successful seasons in years. Those are my top four at the moment.
Logan-Magnolia, Riverside and Audubon have a lot returning to the fold and should be improved. Missouri Valley loses their star and their setter, but they also have some girls waiting in the wings ready to fly. IKM-Manning lost a whole lot from last season's team that was under .500. They'll have a reset with some new faces this year.
---
Here are your returning WIC leaders…
Top Returning Hitters (Kills Per Set)
Macy Vanfossan, JR, Underwood (3.12 KPS)
Kinsey Scheffler, SR, AHSTW (2.69 KPS)
Zoe Rus, JR, Underwood (2.64 KPS)
Jadyn Achenbach, SR, Riverside (2.06 KPS)
Courtney Ohl, JR, Logan-Magnolia (1.65 KPS)
Kylie Morrison, SR, Logan-Magnolia (1.46 KPS)
Megan Winchester, SR, Missouri Valley (1.38 KPS)
Lauren Brown, SR, Underwood (1.13 KPS)
Kya Hackett, JR, Riverside (1.10 KPS)
Presley Pogge, JR, Tri-Center (1.05 KPS)
Top Returning Setters (Assists Per Set)
Peyton Cook, JR, Underwood (5.74 APS)
Kenna Ford, JR, Riverside (4.52 APS)
Ashlyn Doiel, JR, Logan-Magnolia (3.14 APS)
Emme Lake, JR, Logan-Magnolia (2.75 APS)
Brianna Ladd, SR, Missouri Valley (2.70 APS)
Top Returning Defenders (Digs Per Set)
Rylie Hartl, SR, Audubon (4.29 DPS)
Erica Rowe, SR, Underwood (3.69 DPS)
Paige Osweiler, SR, AHSTW (3.53 DPS)
Macy Vanfossan, JR, Underwood (3.05 DPS)
Emily Kerkhoff, SR, IKM-Manning (2.99 DPS)
Top Returning Defenders (Blocks Per Set)
Lauren Brown, SR, Underwood (0.73 BPS)
Mallory Riebhoff, SR, Audubon (0.50 BPS)
Megan Winchester, SR, Missouri Valley (0.46 BPS)
Macy Vanfossan, JR, Underwood (0.43 BPS)
Melissa Deist, SR, Audubon (0.42 BPS)
Top Returning Servers (Total Aces)
Zoe Rus, JR, Underwood (47 aces)
Ally Meyers, SO, AHSTW (46 aces)
Brianna Ladd, SR, Missouri Valley & Peyton Cook, JR, Underwood (40 aces)
Courtney Ohl, JR, Logan-Magnolia (39 aces)
Send any and all questions, comments and/or concerns to dmartin@kmaland.com.