(Glenwood) -- The coaching duo of Treynor's Kim Barents and Riverside's Michaela Schwartzkopf claimed the team title at the 3rd Annual KMAland All-Star Volleyball Series. 
Barents and Schwartzkopf's team of Lewis Central's Delaney Esterling, AHSTW's Kinsey Scheffler, Logan-Magnolia's Olivia Diggins, Fremont-Mills' Lydia Alley, Abraham Lincoln's Sam Christiansen, Shenandoah's Natalie Gilbert, Boyer Valley's Abbie Miller, Red Oak's Elle Rengstorf, Glidden-Ralston's Talia Schon, East Union's Alissa Weinkoetz and Glenwood's Jaeda Wilson defeated Nodaway Valley Coach Alison Kiburz' team in the finals (25-15).
The champions lost a match in pool play, but qualified for the semifinals and cruised winning their two matches by a combined score of 50-23. 
Esterling paced the team and was crowned the tournament MVP. Scheffler also earned all-tournament honors along with Red Oak's Sophie Walker (Kiburz), Lewis Central's Megan Witte (Faith Bruck), AL's Elaina Bohnet (AngieMontgomery) and Southwest Valley's Jentry Schafer (Montgomery).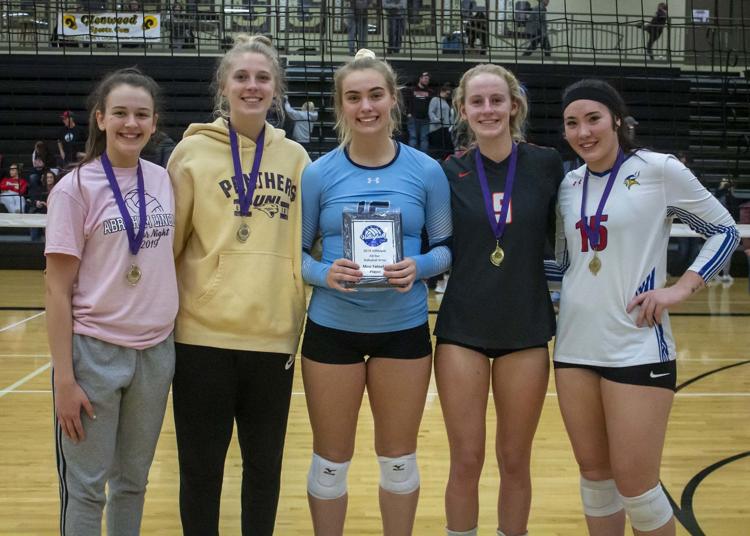 Team Montgomery---the defending champion-- went undefeated in pool play but lost to Team Kiburz in a semifinal 25-22. 
In total, 60 volleyball players from 33 different schools participated in the tournament. Award winner for the Bluegrass, Corner, Hawkeye Ten, Missouri River, Pride of Iowa, Rolling Valley and Western Iowa Conferences were recognized. 
Complete results from Sunday as well as video interviews with Barents, Schwartzkopf and Esterling can be found below.
POOL PLAY 
Pool A
Coach Kiburz over Coach Elwood 21-15
Coach Bruck over Coach Kiburz 21-12
Coach Bruck over Coach Elwood 21-12
Pool B
Coach Montgomery over Coach Barents/Schwartzkopf 21-18
Coach Barents/Schwartzkopf over Coach Malcom 23-21
Coach Montgomery over Coach Malcom 21-16
SEMIFINALS 
Coach Barents/Schwartzkopf over Coach Bruck 25-8
Coach Kiburz over Coach Montgomery 25-22
FINALS/CONSOLATION
Coach Barents/Schwartzkopf over Coach Kiburz 25-15
Coach Malcom over Coach Elwood 21-17