(KMAland) -- The KMA Sports Top 25 Team Countdown from the 2018-19 sports year continues today with a state football semifinalist, a repeat and surprise state champion and the cardiac kids of Mount Ayr.
No. 19 – Fremont-Mills Football
The Knights lost their first game of the season, losing to Exira/Elk Horn-Kimballton before responding with 11 consecutive wins. The last of those came against the Spartans in a revenge victory that sent them back to the UNI Dome.
And all they did at the Dome was put together one of the wildest, most insane and most exciting semifinals in state history. Unfortunately, it ended in a 60-54 loss at the hands of eventual state champion New London.
Senior Mason Vanatta had 1,170 yards passing and 1,075 yards rushing to go with 41 total touchdowns. Sophomore Seth Malcom added 1,202 yards rushing and scored 25 times on the ground while also leading the defense with 101 total tackles, including 18 solo tackles for loss.
Other senior standouts for the Knights were Connor Alley, Jonah Bateman, Dylan Chambers, Austin Gartner and Jaeger Powers.
View some of our coverage of Fremont-Mills football below.
-Fremont-Mills/New London semifinal recap
-Fremont-Mills/Exira/EHK quarterfinal recap
-Fremont-Mills/Lenox first round recap
-Knights clinch district title
No. 18 – Syracuse Girls Track
The defending state champions of Nebraska's Class B did it again this season, but it came as a huge shock to everyone, including their own Coach Rick Nordhues.
After losing to Platteview in every meet all season, the Rockets picked the best time to knock them off for the first time. In the midst of their second straight title, Lauren Siefken won the 800, Lauren Meyer repeated as triple jump champion and Jessica Moss took the high jump.
The title, though, wasn't clinched until they outscored Platteview on their way to winning the 4x400 meter relay championship.
View our coverage of Syracuse girls track below.
-Coach Nordhues reflects on title 
No. 17 – Mount Ayr Softball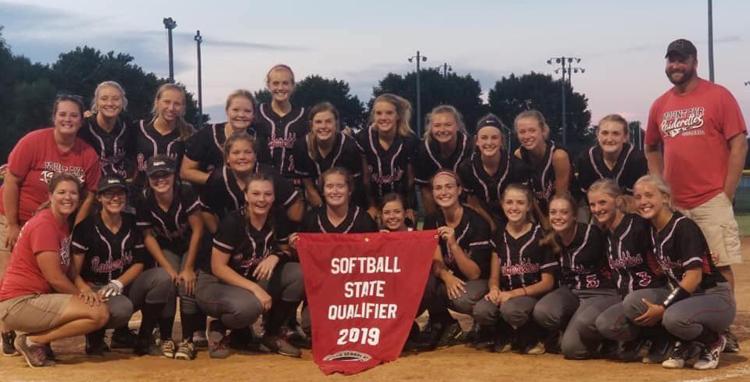 What a finish to the greatest season in Mount Ayr softball history. The Raiderettes – making their first trip to state in 25 years – won a pair of classics, including an eight-inning walk-off victory over Beckman Catholic in the quarterfinals and a just-as-exciting third-place one-run win over East Marshall.
The Raiderettes finished the season 27-3 on the year behind the sterling pitching of their only senior Caroline McAlexander, who also served as the team's No. 3 hitter in the lineup.
Other standouts were sophomores Alexa Anderson, Channler Henle and Rachel Sobotka; juniors Sam Stewart, Abigail Barnes and Jaycee Knight and freshmen Addy Reynolds, Halsie Barnes and Maddie Stewart.
View our coverage of the Mount Ayr softball season below.
---
Top 25 Teams of 2018-19
19. Fremont-Mills Football
18. Syracuse Girls Track
17. Mount Ayr Softball
16-14: Thursday, August 1st
13-11: Friday, August 2nd
10: Monday, August 5th
9: Tuesday, August 6th
8: Wednesday, August 7th
7: Thursday, August 8th
6: Friday, August 9th
5: Monday, August 12th
4: Tuesday, August 13th
3: Wednesday, August 14th
2: Thursday, August 15th
1: Friday, August 16th