(Carter Lake) — Vice President Mike Pence says the road to President Trump's re-election runs through Iowa.
Pence was in Carter Lake Thursday speaking at PVS Metals, a plant that makes galvanized metal parts for a number of applications. Speaking to an estimated crowd of around 275 people, Pence says Iowa played a key part in the 2016 election, when Trump received 51% of the vote compared the Hillary Clinton's 42%.
"Four years ago a movement was born," said Pence.  "A movement of everyday Americans from every walk of life.  Here in Iowa, you believed we could be strong again.  You believed we could be prosperous again.  You said yes to President Donald Trump in 2016, and I just know that Iowa is going to say yes to four more years of President Donald Trump in 2020."
Pence touted the administration's work on the economy, saying they cut taxes when Democratic opponent Joe Biden wants to raise them.
"We rolled back more federal red tape than any administration in American history already," said Pence.  "We unleashed American energy and fought for free and fair trade.  In just three short years, we created seven million jobs all across America, including 11,000 jobs right here in the Hawkeye State.  Iowa saw it's lowest unemployment rate in more than 20 years."
Pence says the economic recovery has come even after a pandemic caused a contraction in jobs. Pence — who heads the White House Coronavirus Task Force — says a vaccine will be widely available this year.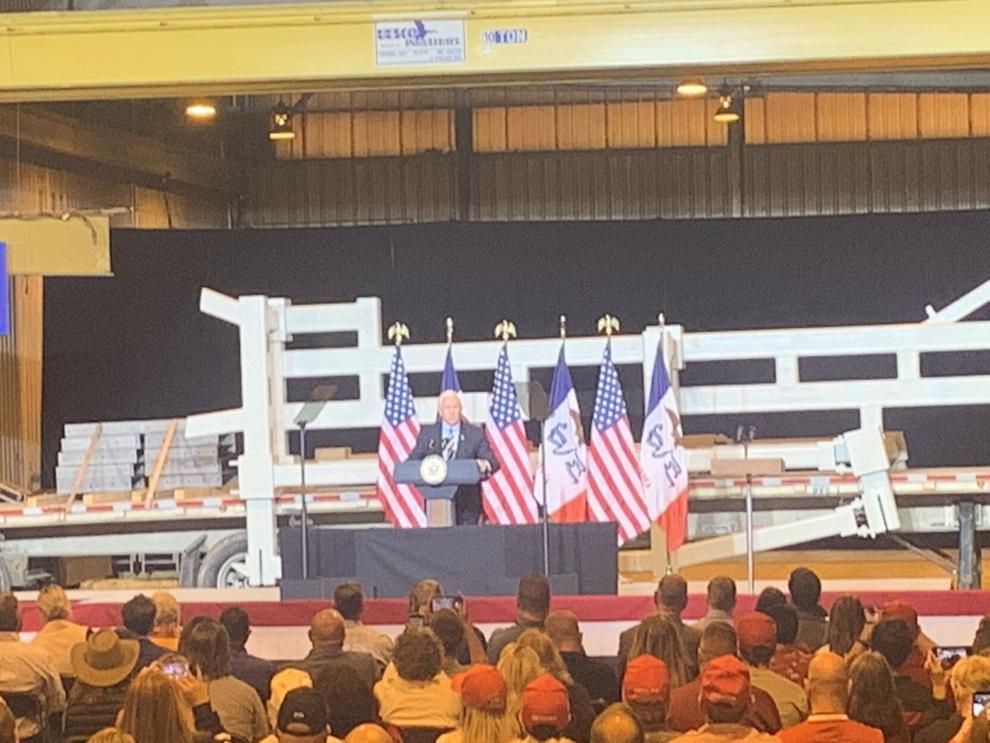 "We are on track to have the first coronavirus vaccine before the end of this year and we will have tens of millions of doses for the American people," said Pence.  "So, we're slowing the spread.  We're going to keep protecting the vulnerable, we're going to keep saving lives and we're going to keep opening up America again."
Pence stumped for all four Republicans running for House seats in Iowa — David Young, Randy Feenstra, Ashley Hinson and Mariannette Miller-Meeks — as well as Incumbent Senator Joni Ernst. Pence also touted Incumbent Representative Don Bacon, who is in a re-election fight in Nebraska's 2nd Congressional District, a potential swing vote in the electoral college and for control of the House. Pence says the very foundation of the country is at stake in the election.
"When you look at their agenda, one thing is clear: Joe Biden would be nothing more than a Trojan Horse for the radical left," said Pence.  "Joe Biden said in his convention speech that democracy was on the ballot on November 3rd.  Well I think our economic recovery is on the ballot.  Law and order are on the ballot."
Pence asked those in attendance to speak with their neighbors before the election, joking that they could say they 'bumped into Mike down at PVS.'
"Four more years means more jobs," said Pence.  "Four more years means more judges.  Four more years means more support for our troops.  You tell them I said it's going to take at least four more years to drain that swamp."
The visit was Pence's sixth to the state. After leaving Carter Lake, Pence went to a fundraiser in Des Moines for the Christian conservative group The Family Leader before returning to Washington, D.C.
The Iowa Democratic Party held one event in Carter Lake and one in Des Moines ahead of Pence's visit to the state.  In a statement, IDP Chair Mark Smith said, "As always, Vice President Pence's visit to Iowa today is void of solutions for the tens of thousands of Iowans suffering as a direct result of the Trump administration's failure. COVID-19 cases are continuing to rise at an alarming rate across our state and nearly 60,000 Iowans are still unemployed, yet Trump and Pence have no plan whatsoever to get our country back on track. Instead of enforcing his own Coronavirus Task Force recommendations in Iowa or working on a badly needed pandemic relief package, Pence and Trump are rushing through a Supreme Court justice to rip apart the ACA and protections for pre-existing conditions. This shameless self-promotion at a time when so many Iowans are out-of-work, sick, or grieving is tone-deaf at best. Iowans deserve leaders like Joe Biden and Kamala Harris who will work hard to fight for our lives and livelihoods and build back better our state."