(Treynor) — Underwood took down Clarinda behind a solid pitching performance from Zach Teten, while Treynor held off Red Oak's upset bid in district semifinal play Tuesday night — a doubleheader that was heard live on KMA-FM 99.1.
CLASS 2A DISTRICT 15 SEMIFINAL: UNDERWOOD 6 CLARINDA 2
Teten threw 6 1/3 solid innings to help lead his team to a 6-2 district semifinal victory over Clarinda. The junior right-hander gave up two runs, allowed seven hits, struck out four and walked none to earn the win.
"I thought Zach threw very well," Underwood head coach Andy Vanfossan told KMA Sports. "He's a strike thrower. He usually catches 99 percent of our innings, but we don't fall off a whole lot when we put Blake (Hall) back there. We feel comfortable putting Zach on the hill."
Underwood scored first in the game plating two runs in the top of the first inning. They would later score three more in the top of the fifth to take a 5-0 lead. Clarinda got a run back in the bottom of the fifth, but the Eagles responded with a run of their own in the sixth. Down the stretch, Underwood continued its solid play as a unit and took down the Cardinals by the four-run spread.
BASEBALL: Clarinda vs. Underwood (7/17/2019)
Photos by Joe Moore - J & C Photography
Eagles junior Nick Ravlin had a good day at the plate going 3-for-4 with three singles in the leadoff spot, sophomore Blake Hall had a double among two hits with two runs batted in, and senior Drake Adair and junior Landon Nelson both drove in runs. Additionally, freshman Jake Reimer reached base three times and had a stolen base.
The win moves Underwood into a district final against Treynor Saturday night. That game is scheduled to start at 7 p.m. and will be broadcast live on KMA-FM 99.1. Derek Martin has the play-by-play.
"I'd be lying if I said this was just another game," Coach Vanfossan said. "The nice thing about it though is that we were in the situation last year. We were fortunate that on Saturday and today that we were able to align our pitching the way we wanted. We have to bring our A-game."
Clarinda's season comes to a close at 11-16 overall under head coach Rod Eberly. Junior Parker Rock led the team with two hits and a run batted in, while Michael Shull, Cooper Neal, Jake Childs, Tadyn Brown, and Wyatt Schmitt all recorded hits. The Cardinals lose three seniors from this year's team: William Shull, Kam Fulk, and Sy Young.
Video interviews with Coach Vanfossan and Teten can be found below.
CLASS 2A DISTRICT 15 SEMIFINAL: TREYNOR 8 RED OAK 7
The Treynor baseball team survived a district semifinal round scare, holding on to beat Red Oak 8-7.
The Cardinals struck first with a four running inning in the bottom of the first. Red Oak responded with one run in the third and two in the fourth to make the game 4-3. Treynor would add two runs in the bottom of the fifth, however, Red Oak tied the game 6-6 with a three-run sixth. The Cardinals picked up two clutch runs in the bottom of the sixth and held off a Tiger comeback bid in the seventh and won by just one run.
"Honestly, we are very fortunate," Treynor head coach Bob Mantell said in a postgame interview with KMA Sports. "Red Oak is a very good team. Their record isn't indicative at all of the kind of quality team they have. They are well coached. They played hard just like we expected they would. Every time we play them it is a dog fight. Records don't mean anything. We were just very fortunate to win."
For Treynor in the win, junior Kristian Martens had a big night going 2-for-2 at the plate with a double, single, an RBI, two walks and two stolen bases. He later entered the game as a relief pitcher in the seventh inning and earned the save. Senior Brenden Dingus reached base four times on the night with three walks and a single. Jaxon Schumacher, Drew Petersen Tommy Duysen and Ryan Bach all drove in runs.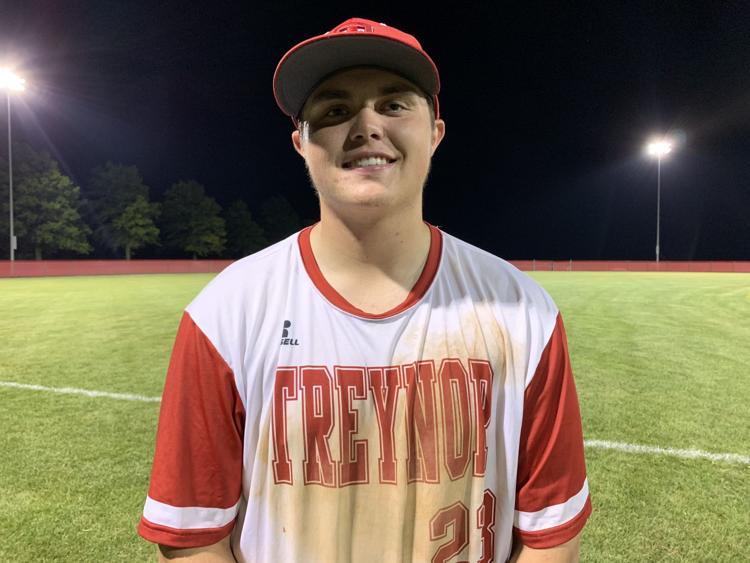 Petersen was the starting pitcher as he went five innings, allowed three runs, struck out six and walked one. Nate McCombs and Martens both worked innings out of the bullpen. Next up for the Cardinals is a district final at home against Underwood Saturday night.
"We haven't played them this year," Coach Mantell said. "We were rained out both times we were scheduled to play them. We know they are very good. Andy and Brad do a great job with those guys. They have really good arms on the mound and they swing it really well. We have to play our best game for sure. Hopefully, we can step up and play well."
The Tigers never backed down in the contest, coming back in the game multiple times and even tied the contest 6-6 at one point in the sixth inning. Red Oak ended their season at 10-18 overall under head coach Mark Erickson. Senior Carter Bruce drove in three runs on three hits, eighth grader Dawson Bond had two RBI and two hits, and Mitch Johnson had a big two-run double in the game.
Red Oak loses a long list of seniors who all were big contributors on the team: Cam Vanderhoof, Colton Kinnison, Dillon Burns, Carter Bruce, Cole Carlson, and Mitch Johnson.
Video interviews with Coach Mantell and Kristian Martens can be found below.