(KMAland) -- Day 74 of blogging with no sports. This is the 68th consecutive blog and the 72nd during this period.
It's Football Friday! Over the past several weeks, I've highlighted the top-returning quarterbacks, the top-returning rushers, the top-returning receivers, the top-returning offensive and defensive lineman, the top-returning tacklers and the top 50 games in KMAland this fall. I also looked at the top rushing seasons of the past 12 years.
Today, it's time to move into some district previews. Already? Yes, absolutely. It's never too soon to start previewing districts. And frankly, from now through the beginning of the football season, nothing is really going to change.
Up first is an in-depth look at 8-Man District 7.
---
2020 CLASS 8-MAN DISTRICT 7 FOOTBALL PREVIEW
Bedford Bulldogs – Last Year: 4-4 overall (8-Man District 7)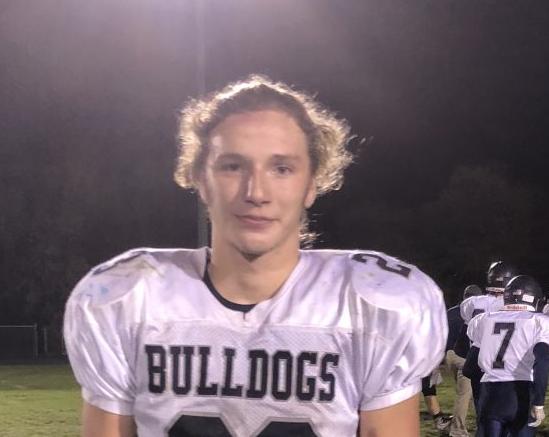 Coach: Matt Ambrose & Jeremy Nally
ALL-DISTRICT RETURNEES: Last year in 8-Man District 7, the Bulldogs had three first-team picks and eight second-team honorees. Those that return were strictly on the second team. Senior running back Eli Morris rushed for 780 yards and five touchdowns and had three kickoff returns for scores to earn a second-team nod at RB and returner. Morris also returns as a solid defender, finishing with 37 tackles and 3.0 tackles for loss in 2019.
Returning senior Dylan Swaney was also a two-time second-team choice at offensive line and linebacker. On the offensive line, he cleared the way for Morris and graduated standouts like Cooper Nally and Brennan Sefrit. On defense, Swaney was the top tackler with 68.5 tackles, 45 solos, 7.0 TFLs and 2.0 sacks. He also recovered a team-high three fumbles.
Yet another second-team returnee is senior defensive lineman Kaden Calfee. Calfee had a terrific defensive season of his own with 21.5 tackles, 4.0 TFLs and 2.0 total sacks. He also did a good job keeping offensive linemen off of Swaney and company.
MORE OFFENSE: The quarterback spot is up for grabs with the losses of Nally and Sefrit, who both spent some time under center during their careers. Senior Garrett Green or junior Logan Bucher might be the guy as both were listed as quarterbacks on QuikStats last year. Green rushed for 32 yards and Bucher had 24, but neither threw the ball. Joining Morris in the backfield, we could see more of junior fullback Carter DeMott and/or sophomore back Braydon Daly.
Green, if he's not the quarterback, joins Morris as a potential threat at receiver. He had five receptions for 120 yards and two touchdowns while Morris pulled in 10 balls for 62 yards. The receiving position is up for grabs with all of their other 62 receptions graduating.
MORE DEFENSE: Senior linebacker Jed Weaver, who is also a standout on the offensive line, ranked second on last year's team with 46.0 total tackles, including 30 solos, 4.0 tackles for loss and 2.0 total sacks. The aforementioned Green had 28 total tackles from his cornerback spot.
Look for senior defensive tackle Tanner Snethen (19 tackles, 4.0 TFL, 2.0 sacks), junior linebacker Logan Bucher (8.5 tackles) and junior defensive end Carter DeMott (7.0 tackles, 2.0 TFL) to also be among the top defensive players on the team. Others that could step into bigger roles in 2020: junior linebacker Dawson Stream, senior cornerback Brody Andresen and junior cornerback Gage Godsey.
FINAL WORD: They lost some flashy players that gave them a lot of offensive production, but they are going to be really, really good up front. They have some dogs that figure to clear plenty of holes for what I would think will be a heavy ground attack this fall. Further, three of their top four tacklers are back on defense, and you could see teams struggle to move the ball. Bedford is trending up.
CAM Cougars – Last Year: 8-3 overall (8-Man District 8 - State Quarterfinalist)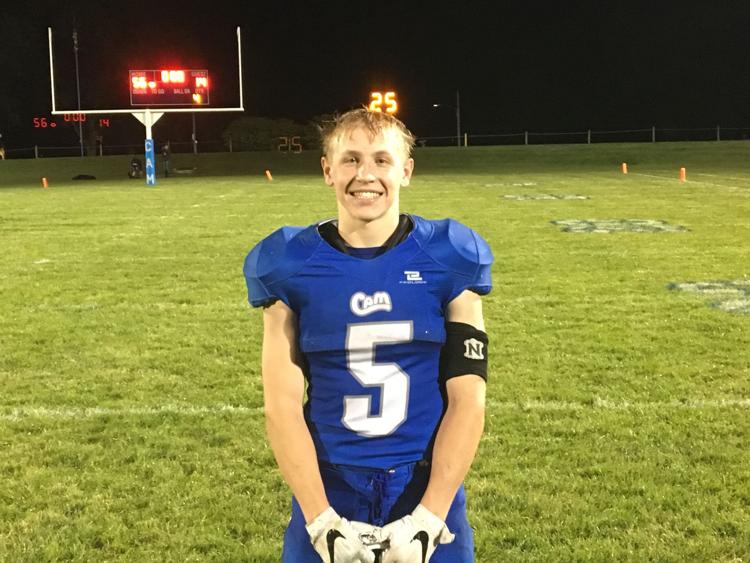 Coach: Barry Bower
ALL-DISTRICT RETURNEES: Junior Lane Spieker was an all-everything performer for the Cougars last season, earning first-team honors after rushing for 1,614 yards, receiving for 338 more and accounting for 34 total offensive touchdowns. Spieker was also a standout on defense with 47 total tackles, 4.0 tackles for loss, 2.0 sacks and three interceptions.
Junior Colby Rich also picked up a big honor in the district awards as the top punter in 8-Man District 8. Rich averaged 42.7 yards per punt, although he only did it six times. He also contributed as a receiver (10 receptions, 174 yards, 2 TD) and on defense (26.5 tackles, 17 solos, 9.0 TFL, 5.0 sacks, 2 FR).
Another junior – Joe Kauffman – was a second-team all-district performer on the defensive side. Kauffman had a great year in leading the Cougars with 85.5 total tackles, including 64 solos and 8.0 tackles for loss. Kauffman was also a ball-hunter, nabbing three interceptions (one for a touchdown) and three fumble recoveries.
MORE OFFENSE: Nate Hensley has graduated from the quarterback position, and that very well could mean yet another Hensley – sophomore Seth Hensley – takes over the position. Sophomore Gabe Rouse, Rich, senior Ethan Arp and Spieker also threw passes last season, but Hensley is the only one listed as a quarterback on QuikStats.
The Cougars figure to continue to keep the ball on the ground with Spieker averaging 9.1 yards per carry last season. Junior Cade Ticknor also had 527 yards and 14 touchdowns and averaged 8.0 yards per tote. Arp added 409 yards and six touchdowns, senior Karter Hilpipre ran for 96 yards, Kauffman had 39, Rouse finished with 37 and sophomore Gavin Clayton had 24 yards.
Spieker, Rich and Ticknor all had at least eight receptions last year, too. Spieker pulled in 23 balls and five touchdowns, Rich had 10 catches for 174 yards and two touchdowns and Ticknor finished with eight grabs for 89 yards and a score. Arp, junior Reese Ogelsbee, sophomore Sam Foreman and Hilpipre all had at least one catch last year, too.
MORE DEFENSE: The Cougars have four of their top five tacklers returning. I already told you about Kauffman and Spieker, but Arp was also a key piece at linebacker in finishing with 48.0 tackles, 39 solos and 1.0 tackle for loss. Ticknor chipped in 41.0 total tackles, 32 solos, 4.0 TFL and 2.0 sacks.
Rouse (16.0 total tackles), senior linebacker Jaxson Bell (15.5 total tackles), Hilpipre (13.5 tackles), Ogelsbee (10.0 tackles, 4.0 TFL), Foreman (5.0 total tackles) and sophomores Ty Eblen and Kaden Hensley (4.0 total tackles) are others that could contribute in various ways on defense.
FINAL WORD: This was a really good team that ran into Audubon twice last year, and they lost only six seniors. The nine-person junior class is outstanding, and there's burgeoning talent in other classes as well. Coach Barry Bower has inherited a program in terrific standing. They'll definitely be among the favorites in this year's district.
East Mills Wolverines – Last Year: 7-3 overall (8-Man District 7 - State Qualifier)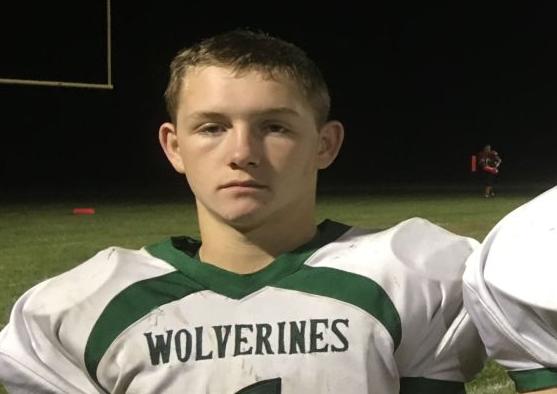 Coach: Claude Lang & Kevin Schafer
ALL-DISTRICT RETURNEES: Senior Jackson Wray received a first-team nod at kicker and second-team honor at both running back and linebacker. He's a multi-talented player that is about to become the focal point of their offense. Wray rushed for 344 yards and nine touchdowns, but he also had 42 receptions for 403 yards and four scores. On defense, he is the top-returning tackler with 69.0 total tackles, 41 solos and 12.5 tackles for loss. And yes, he could really kick in making three field goals and going 26/29 on PATs.
Senior offensive lineman Andrew Jackson was among the top centers in the area last year, picking up a second-team all-district choice. He moved people around for their prolific passing game and solid running game, and he contributed a bit on defense at defensive tackle with 4.0 total tackles.
Another second-team choice was defensive end Nolan Smiley, who also played offensive guard. Smiley had 37.5 total tackles, including 22.5 of those for loss and 5.5 for sacks. Big, big numbers for the senior. Brody Gordon was also picked as a second-team punter in averaging 34.9 yards per punt. The offensive guard/defensive end also had 40.5 total tackles, 22 solos, 8.5 tackles for loss and 1.5 sacks on defense.
MORE OFFENSE: With Michael Schafer gone following an incredible career of prolific passing, junior Ethan Yoshida appears to be the next man up. Yoshida, who threw six passes last year, should have a talented receiving core around him. Along with Wray, sophomore tight ends Davis McGrew (39 receptions, 404 yards, 4 TD) and Mason Crouse (36 receptions, 511 yards, 8 TD) are really talented and gained valuable experience this past year. Smiley even popped out and made eight catches for 105 yards and three touchdowns.
That said, it's not likely they will be putting the ball up as much as they did last season. They have a really nice offensive line returning, and Wray is definitely going to get more than the 54 carries he got last year. Sophomores Brodyn Wray and Peyton Embree combined for 32 carries while sophomore Ryan Stortenbecker carried four times, as well.
MORE DEFENSE: While the top two tacklers are gone, Wray is joined by an experience group of defenders that includes six of their top eight defensive players from 2019. McGrew had 45 total tackles while junior linebacker Tyler Prokop finished with 41.0 total tackles and 3.5 tackles for loss. Gordon and Smiley were already mentioned, and Yoshida had a solid year with 31.0 tackles, 3.5 tackles for loss and two interceptions.
Sophomore linebackers Stortenbecker and Crouse had 17.0 and 11.0 total tackles, respectively, while senior cornerback Billy Ray (7.5 tackles) and junior defensive ends Wyatt Franks (5.5 tackles) and Daniel McMullen (2.5 tackles, 2.5 TFL) could also be in the mix on defense.
FINAL WORD: When you see they lost Schafer and Duysen, you might think the Wolverines are going to take a step back. That might be true in certain points of the game, but as an overall team I feel the Wolverines are more than capable of putting together a solid, winning campaign.
East Union Eagles – Record: 5-4 overall (8-Man District 6)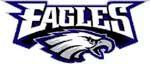 Coach: Tony Neubauer
ALL-DISTRICT RETURNEES: Senior defensive end Gauge Mitchell had a terrific season on the defensive side, earning first-team all-district honors. Mitchell had 87.0 total tackles, 77 solos, 13.5 tackles for loss and 7.0 sacks, and he should be ready for a big senior season.
Augustin McNeill – or Gus McNeill – was a second-team all-district punter for the Eagles. The senior averaged 41.2 yards per punt, but his biggest contributions will come under center. The returning quarterback had 640 yards passing and 10 touchdowns while also rushing for 331 yards and scoring 10 times on the ground.
Senior defensive end/running back Kael Seales and senior running back/cornerback Kanyon Huntington were both honorable mention choices. They were both among last year's top five tacklers on defense with Seales finishing with 58.0 total tackles, 5.0 tackles for loss and 4.0 total sacks. Huntington added 45.5 tackles and an interception. On offense, Seales had 240 yards rushing, 181 receiving and five total touchdowns while Huntington had 92 yards receiving and two touchdown receptions.
MORE OFFENSE: Senior running back Anthony Smith figures to be a pretty important part of their offense and their defense. He had 515 yards rushing and six touchdowns and pulled in 83 receiving yards with two more scores. Sophomore running back Emmet Long added 454 yards and four touchdowns on the ground. Senior Jarryn Stephens is another that could see some more carries this season, too.
While Seales is the top returning receiving option, senior Caleb Comstock had a nice season of his own with 11 grabs for 211 yards (19.2 per catch) and a team-high three receiving touchdowns. Sophomore Bryson Raney had four catches for 43 yards and a touchdown, too.
MORE DEFENSE: Mitchell, Seales and Huntington were three of the top five tacklers on last year's team. Senior defensive end Brody Kinyon, who also plays offensive tackle, had 28.0 total tackles, 24 solos, 4.5 TFL, 3.0 sacks and three fumble recoveries as a junior, and senior defensive end Alex Carrigan finished with 8.5 tackles and 1.5 tackles for loss. Smith had 12 total tackles and five interceptions to lead the secondary.
Additionally, seniors Aden Cosner, Stephens and Nate Purdy, junior Gaven Tomas and sophomores Long and Raney are other potential contributors that could see their playing time rise this season.
FINAL WORD: There's definitely some terrific returning talent on both sides of the ball for the Eagles. They have to feel good where they stand with their skill position players, and Mitchell is a key returnee on both lines. I'm definitely bullish on the Eagles, although the adjustment period in their new system with new coach Tony Neubauer will have to be quick.
Fremont-Mills Knights – Last Year: 7-2 overall (8-Man District 7 – State Quarterfinalist)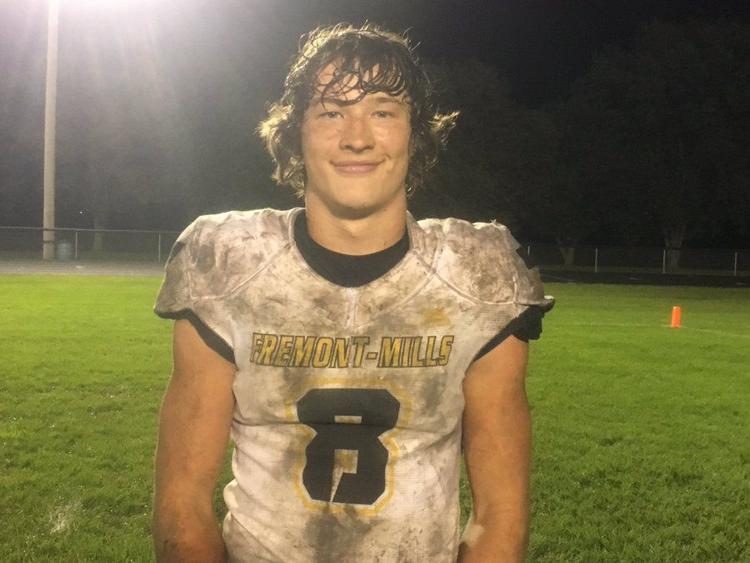 Coach: Jeremy Christiansen
ALL-DISTRICT RETURNEES: Division I recruit Seth Malcom was a first-team all-district pick at running back and linebacker, as well as the district's Defensive Player of the Year. His numbers were wild, finishing with 1,645 yards rushing on just 136 carries (12.1 yards per carry). He scored 29 touchdowns on the ground. Defensively, he had 70.5 tackles, 56 solos, 16.0 tackles for loss and 3.5 sacks while also picking off three passes (and returning one for a score). He's also a great return man, although not many will take the chance to kick to him.
Leading the way up front for Fremont-Mills will be senior first-team all-district offensive lineman Cooper Langfelt, who also figures to play some college football at the next level. He's big, agile and athletic as evidenced by his 21-yard receiving score last year. Defensively, he had 13.5 total tackles, 6.5 tackles for loss and 3.5 total sacks.
Speaking of defense, junior Adam Perrin was a second-team all-district pick on the defensive line. He had 10.0 total tackles, seven solos and 3.5 tackles for loss and is another key two-way player for F-M.
OTHER OFFENSE: Quarterback Colton Hauschild has graduated, but junior Jake Malcom should be good to go under center. He was pretty efficient with his passing last year, completing 10 of his 13 passes for 133 yards and two touchdowns. He also had a pair of rushing touchdowns. When older brother Seth isn't running the ball, Jake could be toting it more times than not. Juniors Kyle Kesterson, Nick Madison and Perrin and sophomore Paxten Van Houten are among some other rushing options.
When the younger Malcom puts it in the air, he will mostly be throwing to some inexperienced receivers. They lost three of their top four receivers with brother Seth the lone exception (6 catches, 62 yards). Van Houten and sophomores Kyler Owen and Taylor Reed could be some other receiving options.
OTHER DEFENSE: The best defensive player in the district is Malcom. You know that. The Knights, though, lose their next four tacklers from last season. Van Houten had a nice freshman year (29.5 tackles, 1.0 sack, 1.0 TFL) while Kesterson (22.5 tackles), Langfelt and senior TJ Ellington (12.0 tackles, 3.0 TFL) are other key returnees.
Perrin, senior Jesse Lemonds, sophomore Payten Van Houten and junior Nick Madison are others that got at least 3.5 total tackles last season for the Knights.
FINAL WORD: They have some key returning linemen, the Malcom brothers and the Van Houten twins about ready to break out into something special. Fremont-Mills loses very good to great players every single year, but they keep on winning. It's a tradition, and I don't see it slowing down in 2020.
Griswold Tigers – Last Year: 0-9 overall (8-Man District 7)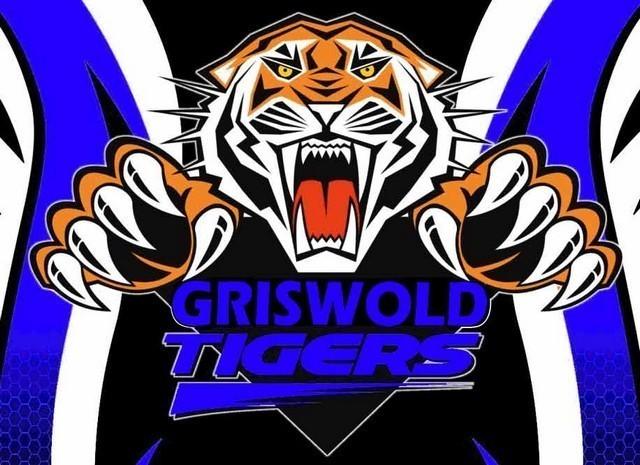 Coach: Chase Wallace
ALL-DISTRICT RETURNEES: Griswold brings back one all-district choice in second-team defensive back honoree Colton Turner. He had 35.0 total tackles and 25 solos for the Tigers last year. He was also their leading receiver with seven receptions for 139 yards, and it sounds like new coach Chase Wallace will be putting the ball up a little more than they have in the past.
MORE OFFENSE: That said, their bread will likely be buttered with the run game. Senior Lane Mueller rushed for 562 yards and six touchdowns last season, and sophomore Cale Swaim had a good year himself with 901 yards and 12 scores. Junior Alex Hartman (113 yards) and senior Hunter Jackson (80 yards) also got some experience on the ground.
Senior Colten Tasto had 65 yards receiving and averaged 32.5 yards per catch while Swaim and Mueller also caught one pass apiece. Again, you could see those guys used more often as receivers this year. The question is: Who will take over for Derek Mueller at quarterback? Junior Caleb Oakleaf is listed as a QB, but Coach Wallace might have other ideas for his scheme. We'll see.
MORE DEFENSE: Swaim is the top-returning tackler for the Tigers after finishing with 45.0 total tackles and 34 solos. Lane Mueller is next with 41.5 and 32 solos during his junior season, and Tasto had a solid year with 36.0 total tackles, 24 solos, 3.0 TFLs and 2.0 sacks.
Hartman and senior defensive tackle Brandon Bellmyer, a key offensive lineman, had 35.5 and 25.5 total tackles, respectively. Senior linebacker/offensive guard Sam Olsen (16 tackles) and Jackson (12.5 tackles) were also key contributors. Juniors Zander Luft, Oakleaf and Zach Weathers, senior Cooper Harrison and sophomore Cash Turner were others that received some PT on defense last year.
FINAL WORD: A new coach and potentially a new offensive scheme for the first time in a while. I'll definitely be tracking the amount of times they put the ball in the air from week to week. That said, they should be able to rely on their usually prolific rushing game most weeks. This is an intriguing team and situation.
Lenox Tigers – Record: 8-2 overall (8-Man District 6)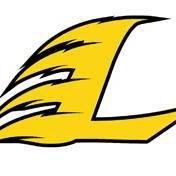 Coach: Cole Bonde & Michael Nardini
ALL-DISTRICT RETURNEES: There are SEVEN Lenox Tigers returning that received some form of all-district honor last season. The group is led by junior first-team offensive lineman Hernan Castor, who has paved the way for some great running games the last two seasons. He also had 10.5 tackles, 3.0 tackles for loss and 1.0 sack on defense.
Cullen Wood was a second-team all-district quarterback a year ago. He threw for 677 yards and 14 touchdowns against just three interceptions. He also rushed for 191 yards as a third running option. On defense, Wood had 18 tackles, nine solos and 1.0 tackle for loss.
Senior Brad Larson was a second-team honoree on both sides of the ball – at end on offense and at defensive back on defense. Offensively, he had just five catches, but he averaged 41.8 yards per grab and scored on three of those. Defensively, Larson had 32.0 total tackles, 25 solos, two interceptions (one for six) and a fumble recovery.
Junior two-way lineman standout Devin Whipple was picked to the second team as a defensive lineman. He had 40.5 total tackles, 30 solos, 14.0 tackles for loss and 1.0 sack. And junior Johnathan Weaver was a second-team linebacker with 55.0 total tackles, 32 solos, 3.5 tackles for loss, 1.0 sack and two each of interceptions and fumble recoveries.
There were also two honorable mentions in seniors Parker Reed and Keegan Christensen. Reed had a big defensive season with 11.0 tackles for loss and 6.5 sacks among 26.5 total tackles while Christensen had seven receptions for 178 yards and three touchdowns on offense and 3.5 tackles for loss on defense.
MORE OFFENSE: They have so much returning, but something that is not returning is a 1,000-yard rusher. Colton Gordon and Drew Venteicher were a two-headed rushing monster, and now it's likely going to be in the hands of Wood and sophomore Isaac Grundman, who had 388 yards and five touchdowns in 2019. Junior Thomas Trost had 138 yards and four scores, and Larson, Xavier Adamson and Keigan Kitzman all received some time running the ball.
Both Christensen and Larson figure to continue to be big-play receivers for the Tigers. Grundman (3 receptions, 53 yards) and Reed (1 reception, 13 yards, TD) could be some other receiving options.
MORE DEFENSE: Weaver and Whipple were two of the top three tacklers last year while Larson, Reed and Wood were among the top eight tacklers, as well. Junior Conner Fitzgerald and Trost had 17.5 and 10.5 tackles, respectively. Sophomore Walon Cook had a solid year with 9.5 tackles and 2.0 TFLs, and Grundman, Adamson, sophomore Jake Cox and seniors Juan Alonso and Rex Hoffman are other returnees.
Throw in guys like Andrew Kennan, Duncan Marshall and Roberto Sandoval – all juniors – and Kitzman, senior Danny Ramirez and sophomore Oscar Quintanilla and you have a lot of guys that got some experience in some form last year. All of those guys listed had at least two tackles last year.
FINAL WORD: They lost seven seniors, but it sure seems like they have the guys ready to go to fill those holes. The Lenox running game is certainly going to remain prolific, and they have some really good ball-chasers on defense. Add another team to the list of a potential district champions.
Stanton/Essex Vikings – Last Year: 4-5 overall (8-Man District 7)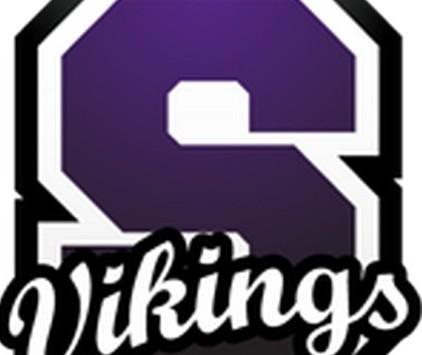 Coach: Jeff Grebin
ALL-DISTRICT RETURNEES: Junior linebacker Logan Roberts had a very large season defensively. He finished with 84.5 total tackles, 54 solos and 11.0 tackles for loss to lead the Stanton/Essex defense. He also had a solid season on offense, rushing for 121 yards, receiving for 153 and had five offensive touchdowns. I'd look for an even bigger year on offense in 2020 for Roberts.
MORE OFFENSE: Prolific dual-threat quarterback Keygan Day is on to the college game, and that leaves things in the hands of either junior Carter Johnson or senior Colby Royal. Royal, who has significant previous experience at the position, had 21 yards on eight pass attempts last year while Johnson threw the ball four times for 14 yards.
Regardless, those two are both going to likely be important pieces of the offense, along with Roberts. Royal did have a big year of receiving with 11 receptions for 303 yards and six touchdowns while Johnson had three receptions for 38 yards and a touchdown. There are plenty of other standout receiving options in junior Jack Roberts (192 yards, 2 TD), senior Tucker Hadden (53 yards, TD) and junior Quentin Thornburg (32 yards). Hadden (41 yards), junior Levi Martin (48 yards, TD) and sophomore Joshua Martin (21 yards) could be other rushing options.
MORE DEFENSE: While Roberts was the top tackler, four others return among their top eight defenders last season. Royal had 45.5 tackles, 31 solos and 4.0 TFL, Thornburg finished with 37.5 tackles and 6.5 TFL, Jack Roberts added 33 tackles and Johnson finished with 32.5 total takedowns.
Hadden (31.0 tackles, 3.0 TFL, 1.0 sack, 3 FR) was also a really key defensive standout last season and is back for his senior season at linebacker. Junior Tristan Frank had 21.0 total tackles and 3.5 tackles for loss, and Levi Martin finished with 17.5 tackles and 2.0 TFL. A few other names of note include seniors Rylan Houston, Kenneth Herbert, Franks and Tre Strough; juniors Slade Graham and Ransom Mascher and sophomores Jonan Wookey and Joshua Martin.
FINAL WORD: It'll be interesting to see how Stanton/Essex makes the transition from a Keygan Day-led offense to something that might revolve more around Logan Roberts, Johnson and/or Royal. Their defense looks to be in good shape, although in this district the offenses are plenty loaded.
---
CONCLUSION: Man, there are some really good returning teams here. Three teams really stand out, though: CAM, Fremont-Mills and Lenox. I also feel some major optimism for Bedford, East Mills and East Union, too, and I feel those three teams could definitely compete every Friday night.
And that's not to say Griswold and Stanton/Essex can't make a move, as they definitely both have some solid returning pieces. But right now, CAM, Fremont-Mills and Lenox appear to be the class of what is going to be a week in and week out GRIND.
Send any questions, comments and/or concerns to dmartin@kmaland.com.