(KMAland) -- Day 81 of blogging with no sports. This is the 75th consecutive blog and 79th during this period.
It's Football Friday! There have been plenty of fun and exciting Football Fridays, and this year's district football previews began last week. Here's a rundown of links to our previous Football Fridays that may be of interest to you.
Class 8-Man District 7 Football Preview
Top rushing seasons of the past 12 years
Today, we turn our attention to another district in the area – Class A District 9. All six teams are from the area, and there's plenty to write about all of them. On we go.
---
2020 CLASS A DISTRICT 9 FOOTBALL PREVIEW
AHSTW, Avoca Vikings – Last Year: 5-4 overall (A District 9)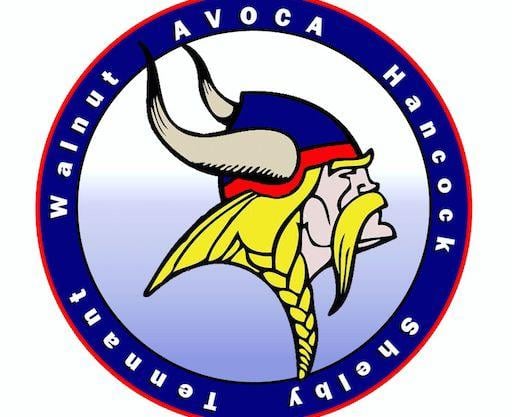 Coach: G.G. Harris
ALL-DISTRICT RETURNEES: Junior defensive back/receiver Raydden Grobe returns to the fold for the Vikings after nabbing first-team all-district last year. Grobe had a team-high four interceptions to lead the defense while also adding 12 receptions for 224 yards and six touchdowns on offense. Additionally, Grobe was the team's kicker and punter and will likely be so again this year.
Also returning to the fold is second-team all-district linebacker Denver Pauley. The junior had 39.5 total tackles, including 36 solos and 2.0 tackles for loss. Pauley, who also had one interception a year ago, was the team's top rusher on offense, too, in finishing with 727 yards and six touchdowns on the ground.
Add sophomore Brayden Lund and senior Blake Holst to the list of key returnees. They both were named honorable mention all-district last year. Lund played a bit of defense (3.5 tackles) as a freshman in 2019 while Holst was the team's quarterback, throwing for 1,065 yards and eight touchdowns. He also rushed for 175 yards and five more scores.
OTHER OFFENSE: While Holst, Pauley and Grobe make for a nice trio on the offensive side, they should have plenty of other contributors. Junior receiver J.J. Madsen had 10 receptions for 116 yards last year and will be among their top offensive producers next season. Look for junior running back Garrison Gettler and sophomore running back Cole Scheffler to get some PT, too.
OTHER DEFENSE: While the Vikings lose their top five tacklers, Pauley and Madsen (27 tackles, 1.0 TFL) were in the top seven a year ago. Senior defensive tackle Kyle Jorgensen, who also figures to be a key offensive returnee on the line, had 14.5 tackles, 3.0 TFL and 1.0 sack.
Grobe is joined in the defensive backfield by junior corner Hayden Fischer and Holst at safety. Meanwhile, Gettler looks to be a key contributor at linebacker. Some others to look for next season: sophomore defensive end Jacob Coon, sophomore defensive end Kolby Weihs, junior cornerback Jace Peterson, sophomore defensive tackle Ben Kenkel and sophomore safety Kyle Sternberg.
FINAL WORD: They had a really big and strong senior class last season, but there is some elite talent returning in key spots for 2020. I'd look for the Vikes to maintain a winning program this fall.
Riverside Bulldogs – Last Year: 2-7 overall (A District 9)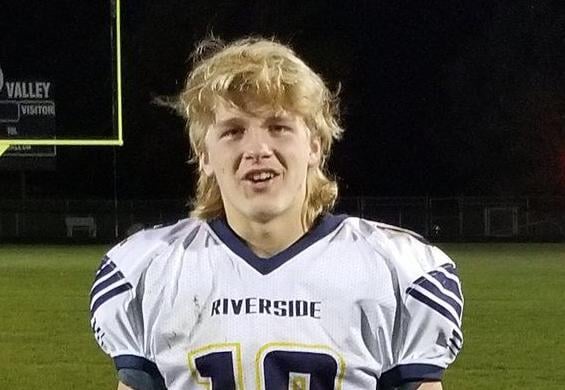 Coach: Darrell Frain
ALL-DISTRICT RETURNEES: Junior first-team all-district quarterback Austin Kremkoski was impressive in his first year starting. He threw for 1,476 yards, rushed for another 506 and had 16 total offensive touchdowns. They have to be excited about the prospects of his return on offense. He also had 11.0 total tackles on defense.
Kremkoski returns his most productive receiver, too, in senior Brogan Allensworth – a first-team selection himself. Allensworth pulled in 31 receptions for 580 yards and four touchdowns in a breakout campaign. He also had a solid defensive season with 13.0 total tackles, two picks and a fumble recovery.
You can add another first-team all-district performer to the list in senior offensive lineman Kaiden Hendricks. The 6-foot-2, 195-pounder was paramount to their offensive success while also finishing with 9.0 total tackles, 7 solos and 2.5 tackles for loss on defense.
On the defensive side of the ball, senior Eddie Vlcek picked up a first-team all-district nod on the defensive line. Vlcek tied for second on the team with 45.0 total tackles, finishing with 38 solos, a team-best 13.5 tackles for loss and 1.0 sack.
There are also two second-team picks returning for the Bulldogs. Junior wide receiver Rhett Bentley had 13 receptions for 239 yards and three touchdowns while also rushing for a pair of scores. On defense, he had 45.0 total tackles, 34 solos and 2.0 TFL. Senior Drake Woods was a second-team all-district choice at defensive back, finishing last year with 15.5 total tackles. He also made his mark on offense with 13 receptions for 174 yards.
Senior Wyatt Hough, an honorable mention all-district pick on the OL, is yet another returnee for the Bulldogs. He played a little bit of quarterback, throwing for 136 yards and rushing for 11. How often do you see someone listed as an offensive tackle and wearing the No. 65 play some QB? Pretty rare, I'm sure. He also had 4.0 tackles at defensive end.
OTHER OFFENSE: While Kremkoski returns with three of his favorite receiving targets intact, they will be looking for someone to replace leading rusher Mason Bivens. Senior Caden Manzer and Bentley figure to be options there. Junior Jace Rose carried the ball a few times last year, too, although he's listed at wide receiver and had 10 receptions. Sophomore receiver Aiden Bell added a touchdown catch on two grabs last season.
OTHER DEFENSE: They're certainly going to miss their defensive star Joel Henningsen, but they do have six of their top 11 returning tacklers. We've mentioned Bentley, Vlcek, Woods, Allensworth, Hendricks and Kremkoski, but Rose (17.5 tackles) is also a key returnee at cornerback. Senior defensive tackle Eli Ryun (9.5 tackles, 1.5 TFL), senior cornerback Ethan Reicks (7.0 tackles, 1.0 TFL), sophomore linebacker JJ Wilson (1.5 TFL) and sophomore defensive tackle Nathan Messerschmidt (1.5 TFL) also made key contributions.
Several others saw PT last year, including senior cornerback Mick Schroder, junior linebacker Nolan Moore, Manzer (a linebacker), sophomore safety Ayden Salais, sophomore defensive end Jon Alff and sophomore linebacker Nick Husz.
FINAL WORD: They certainly have a lot of talent returning, and this rebuild is still only entering its third year. I think they will really begin to see the fruits of their labor this upcoming fall. The Bulldogs are on their way.
Sidney Cowboys – Last Year: 2-7 overall (8-Man District 7)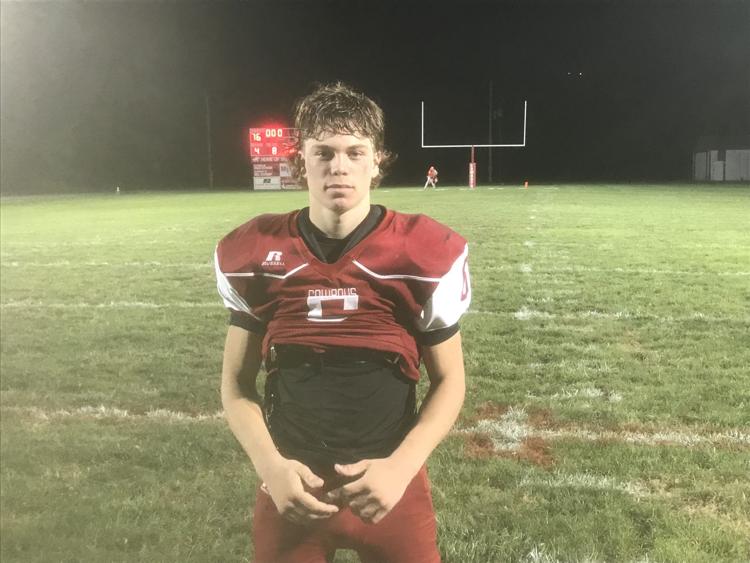 Coach: Donnie Sears
ALL-DISTRICT RETURNEES: Sidney says goodbye to a two-way first-team all-district choice in Thomas Wilson, who will be wearing Northern Iowa purple this fall. They also lost their second-team choice in Will Oswald. In their return to 11-man, they will be doing it without an all-district choice from last season.
OFFENSE: That's not to say they don't have some talent returning. Junior quarterback Matthew Benedict is back under center for the Cowboys. He threw for 784 yards and 10 touchdowns last year. With his top receiver – Oswald – gone, their most experienced pass catchers are running backs Tyler Hensley, Cole Stenzel and Leighton Whipple.
Hensley – a senior – was last year's leading rusher, finishing with 758 yards and eight touchdowns. He also had 14 receptions for 136 yards and two touchdowns. Stenzel – a junior – put down 308 yards rushing and 140 yards receiving. And Whipple – a senior – had 123 rushing, 58 receiving and five offensive touchdowns. Junior running back Garett Phillips had 188 yards rushing and two scores of his own.
Junior Brydon Bentley had a couple receptions, 86 yards rushing and two rushing scores last year. Sophomore running backs Taylor McFail and Ethan Maybee could also see some carries in a crowded backfield. Junior tight end Conner Behrends and senior tight end Chase Price also caught some PT last year and might be the top non-running back pass catchers.
DEFENSE: Hensley led the team in tackles last year, too. The senior linebacker had 38.5 total tackles, 26 solos and 0.5 TFL. Stenzel had a big year of his own at linebacker in finishing with 37.0 total tackles, 21 solos, 4.5 TFL and 1.5 sacks. Huntley – a corner – finished with a team-best three interceptions and had 31.5 total tackles.
Whipple (19 tackles), Phillips (16.5 tackles, 2 INT), Price (16.5 tackles) and junior defensive end/center Jeryn Parmer (15.0 tackles, 1.5 TFL) were also among the top 11 tacklers on the defense. Other returnees on defense are seniors Jordan Ortiz, Joseph Thompson and Isaiah Carter; juniors Behrends, Austin Pike and Micah Aldana; and sophomores Nik Peters, McFail, Maybee, Hadley Reilly, Lincoln Osborn and Samual Daly.
FINAL WORD: While there aren't any all-district players coming back, the senior class was not overly large last year. It'll be bigger this year, and there is a lot of experience coming back for Coach Sears. Of course, none of that experience is in 11-man football. It'll be interesting to see what the Cowboys look like this year.
Southwest Valley Timberwolves – Last Year: 3-6 (A District 9)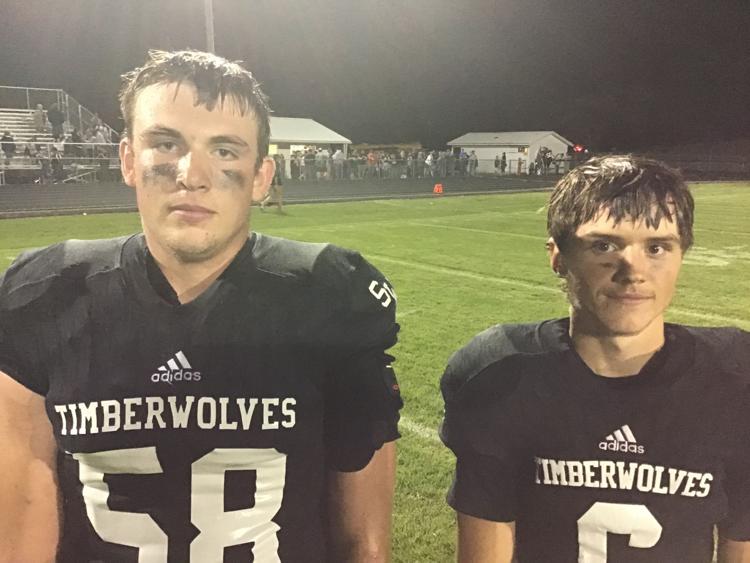 Coach: Anthony Donahoo
ALL-DISTRICT RETURNEES: There are seven total players returning that received some sort of all-district honor. It starts with their first-team offensive pick Brendan Knapp. Knapp is the quarterback, but he was given the first-team nod at running back. That's because he runs a lot, finishing with 748 yards and 11 touchdowns on the ground. He also threw for 585 yards and three touchdowns and was a key defensive player with 18.5 tackles and three interceptions.
Their top defensive star Tallen Myers returns for his senior season. The linebacker was named first-team all-district and finished with 67.0 total tackles, 44 solos, 7.0 tackles for loss and two fumble recoveries. He's also a key standout on the offensive line for the Timberwolves.
Tucker TePoel is yet another first-team choice from last season, and he earned it due to his strong leg. He averaged 36.4 yards per punt a year ago while also contributing in big ways on the defensive side. He had 31.0 total tackles, 20 solos, 10.5 tackles for loss and 4.5 sacks.
On the second team, we find senior offensive lineman Kaden Jacobs, junior defensive back Blake Thomas and junior defensive lineman Hunter Crill. Jacobs also made a big mark on the defensive side of the ball with 15.0 total tackles while Thomas had 14.0 tackles and three interceptions. Thomas was the team's receptions leader last year, too, with 16 grabs for 164 yards and a touchdown. Crill added 18.0 total tackles, ranked second on the team with 7.5 TFL and had one fumble recovery and interception (a pick six) each.
Finally, senior Blaine Venteicher is back after an honorable mention nod last year. He had 15 receptions for 267 yards and two touchdowns receiving along with 269 yards rushing on offense. He added 8.0 total tackles on defense. Plus, he helped on special teams with a 45-yard kickoff return for a touchdown.
MORE OFFENSE: Knapp is back under center and has a lot of his weapons and a lot of his linemen returning to the fold. Crill was the top rusher that didn't play quarterback, finishing the year with 378 yards and two scores. Junior running back Cade Myers added 34 yards on the ground while sophomores Marshall Knapp and Sawyer Hensley, junior Owen Wilkinson and seniors Dayton Cobb and Kade Hutchings also received carries last year.
Thomas and Venteicher were the two top pass catchers last year while Myers had five grabs for 77 yards. Senior Gage Barton and Marshall Knapp added two receptions each. There's not a lot of opportunities through the air in the offense, but they do have some guys out there that can catch it.
MORE DEFENSE: Six of their top 11 tacklers are back for the Timberwolves. Myers, TePoel, Knapp, Crill and Jacobs are among that group, and so is Cade Myers, who finished with 20.5 tackles, 10 solos and 2.0 TFL. Thomas and Venteicher were also among the top 13 tacklers while junior defensive tackle Jacob Roberts (4.5 tackles, 0.5 TFL and sophomore defensive end Robbie Barnes (4.0 tackles, 1.5 TFL) made strong contributions.
Barton, Cobb and Brock Bowden are other seniors that saw some varsity PT on defense last year. Meanwhile, juniors Adam Timmerman, Dalton Calkins, Steve Rodriguez and Wilkinson and sophomores Marshall Knapp and Colin Jacobs were others that played.
FINAL WORD: I like a lot about this Southwest Valley team. The Timberwolves have a quarterback that commands the offense, some returning production around him and a tough and physical offensive line in front of him. And that's actually second to their defense, which is loaded with talent and experience. They're going to be good.
St. Albert Falcons – Last Year: 5-4 overall (A District 9)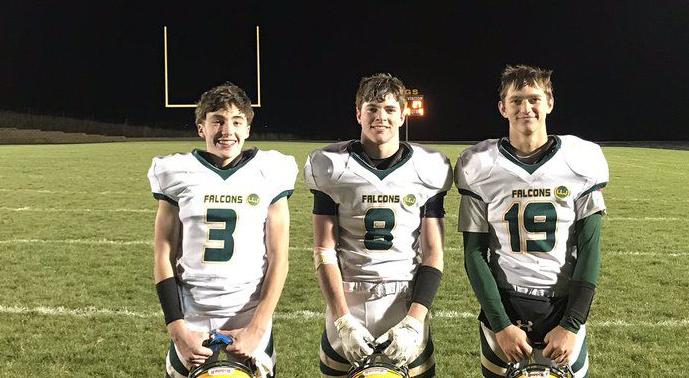 Coach: Jake Driver
ALL-DISTRICT RETURNEES: There is a really strong returning group for the Falcons, including SIX first-team all-district choices. Senior running back Connor Cerny was one of those after leading last year's team with 443 yards and seven touchdowns on the on the ground and 12 receptions for 153 yards and a score through the air. He also had a big year on defense with 58.0 total tackles, 33 solos and 0.5 TFL.
Senior receiver Sam Rallis was also a first-team choice for the Falcons, finishing last year with 16 receptions for 241 yards and two touchdowns. He also had a big impact on defense with 30.0 total tackles, a pick six and a fumble recovery. Senior offensive lineman Cael McLaren was tabbed as a first-teamer, too, and was a key defender with 54.5 tackles, 1.5 TFL, 1.0 sack and two fumble recoveries.
Kicker Sam Wilber had a strong season that garnered a first-team nod. He had 16 touchbacks on 44 kickoffs and went 6/10 on field goals and 28/29 on PATs. Senior linebacker Bennett Gronstal and senior defensive lineman Jeff Miller were also first-team choices in 2019. Gronstal had a team-best 74.5 total tackles, 38 solos and 3.5 TFL with one each of a fumble recovery and interception. Miller added 16.5 total tackles, 12 solos, 2.5 TFL and 1.0 sack. He also had nine receptions for 134 yards on offense.
Senior running back Cy Patterson and senior offensive lineman Greg Fagan were also named to second-team all-district last fall. Patterson rushed for 367 yards and four touchdowns and added 17 receptions for 181 yards and three scores. On defense, Patterson had 34.0 total tackles and 16 solos. Fagan, of course, opened plenty of holes for Patterson and company on offense while adding 32.0 total tackles, 14 solos, 1.5 TFL, 1.0 sack and a team-high three fumble recoveries on defense.
Senior Ben O'Neill and junior Daniel McGrath were both honorable mentions. O'Neill had nine tackles, five solos, 1.5 TFL and 1.0 sack while McGrath had 5.5 tackles, three solos and a fumble recovery.
MORE OFFENSE: Lance Wright graduates from the quarterback position, and that likely leaves things in the hands of junior Carter White, who stepped in last year and led the Falcons to a victory or two. Cerny, Gronstal and Patterson are back in the backfield, but sophomores David Helton, Brendan Monahan and John Helton could see more carries this year after a taste in 2019.
On the outside, White will bring back the Falcons' top four receivers from last fall in Patterson, Rallis, Cerny and Miller. Gronstal and Helton also had one reception each.
MORE DEFENSE: On defense, their top six tacklers are back and are all seniors. Gronstal, Cerny, McLaren, Patterson, Fagan and Rallis are joined by junior Keaton Barnes, who had 28.5 total tackles and 16 solos. Senior Eric Matthai was also key with 20.5 tackles and 11 solos, and senior Brett Klusman finished with 13.0 tackles and nine solos.
Senior Owen Doner is joined by junior Gage Sommerville and sophomores David and John Helton, Cael Hobbs and Monahan are others that saw some time last year on Friday nights.
FINAL WORD: I don't think there's any doubt that St. Albert is going to be the favorite in this district. When you return as much talent as they do, that's just the way it's going to be. They did have a coaching change, but it should be a smooth transition for Jake Driver, who has been in the program for a number of years. Look for a big year from the green and gold.
Tri-Center Trojans – Last Year: 6-4 overall (A District 10 – State Qualifier)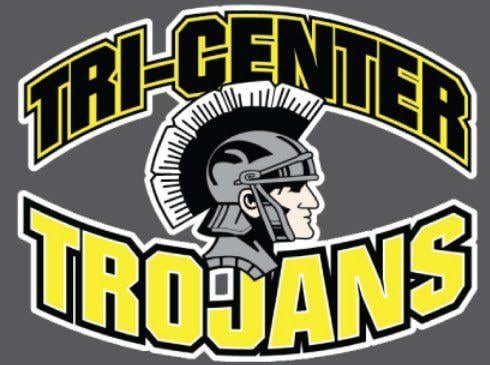 Coach: Ryan Schroder
ALL-DISTRICT RETURNEES: The Trojans have five returning all-district honorees, including three that were first-team choices last year. Offensive lineman Alex Ausdemore, junior receiver Brecken Freeberg and senior defensive end Owen Osbahr got those nods last year.
The 6-foot-3, 270-pound Ausdemore was obviously key for their prolific offense, but he also made big plays on defense with 46.0 total tackles, 30 solos and 7.0 TFL. Freeberg caught passes from his older brother, pulling in 50 for 561 yards and six touchdowns. He also had a big year on defense with 65.0 total tackles, 45 solos, 6.5 TFL and recovered a team-high two fumbles. And Osbahr was magnificent on D with 61.0 total tackles, 45 solos, a team-high 11.5 TFL and 2.0 sacks.
Senior receiver Mason Rohatsch was a second-team all-district honoree last season. He had 26 receptions for 321 yards and two touchdowns on offense while adding 18.0 tackles, 12 solos and a team-best three interceptions on defense. He was also a key player on special teams with a team-high 28.9 yards per kickoff return.
Junior linebacker Ashton McDermott picked up an honorable mention nod. He finished with 28.0 total tackles, 20 solos, 2.0 TFL and an interception for the Trojans on defense.
OTHER OFFENSE: With Bryson Freeberg gone and graduated, junior Jaxon Johnson figures to be the guy under center. He got a little bit of time there last year, and he should be more than ready to go with Freeberg and Rohatsch returning. Senior Zach Elliott (11 receptions), junior Eli Marsh (7 receptions) and sophomore Tanner Nelson (1 reception) also caught at least one ball last year.
It won't be easy to replace Freeberg, and that goes for Trevor Carlson, who rushed for 795 yards, too. The only other carry that didn't come from Johnson went to junior Ethan Flaharty, who is listed at wide receiver. So, running back is a bit up in the air right now.
OTHER DEFENSE: Tri-Center also has six of their top 11 returning on defense, but they did lose the KMAland Defensive Player of the Year in Carlson. That said, Freeberg, Osbahr and Ausdemore are outstanding defensive players. Johnson (35.0 tackles, 6.5 TFL), McDermott and Rohatsch are also among that 11.
Elliott (17.5 tackles, 2 INT), Marsh (8.5 tackles), sophomore Holden Skow (7.0 tackles) and senior Tristan Vorthmann (5.0 tackles) are some other key returnees on defense. Others that saw time last year include senior Erick Gonzalez-Goldapp, junior Evan Nelson and sophomore Kent Elliott.
FINAL WORD: No Bryson Freeberg, no Trevor Carlson, no problem? I won't go that far, but they are still set up to have a really fine season. There are definitely elements of this team that can be even better than last year's state qualifier. This is another good team.
---
CONCLUSION: I tossed out the idea that St. Albert is the favorite in my final word on them, but I'm backing up a little on that now that I've previewed Tri-Center. Those two teams are in the driver's seat while Southwest Valley, Riverside and AHSTW should also more than contend every Friday night.
Here's the thing: Four of these teams bring back their quarterbacks from last year, and they were all four pretty successful. The other two teams – without the returning QBs – are positioned to be the favorites, as they bring back enough talent around those guys taking over under center. This should be a fun district. I know that much.
Send any questions, comments and/or concerns to dmartin@kmaland.com.