(KMAland) -- St. Albert outlasted D-S, Treynor stayed unbeaten in the WIC, Nodaway Valley nabbed a big OT win, Exira/EHK stayed flawless and much more from Friday in KMAland girls hoops.
HAWKEYE TEN CONFERENCE
Creston 56 Kuemper Catholic 41
Cate Mayhall led Kuemper with 17 points in the loss. 
St. Albert 50 Denison-Schleswig 43
Pearl Reisz poured in 25 points and had six steals and four assists for St. Albert in the win. Ella Klusman added eight points and six steals.
Denison-Schleswig's Kiana Schulz posted 19 points while Kira Langenfeld pitched in 14.
Other Hawkeye Ten Scores
Lewis Central 48 Shenandoah 31
Glenwood 96 Red Oak 21
CORNER CONFERENCE TOURNAMENT
3rd Place: East Mills 45 Fremont-Mills 39
Find the complete recap at KMA's Local Sports News Page.
Championship: Stanton 40 Sidney 34 
Find the complete recap at KMA's Local Sports News Page.
WESTERN IOWA CONFERENCE
Tri-Center 57 IKM-Manning 44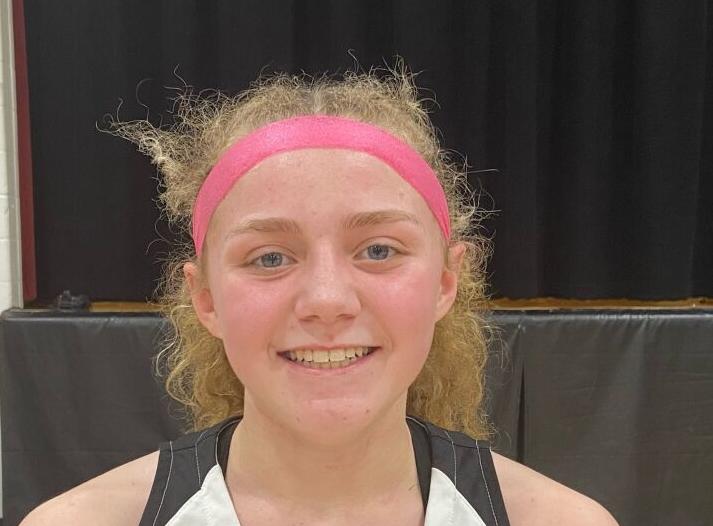 Quincey Schneckloth had 16 points, Hayden Thomas added 13 and Taylor Kenkel put in 12 for Tri-Center in the win.
Bianca Cadwell led IKM-Manning with 11 points.
Riverside 58 Missouri Valley 18 (On KMA 960)
Find the complete recap at KMA's Local Sports News Page.
Treynor 48 Logan-Magnolia 40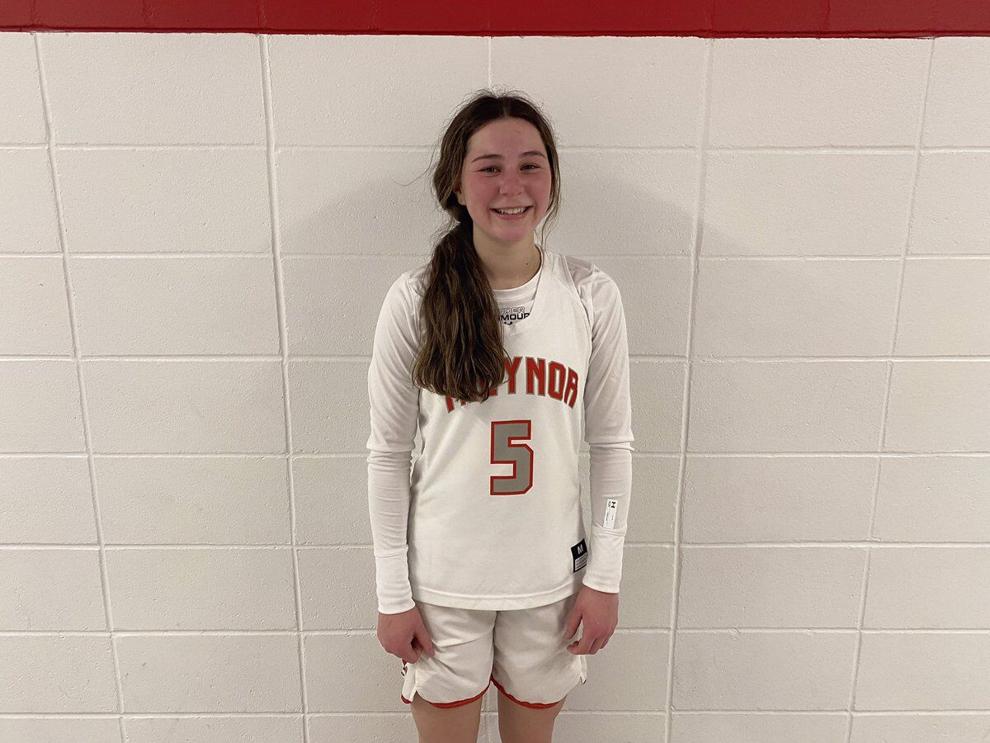 Alexa Schwartz led Treynor with 13 points and six rebounds to lead a balanced Treynor attack in the win.
Mya Moss and Macanna Guritz scored 13 points each for Logan-Magnolia. Moss completed a double-double with 12 rebounds. 
Audubon 56 AHSTW 38 
Jaci Christensen reached 1,000 career points, finishing with 20 points and 11 rebounds, for Audubon. Mati Steckler added 14 points and Aleah Hermansen pitched in 12.
AHSTW's Delaney Goshorn had 13 points and six rebounds.
PRIDE OF IOWA CONFERENCE
Wayne 58 Bedford 34
Clara O'Brien had 16 points and Toxey Freeman put in 14 for Wayne in the victory. 
Kelly Weed had 14 points, five rebounds and three assists and Destry Bassinger added seven points and nine boards for Bedford in the defeat.
Lenox 55 Southeast Warren 36 
Sadie Cox had 24 points and 16 rebounds, and Cadence Douglas added eight points and eight boards for Lenox in the win.
Alivia Ruble posted 11 points for Southeast Warren. 
Nodaway Valley 76 Central Decatur 70 — OT 
Maddax DeVault had 30 points to lead Nodaway Valley in the win. Lindsey Davis added 18 and Bella Hogan posted 15 in the win. 
Lauren Martin had 23 points for Central Decatur in the defeat. Harrisen Bevan had 19 points while Hallee Hamilton finished with 13 for the Cardinals.
ROLLING VALLEY CONFERENCE
West Harrison 67 Paton-Churdan 46 
Maclayn Houston poured in 32 points while Ty Stirtz added 13 for West Harrison in the victory.  
Woodbine 61 Coon Rapids-Bayard 50
Charlie Pryor had 17 points while Whitney Kuhlman added 13 and Addison Erickson and Nicole Hoefer put in 11 each. Nicole Sherer tallied nine points, nine steals and five assists.
Brynn Bass had 26 points for Coon Rapids-Bayard in the loss.
Boyer Valley 47 Glidden-Ralston 42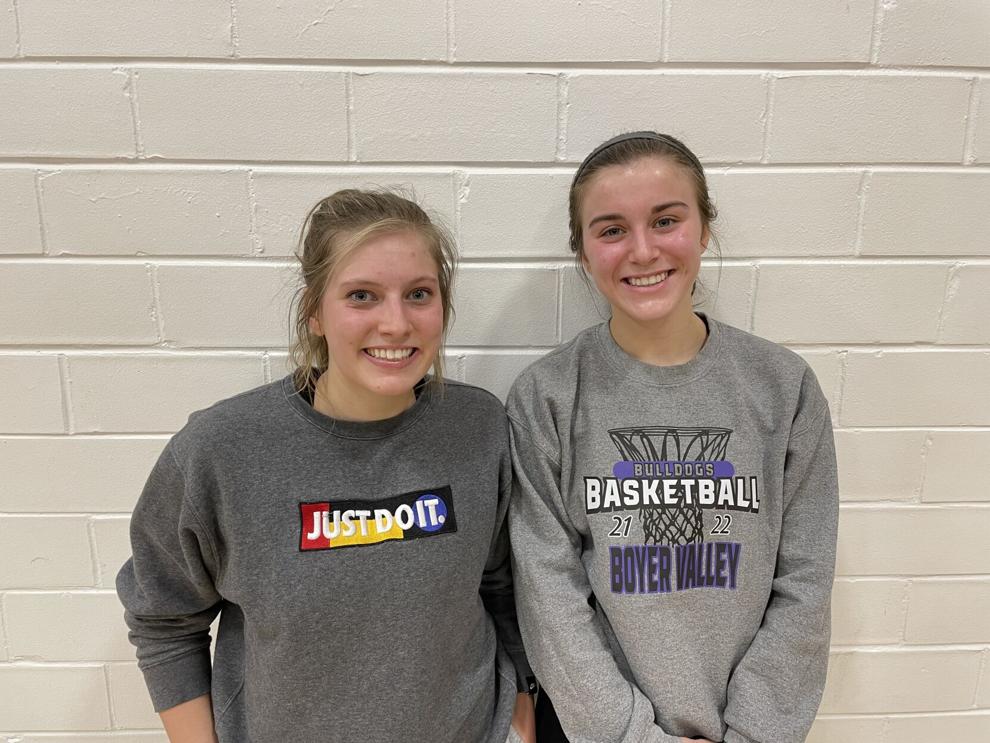 Leah Cooper had 11 points, 10 rebounds, six assist sand six steals for Boyer Valley in the win. Talia Burkhart added 15 points.
Paige Klocke topped Glidden-Ralston with 22 points and eight rebounds while Tiela Janssen had 13 points and four steals. 
Exira/Elk Horn-Kimballton 56 CAM 43
Macy Emgarten had 22 points and 12 rebounds for Exira/EHK in the victory. Mollie Rasmussen added 13 points, and Quinn Grubbs finished with 10. 
Mallory Behnken had a strong night for CAM with 22 points and four rebounds while Eva Steffensen pitched in 12 points, four assists and three steals.
MISSOURI RIVER CONFERENCE
Abraham Lincoln 63 LeMars 40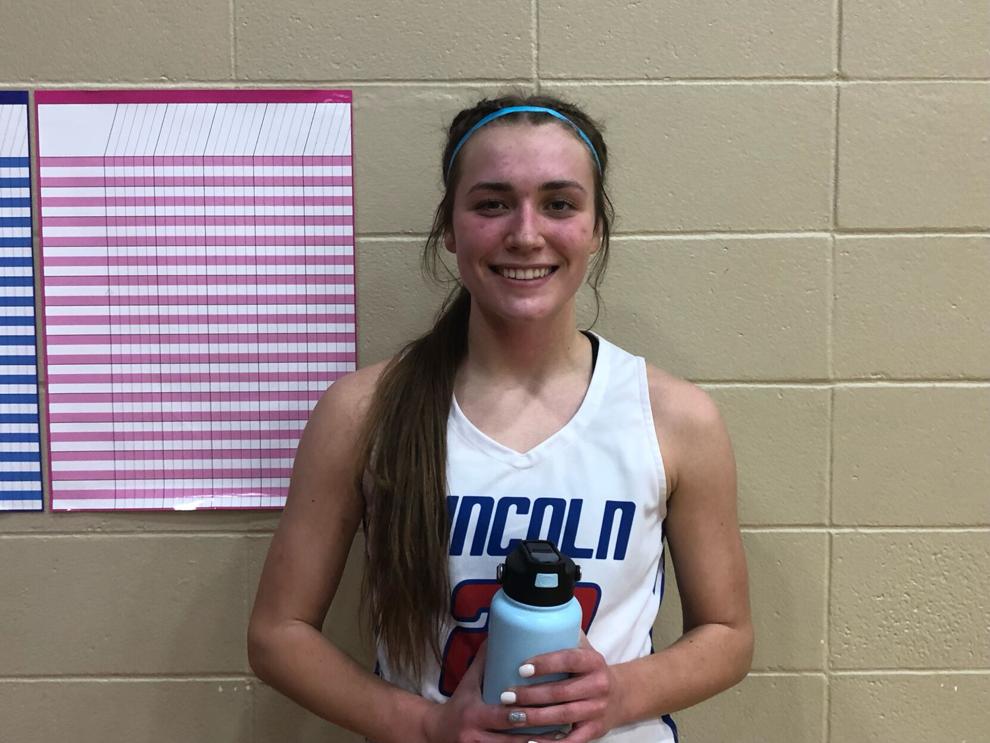 Baylie Girres had 20 points, nine rebounds and three assists in an impressive AL win. Emily Pomernackas and Megan Elam added 10 points each for the Lynx.
Jaelyn Marienau topped LeMars with 17 points.
Other MRC Scores
Sioux City East 61 Thomas Jefferson 20
Sergeant Bluff-Luton 51 Sioux City West 43
Bishop Heelan Catholic 59 Sioux City North 28
BLUEGRASS CONFERENCE
Diagonal 41 Murray 30 
Taylor Lumbard had 14 points and 12 rebounds to lead Diagonal in the win. Kira Egly and Anna Newton added nine points each for the Maroons.
Jalie Baumfalk topped Murray with 10 points and eight rebounds, and Jayda Chew scored 10 points of her own for the Mustangs.
Lamoni 66 Mormon Trail 29 
Abby Martin dropped in 25 points while Cameron Martin had 15 and Reese Potter put in 13 for the Demons.
Other Bluegrass Scores 
Seymour at Ankeny Christian Academy
Twin Cedars 56 Orient-Macksburg 19
Melcher-Dallas 46 Moravia 25
AREA MISSOURI 
Platte Valley 52 East Atchison 25 
Maggie Collins had 12 points for Platte Valley in the dominant win. Jackie Pappert put in 10 for PV. 
Natalie Hedlund's eight points led East Atchison.
Nodaway Valley 47 Osborn/Stewartsville 43 
Kloe Jenkins led Nodaway Valley with 18 points while Ava Graham had 12 and Paidyn Linville pitched in 10.
North Nodaway 43 Northeast Nodaway 28 
Jackie Cline scored 19 points while Lauren Herndon had 12 and Saryn Brown put in 10 for North Nodaway.
Other Area Missouri Scores
South Holt 50 Rock Port 37
Humboldt-TRS at Mound City 
North Andrew 55 North Harrison 25
AREA NEBRASKA
Auburn 50 Nebraska City 9
Syracuse 43 Ashland-Greenwood 38 — OT
Yutan 50 Palmyra 30
Weeping Water 52 Nebraska Lutheran 31
Johnson-Brock 54 Friend 29
Southern at Sterling 
Pawnee City at Falls City Sacred Heart