(KMAland) -- A thrilling win postseason-clinching win for AHSTW, a district title for Mount Ayr, a playoff spot for Tri-Center, a big night for Blake Herold and more from Friday in KMAland 11P.
2A-8: Shenandoah 19 Des Moines Christian 14 
Blake Herold led Shenandoah with nine catches for 103 yards and a touchdown, added a pick six and blocked a field goal to earn the AgriVision Equipment Group Player of the Night.
2A-8: Clarinda 44 Red Oak 0 
Find the complete recap at our Local Sports News Page.
A-7: Mount Ayr 41 Southwest Valley 33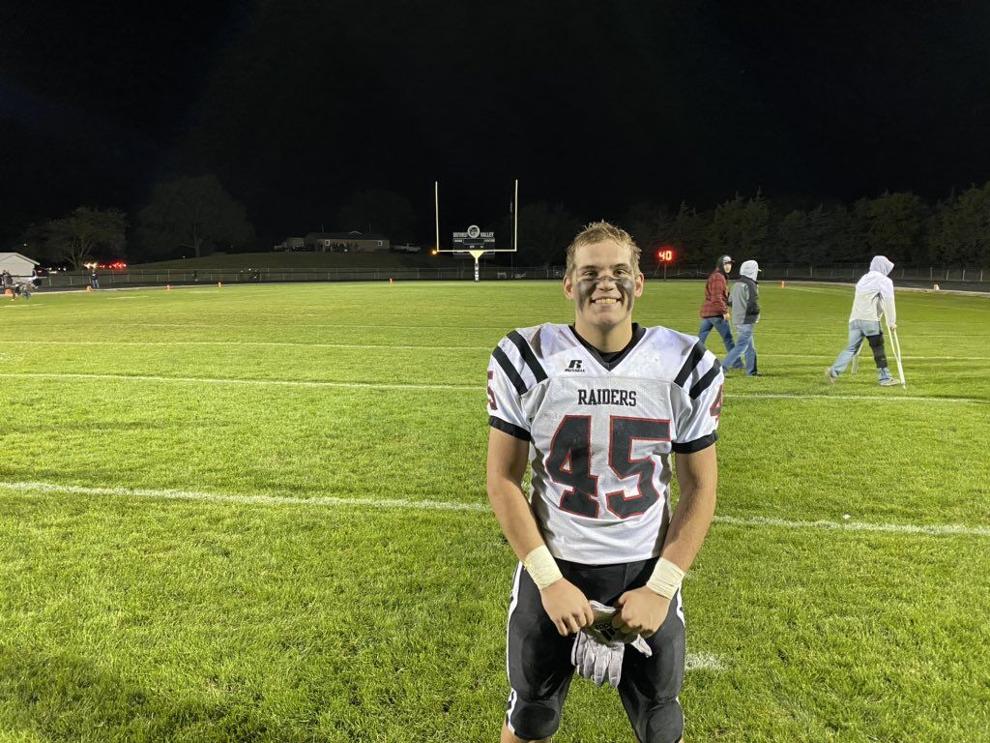 Austin Cole had a big game for Mount Ayr, which wrapped up the No. 1 seed and district championship with the win. 
A-7: Earlham 49 Riverside 21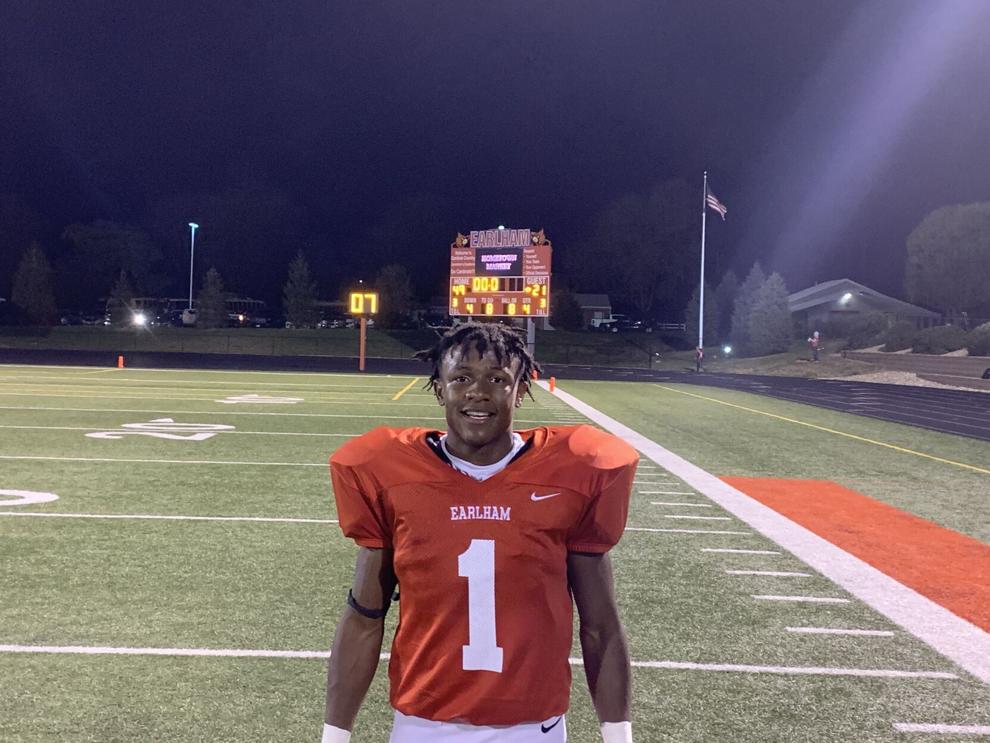 Darrell Matchem led Earlham with 393 yards rushing and five touchdowns. 
A-7: AHSTW 20 St. Albert 17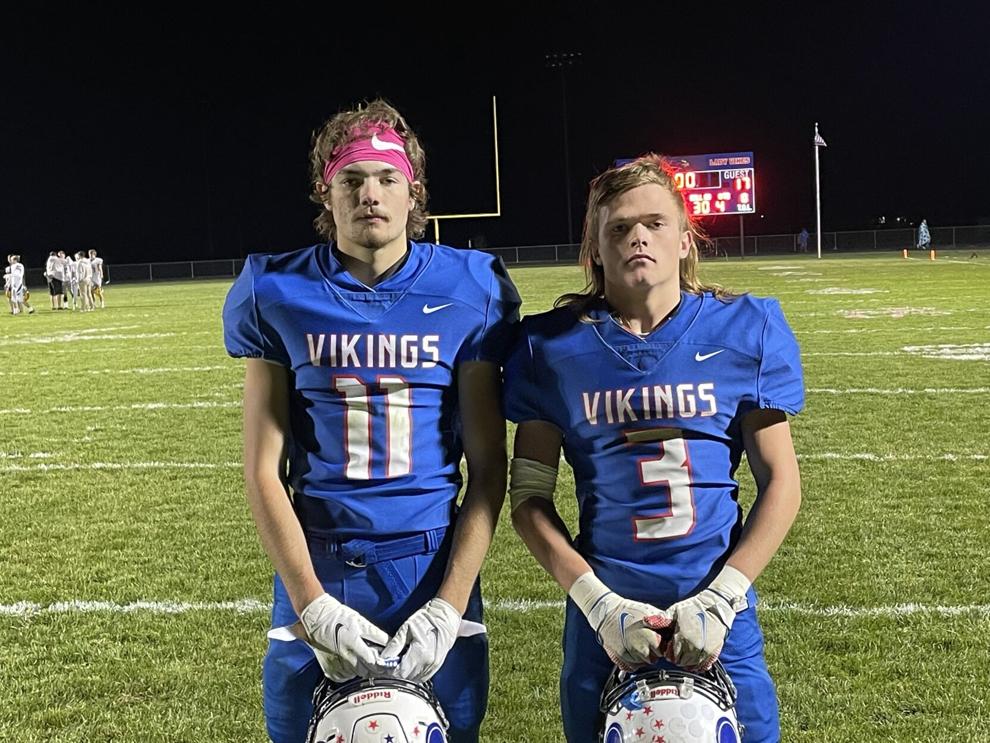 Hayden Fischer had two interceptions and recovered a key onside kick to help lead AHSTW in a come-from-behind win. Raydden Grobe added four receptions for 74 yards and the game-winning touchdown. Kyle Sternberg threw for 162 yards and had two offensive scores.
Brendan Monahan led St. Albert with 163 yards, a rushing touchdown and a passing touchdown. 
A-ND: MMCRU 27 Sidney 14 
Cole Stenzel and Conner Behrends scored one touchdown each for Sidney in the defeat. Stenzel had 79 yards of rushing + receiving.
A-8: Logan-Magnolia 41 Lawton-Bronson 0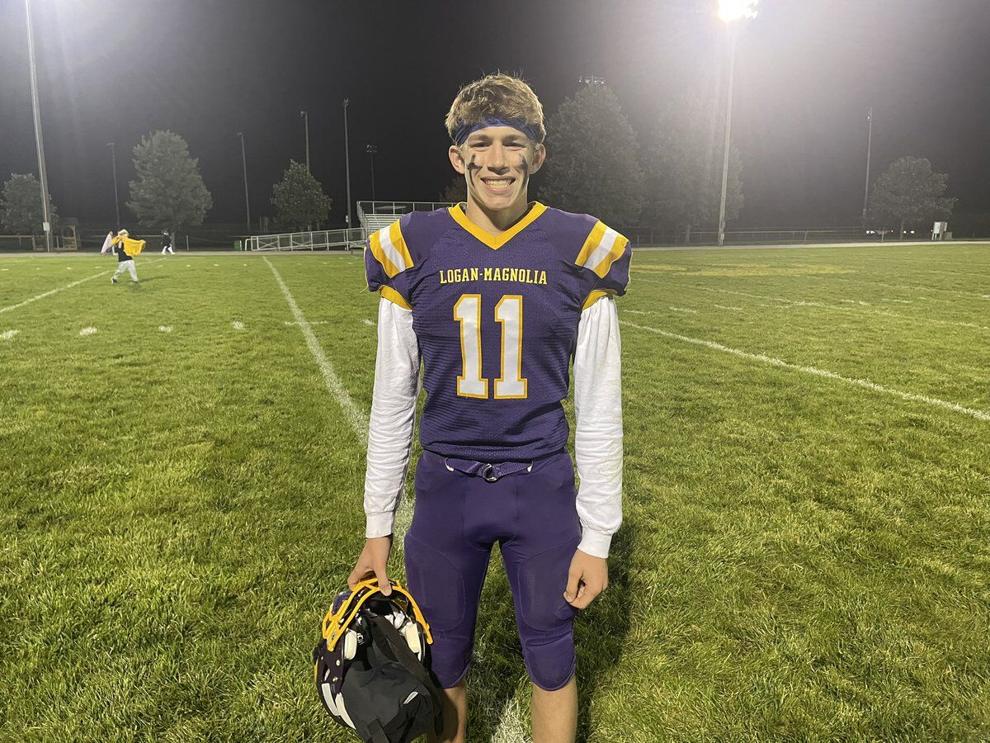 Logan-Magnolia's Calvin Wallis had 100 yards passing and a touchdown and added three interceptions on defense.
A-8: Tri-Center 51 Westwood 14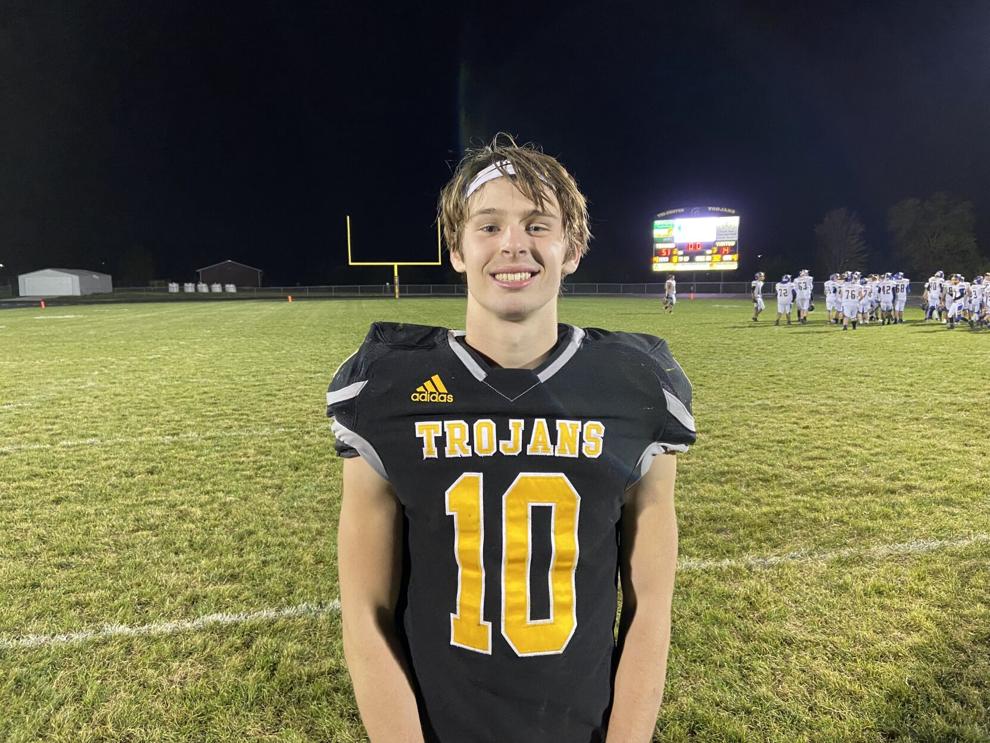 Michael Turner had 196 yards rushing and three touchdowns and added an 85-yard kickoff return for a score to lead Tri-Center. Maddox Anderson chipped in 125 yards and two touchdowns passing with Holden Skow finishing with 90 yards receiving and two scores. Skow also had a 45-yard punt return for six.
A-ND: IKM-Manning 35 Ogden 21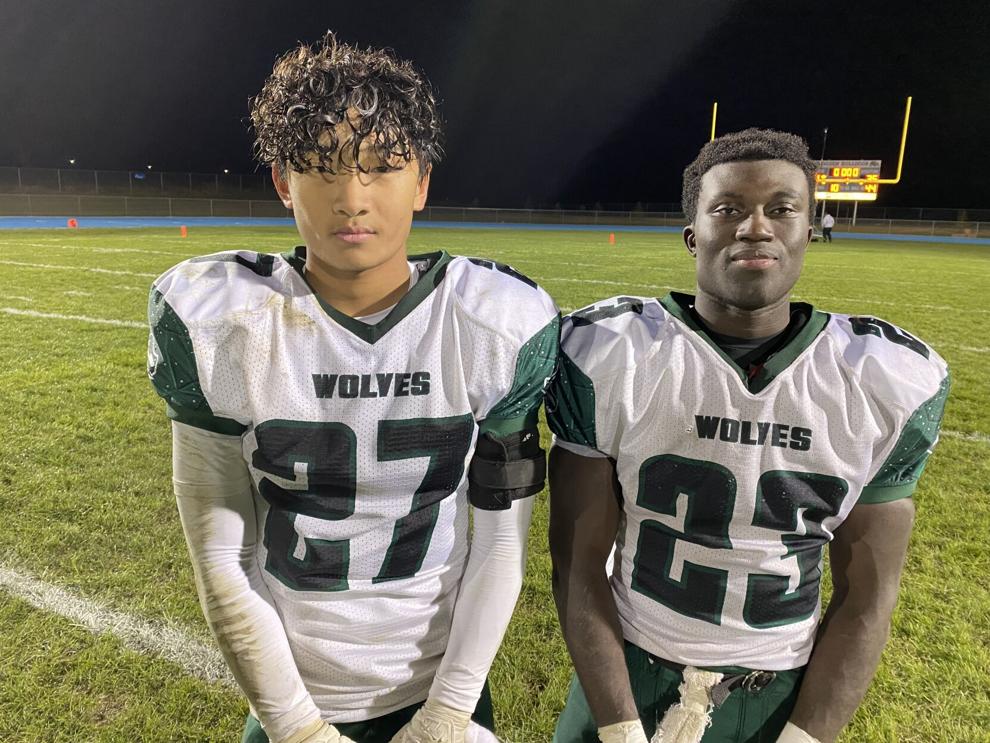 Amos Rasmussen had 250 yards rushing and Cooper Irlmeier put up 102 yards on the ground with both rushing for two touchdowns in leading IKM-Manning. 
1A-8: Underwood 42 Kuemper Catholic 7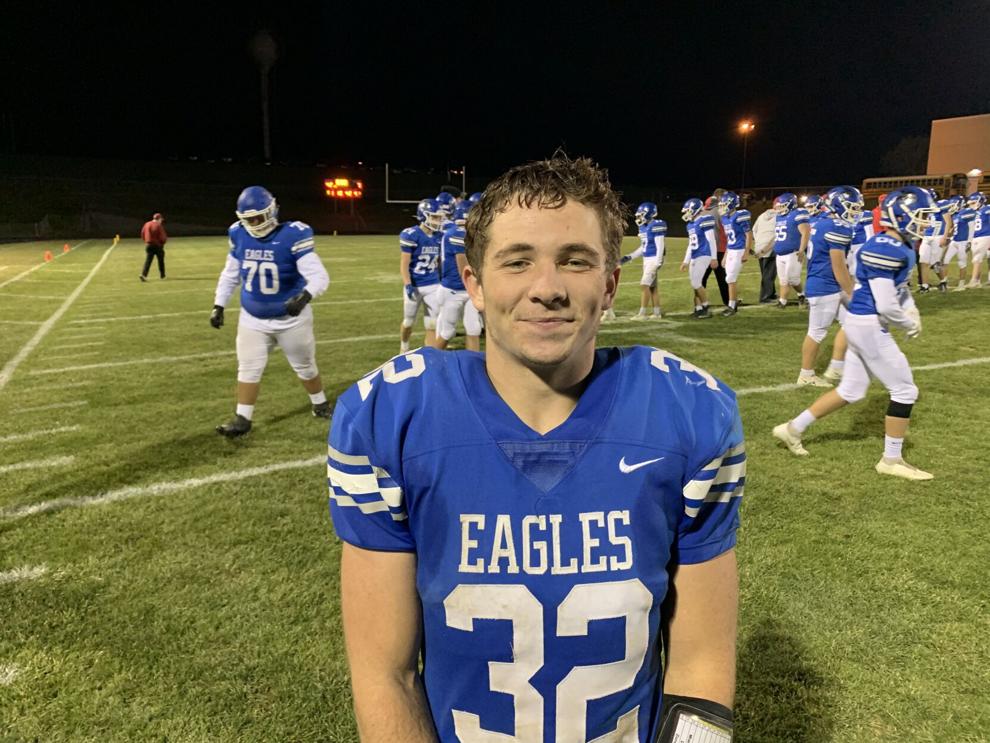 Joey Anderson had 205 yards rushing and three touchdowns to lead Underwood in the win. Alex Ravlin had 221 yards and three touchdown passes for the Eagles. Collin Brandt led receivers with seven grabs for 90 yards and two scores. 
Dennis Vonnahme had 163 yards passing and a touchdown for Kuemper Catholic.
1A-8: Treynor 42 MVAOCOU 0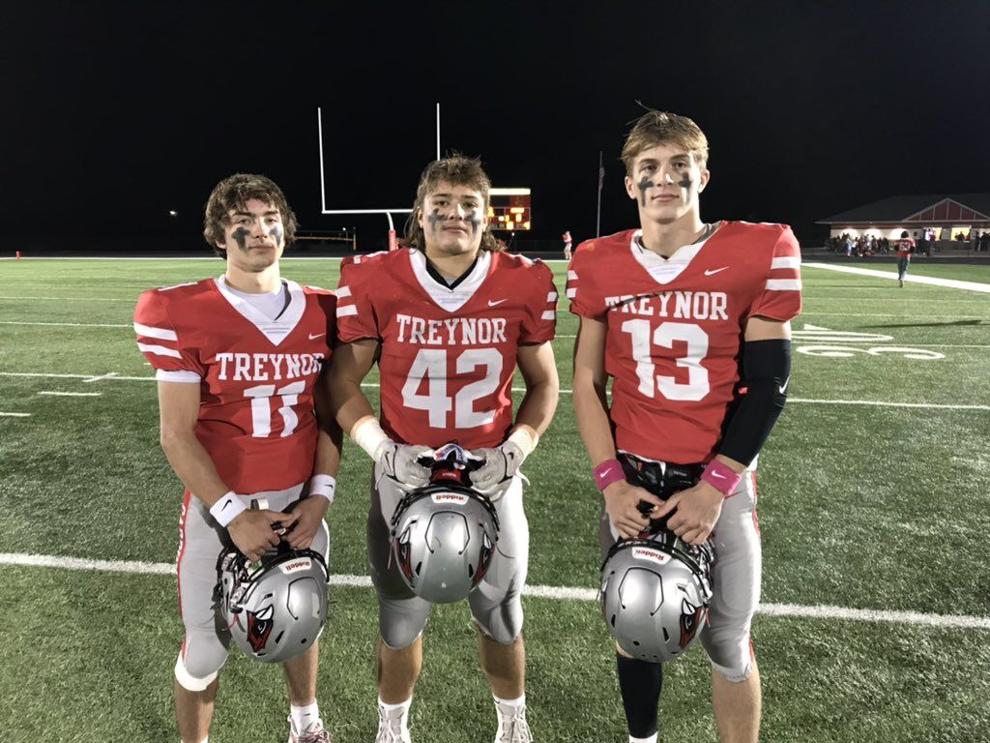 Kaden Miller had 50 yards rushing and two touchdowns, and Kayden Dirks threw for 61 yards, rushed for 43 and had a touchdown of each to lead Treynor. Todd Pedersen finished with 46 yards receiving and a score.
4A-6: Lewis Central 42 Dallas Center-Grimes 10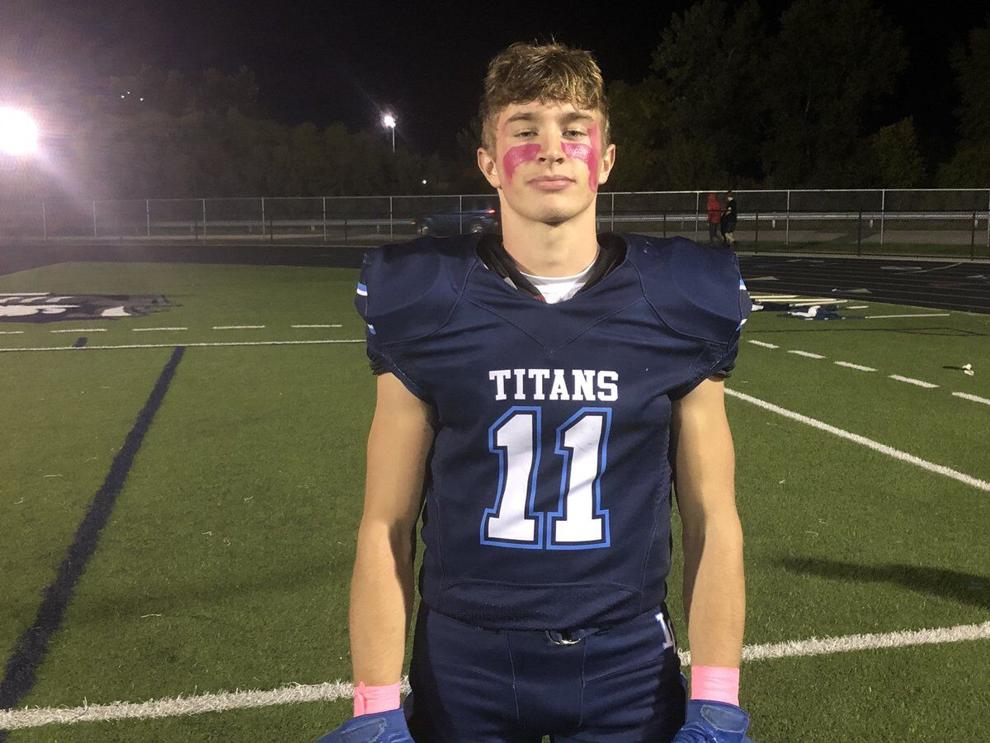 Braylon Kammrad had 205 yards passing and three touchdowns with all three going to Luciano Fidone, who had 83 yards receiving. Jonathan Humpal added 72 yards and two touchdowns on the ground.
---
CLASS 2A DISTRICT 8 
Shenandoah 19 Des Moines Christian 14
Clarinda 44 Red Oak 0
Greene County 49 Clarke 3
CLASS A DISTRICT 6  
Lynnville-Sully 25 Belle Plaine 8
Madrid 21 North Mahaska 12
CLASS A DISTRICT 7 
Mount Ayr 41 Southwest Valley 33
Earlham 49 Riverside 21
AHSTW 20 St. Albert 17
MMCRU 27 Sidney 14 (ND)
CLASS A DISTRICT 8 
Logan-Magnolia 41 Lawton-Bronson 0
Tri-Center 51 Westwood 14
Woodbury Central 60 Missouri Valley 8
IKM-Manning 35 Ogden 21 (ND)
CLASS 1A DISTRICT 6 
Pella Christian 42 Central Decatur 7
Sigourney-Keota 49 Van Buren County 0
Pleasantville 29 Cardinal 28
CLASS 1A DISTRICT 7 
Nodaway Valley 36 Panorama 14
Van Meter 41 ACGC 7
Interstate 35 28 West Central Valley 7
CLASS 1A DISTRICT 8 
Underwood 42 Kuemper Catholic 7 
Treynor 42 MVAOCOU 0
West Monona 50 East Sac County 13
CLASS 3A DISTRICT 1 
Sergeant Bluff-Luton 42 Bishop Heelan Catholic 9
Boyden-Hull/Rock Valley 41 MOC-Floyd Valley 7
Sioux Center 45 Carroll 6
CLASS 3A DISTRICT 6 
Harlan 42 Creston 0
Atlantic 40 Saydel 12
ADM 52 Knoxville 0
CLASS 4A DISTRICT 1 
Fort Dodge 43 Denison-Schleswig 8
Webster City 41 Storm Lake 6
Spencer 42 LeMars 27
CLASS 4A DISTRICT 6 
Glenwood 55 Thomas Jefferson 21
Lewis Central 42 Dallas Center-Grimes 10
Winterset 53 Des Moines Hoover 0
CLASS 5A KMALAND 
Abraham Lincoln 37 Des Moines East 7
Sioux City North 27 Sioux City West 6
Des Moines Roosevelt 47 Sioux City East 26