(KMAland) -- Glenwood clinched an outright Hawkeye Ten title, Sidney secured the Corner, Treynor & Tri-Center advanced in the WIC Tournament, Southeast Warren won the POI tourney, CAM & Boyer Valley nabbed shares of the RVC and more on a busy Tuesday in KMAland volleyball.
NC: East Mills 19-32-20-25-15 Clarinda 25-30-25-15-12 
Emily Williams had 24 kills and three blocks, and Miah Urban tallied 36 assists and three blocks of her own for East Mills in the win.
H-10: Glenwood 26-25-23-19-15 Lewis Central 24-23-25-25-13 
Glenwood held off a rally from Lewis Central to claim the outright Hawkeye Ten Conference championship. 
H-10: Harlan 25-25-25 Creston 11-9-13 
Zophi Hendricks had 10 kills and 10 digs, Macy Schmitz passed out 24 assists and Madison Kjergaard posted 16 digs for Harlan in the win.
CORNER: Sidney 25-25-25 Griswold 19-14-23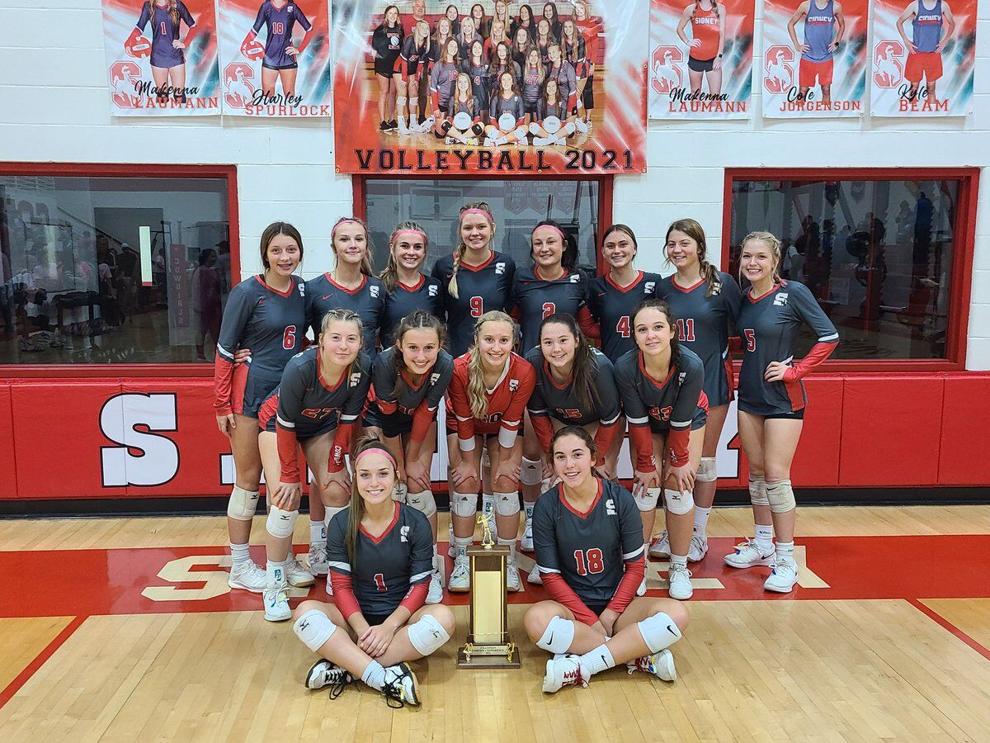 Avery Dowling had 33 assists and reached 1,000 for her career to lead Sidney in clinching an outright Corner Conference championship. Aunika Hayes posted a team-best 10 kills on the evening. 
Griswold's Anna Kelley also surpassed 1,000 career digs on the night.
CORNER: Stanton 25-25-25 Essex 13-7-14 
Marleigh Johnson had 11 kills, nine digs and two blocks, and Jenna Stephens posted eight kills, five aces and two blocks for Stanton. April Vanderholm also had six aces, and Kyla Hart and Brooklyn Silva tallied 10 assists each. Leah Sandin pitched in 13 digs on the night.
WICT: Tri-Center 22-25-25-17-15 Missouri Valley 25-21-20-25-8 (On KMA-FM 99.1) 
Miranda Ring directed a balanced attack for Tri-Center with 43 assists. Mikenzie Brewer (12 kills), Meredith Maassen (11 kills), Emile Sorenson (10 kills) and Preslie Arbaugh (10 kills) all had double digit kills for the Trojans. Tatum Carlson tallied 19 digs, and Marissa Ring had 17 digs and three aces. Arbaugh also had three blocks and three aces, and Maassen posted three blocks of her own.
Maya Contreraz had a big match for Missouri Valley with 27 assists, 16 digs and six blocks, and Henley Arbaugh posted 20 assists and 13 digs. Ava Hilts (19 kills, 10 digs) and Ella Myler (17 kills, 18 digs, 4 blocks) also had double-doubles, and Addi Huegli posted 12 digs. Chloe Larsen added five blocks on the night.
View the complete recap at our Local Sports News Page.
WICT: Treynor 25-26-25 Underwood 22-24-18 
Treynor's Kiralyn Horton had a team-best 12 kills in the sweep. Kailey Rochholz (10 kills), Maddie Lewis (9 kills) and Natalie Simpson (8 kills) also helped lead a balanced attack from Emma Flathers, who posted 37 assists. Delaney Simpson chipped in 20 digs, and Ella Tiarks had four blocks.
Alizabeth Jacobsen topped Underwood with 11 kills and four blocks, and Delaney Ambrose finished with 23 assists. Lesley Morales-Foote had a team-high with 15 digs and three aces, and Aliyah Humphrey added 12 digs and three aces.
View the complete recap at our Local Sports News Page.
POI Semifinal: Southeast Warren 23-25-25-25 Nodaway Valley 25-18-x-16
POI Semifinal: Mount Ayr 25-25-18-10-15 Southwest Valley 15-21-25-25-12 
Ryanne Mullen led Southwest Valley with 31 assists while Maggie Haer added 18 digs and five aces. Kyli Aldrich pitched in 11 kills, Charlee Larsen had 12 digs and Tierney Dalton posted five blocks.
POI Consolation: Nodaway Valley 25-25-25 Southwest Valley 17-23-19
Ryanne Mullen had another 21 assists for Southwest Valley. Kyli Aldrich posted 10 kills, and Norah Lund and Maggie Haer added nine digs apiece.
POI Championship: Southeast Warren 25-25-25 Mount Ayr 12-14-23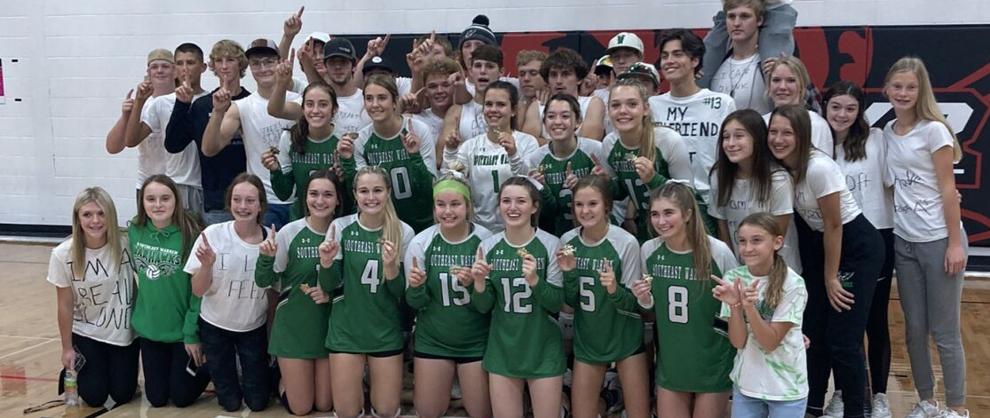 Southeast Warren won a pair of matchups to claim the Pride of Iowa Conference championships. 
RVC: Boyer Valley 25-25-25 Exira/Elk Horn-Kimballton 15-18-7 
Leah Cooper had 15 kills and nine digs, and Lauren Malone added 28 assists and eight digs for Boyer Valley in the win. The Bulldogs clinch a share of the Rolling Valley Conference championship with the win.
RVC: CAM 25-25-25 Glidden-Ralston 22-23-16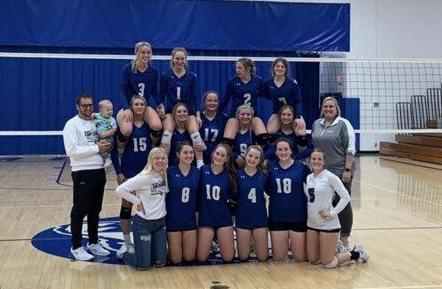 CAM's victory clinches a share of the Rolling Valley Conference championship with Boyer Valley and Woodbine.
RVC: Coon Rapids-Bayard 25-25-25 Ar-We-Va 19-11-23 
Gracy Johnson had 11 assists and four digs, and Breeley Clayburg and Emma Jurgens led the Coon Rapids-Bayard offense with six kills each. Brynn Bass served eight aces and added five digs and four kills.
Delaney Schurke had 14 assists and five digs, Kora Obrecht added 15 digs and six kills and Maggie Ragaller posted 11 digs and six kills for Ar-We-Va in the loss. Jamie Hausman picked up nine digs of her own.
MRC: Sergeant Bluff-Luton 25-25-25 Bishop Heelan Catholic 20-10-13 
Sergeant Bluff-Luton clinched an outright Missouri River Conference championship. 
MRC: Sioux City East 25-25-25 Sioux City West 9-12-13 
Lucy Mehlhaff had 16 assists and two aces while Alex Radcliffe added nine kills and three aces to lead Sioux City East. 
MO: East Atchison 25-25-26 Mound City 15-20-24 
Claire Martin had 27 assists and 10 digs to lead East Atchison in the win. Tommi Martin served nine aces, and Natalie Hedlund pitched in nine kills and 10 digs of her own.
MO: Rock Port 25-19-22-25-15 Nodaway Valley 21-25-25-20-12
Kloe Jenkins had 21 digs and seven kills for Nodaway Valley. Kayelyn Edmondson finished with eight kills, eight digs, nine assists and four aces, and Paidyn Linville posted 15 digs. Emma Bohannon also had 10 digs on the night. Reagan Hagey pitched in nine digs, eight assists, five kills and five aces.
---
KMALAND VOLLEYBALL SCOREBOARD
Hawkeye Ten Conference 
Atlantic 25-25-26 Shenandoah 6-15-24
Red Oak 25-25-25 Shenandoah 13-20-16
Red Oak 25-25-25 Atlantic 20-20-12
Glenwood 26-25-23-19-15 Lewis Central 24-23-25-25-13
Harlan 25-25-25 Creston 11-9-13
St. Albert 25-25-25 Denison-Schleswig 15-13-13
Corner Conference 
Sidney 25-25-25 Griswold 19-14-23
Stanton 25-25-25 Essex 13-7-14
Western Iowa Conference Tournament
Tri-Center 22-25-25-17-15 Missouri Valley 25-21-20-25-8
Treynor 25-26-25 Underwood 22-24-18
Pride of Iowa Conference Tournament (at Mount Ayr) 
Semifinal: Southeast Warren 23-25-25-25 Nodaway Valley 25-18-x-16
Semifinal: Mount Ayr 25-25-18-10-15 Southwest Valley 15-21-25-25-12
Consolation: Nodaway Valley 25-25-25 Southwest Valley 17-23-19
Championship: Southeast Warren 25-25-25 Mount Ayr 12-14-23
Rolling Valley Conference 
Paton-Churdan at West Harrison
Boyer Valley 25-25-25 Exira/Elk Horn-Kimballton 15-18-7
CAM 25-25-25 Glidden-Ralston 22-23-16
Coon Rapids-Bayard 25-25-25 Ar-We-Va 19-11-23
Missouri River Conference 
LeMars at Thomas Jefferson
Sioux City North 25-18-25-25 Abraham Lincoln 18-25-18-11
Sergeant Bluff-Luton 25-25-25 Bishop Heelan Catholic 20-10-13
Sioux City East 25-25-25 Sioux City West 9-12-13
Bluegrass Conference Tournament 
AT Seymour 
Seymour def. Orient-Macksburg
Murray 25-25 Orient-Macksburg 13-19
Seymour 19-25-15 Murray 25-17-13 
AT Ankeny Christian Academy
Ankeny Christian Academy 25-25-25 Moulton-Udell 4-7-10 
AT Twin Cedars 
Mormon Trail 25-15-15 Diagonal 23-25-7
Diagonal 26-24-15 Twin Cedars 24-26-9
Twin Cedars 25-27 Mormon Trail 9-25
AT LAMONI 
Lamoni 25-25 Moravia 3-8
Lamoni 25-25 Melcher-Dallas 10-10
Moravia 25-25 Melcher-Dallas 18-23
Non-Conference 
East Mills 19-32-20-25-15 Clarinda 25-30-25-15-12
Woodbine 25-22-25-25 Fremont-Mills 20-25-18-14
Missouri/Nebraska
East Atchison 25-25-26 Mound City 15-20-24
Rock Port 25-19-22-25-15 Nodaway Valley 21-25-25-20-12
South Holt 3 Union Star 0
Wahoo def. Nebraska City via forfeit
Platteview 25-25-25 Plattsmouth 16-22-17
Nebraska Capitol Conference Tournament 
Syracuse 25-25-25 Louisville 13-10-15
Raymond Central 25-25-25 Arlington 13-14-13
Douglas County West 25-27-25 Ashland-Greenwood 11-25-15
Yutan 25-25-25 Logan View/Scribner-Snyder 22-23-18
East Central Nebraska Conference Tournament
Semifinal: Mead 25-26-25 Palmyra 17-24-13
Semifinal: Malcolm 25-25-27 Elmwood-Murdock 18-19-25
Consolation: Weeping Water vs. Auburn 
Consolation: Freeman 20-25-25 Johnson County Central 25-13-14
Pioneer Conference Tournament — Semifinals (at Falls City Sacred Heart) 
Semifinal: Falls City Sacred Heart 25-25-25 Lourdes Central Catholic 23-19-15
Semifinal: Diller-Odell 25-25-25 Johnson-Brock 20-21-18
Consolation: Lewiston def. Friend
Consolation: Tri County 25-25 Pawnee City 17-8
Consolation: Sterling 25-25 Southern 22-21
Consolation: Sterling 25-25 Humboldt-TRS 17-19