(KMAland) -- Tri-Center, Missouri Valley, Sioux City North and Falls City Sacred Heart all won tournaments on Saturday in KMAland Volleyball.
CLARINDA TOURNAMENT 
Tri-Center posted a perfect day in Clarinda to win the tournament on Saturday. The Trojans beat both Shenandoah and Sidney in both pool play and bracket play to win the championship. View complete stats from Tri-Center's day below.
The Cowgirls finished with a 3-2 day on their way to the runner-up finish while Clarinda was 4-1, Shenandoah finish 2-4 and Nodaway Valley posted a 1-3 day.
View all scores below.
GLENWOOD TOURNAMENT 
Gretna was a perfect 4-0 to win the Glenwood Tournament. Glenwood went 3-1 to finish second while Underwood was 1-3 and Thomas Jefferson finished 0-4. View the scores below.
ATLANTIC TOURNAMENT 
Winterset was the champion at the Atlantic Tournament on Saturday while Treynor had the best day of any KMAland conference teams with a 2-2 record.
Atlantic went 1-3 with the only win coming against St. Albert, which struggled through an 0-4 tournament. View all scores below.
MISSOURI VALLEY TOURNAMENT 
Missouri Valley rolled to a 6-0 record and their home team championship on Saturday. Riverside was 4-2, Griswold went 3-3, East Mills and Woodbine finished 2-4 each and Exira/Elk Horn-Kimballton ended up 1-5.
Missouri Valley's Maya Contreraz, Ella Myler and Addi Huegli all earned All-Tournament Team honors. Others on the All-Tournament Team included Griswold's Makenna Askeland and Lydia Greiman, Riverside's Veronica Andrusyshyn and Izzy Bluml, Boyer Valley's Leah Cooper, Whitney Kuhlman of Woodbine and Jaimee Davis of East Mills.
View the full scores from the tournament in the scoreboard below.
SIOUX CITY NORTH TOURNAMENT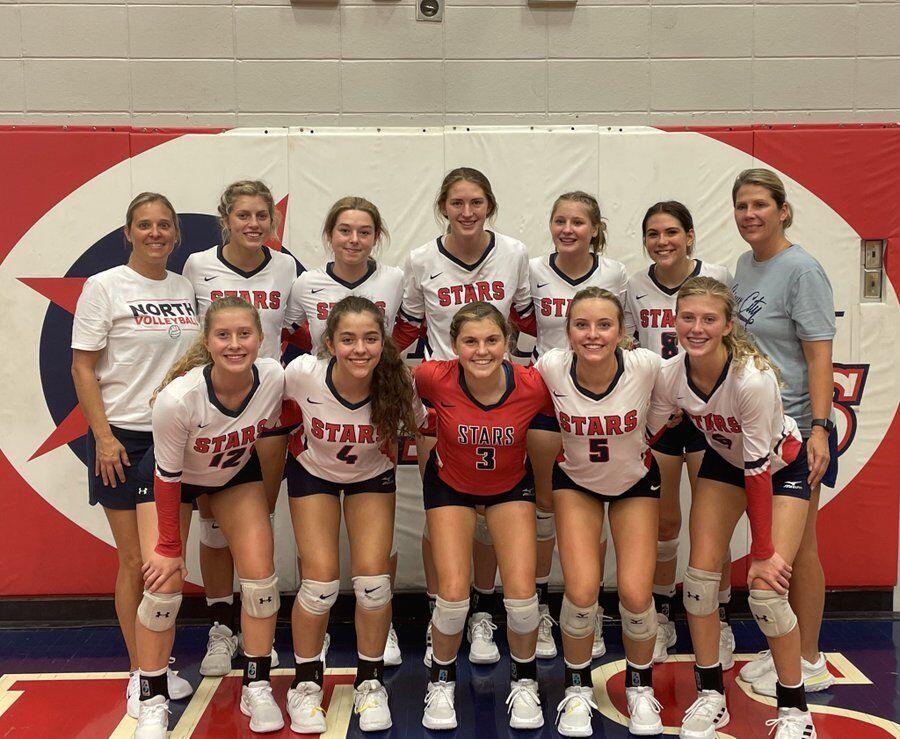 Sioux City North went undefeated and won their home tournament on Saturday.
The Stars beat Denison-Schleswig, Sioux City East, Sioux City West, MVAOCOU and MOC-Floyd Valley.
View the scores and results reported in the scoreboard below.
COON RAPIDS-BAYARD TOURNAMENT 
AHSTW had a strong day with a 3-1 mark with the only loss coming to Ankeny Christian Academy in the championship. 
The Vikings beat Madrid, Panorama and Coon Rapids-Bayard in pool play before falling to ACA in the final. ACA beat CAM, Ogden and Collins-Maxwell in pool play. CAM had a 3-1 day, and Coon Rapids-Bayard went 1-3.
Find the scores and results in the scoreboard below.
WEEPING WATER TOURNAMENT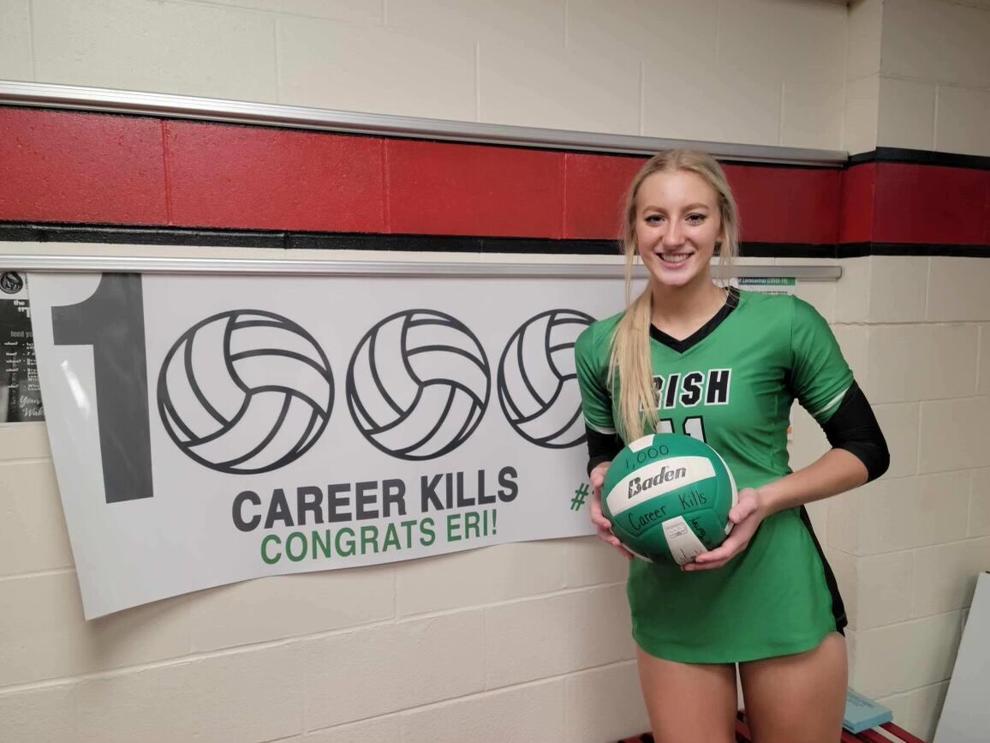 Falls City Sacred Heart went a perfect 4-0 to win the Weeping Water Tournament on Saturday. The Irish beat Conestoga, Humboldt-TRS and Yutan in pool play before taking the championship in straight sets over Lourdes Central Catholic.
The Knights were winners over Wilber-Clatonia, East Butler and Weeping Water in their pool before the championship defeat.
Also of note, Falls City Sacred Heart star Erison Vonderschmidt went over 1,000 kills for her career. View the scores reported to KMA or the NSAA below.
---
KMALAND VOLLEYBALL SCOREBOARD
Clarinda Tournament
POOL A
Clarinda 21-21 West Central Valley 7-11
Clarinda 21-21 Nodaway Valley 12-10
Nodaway Valley 21-21 West Central Valley 13-13
POOL B
Sidney 21-21 Shenandoah 13-12
Tri-Center 21-21 Shenandoah 13-7
Tri-Center 21-21 Sidney 18-18
BRACKET 
Sidney 25-25 West Central Valley 10-17
Shenandoah 25-25 Nodaway Valley 19-21
Shenandoah 25-25 West Central Valley 17-17
Clarinda 25-25 Shenandoah 19-15
Tri-Center 25-25 Shenandoah 13-21
Clarinda 25-25 Nodaway Valley 13-23
Sidney 25-23-15 Clarinda 13-25-7
CHAMPIONSHIP: Tri-Center 25-25 Sidney 22-19
Mount Vernon Tournament 
Dike-New Hartford 21-21 Red Oak 9-10
Waverly-Shell Rock 21-21 Red Oak 17-11
Red Oak 21-21 Center Point-Urbana 9-18
Grundy Center 21-17-15 Red Oak 17-21-13
Glenwood Tournament 
Glenwood 21-19-15 Bellevue East 16-21-12
Glenwood 21-22 Thomas Jefferson 17-20
Glenwood 11-21-15 Underwood 21-9-5
Gretna 21-21 Glenwood 10-19
Underwood 21-21 Thomas Jefferson 11-7
Gretna 21-21 Underwood 9-12
Bellevue East 21-22-15 Underwood 12-24-12
Bellevue East 21-21 Thomas Jefferson 10-12
Gretna 21-21 Thomas Jefferson 6-8
Atlantic Tournament 
Atlantic 21-17-15 St. Albert 19-21-12
Knoxville 21-21 Atlantic 19-18
Treynor 21-21 Atlantic 16-9
Winterset def. Atlantic 
Treynor 21-21 St. Albert 16-18
Knoxville 21-17-15 St. Albert 15-21-13
Winterset 23-22-15 St. Albert 21-24-10
Knoxille 21-22 Treynor 15-20
Winterset 21-15-15 Treynor 10-21-9
Iowa City High Tournament 
Iowa City High 21-21 Lewis Central 15-10
Ankeny Centennial def. Lewis Central
Dubuque Hempstead def. Lewis Central
Ankeny Centennial 21-21 Lewis Central 11-10
Sioux City North Tournament 
Sioux City West 21-21 Denison-Schleswig 15-7
Denison-Schleswig 21-21 MVAOCOU 12-9
Sioux City East 21-21 Denison-Schleswig 12-8
MOC-Floyd Valley 21-21 Denison-Schleswig 15-15
Sioux City North 22-21-15 Denison-Schleswig 24-12-6
Sioux City East 21-21 MOC-Floyd Valley 18-10
Sioux City North 2 Sioux City East 0
Sioux City East Sioux City West
Sioux City East MVAOCOU
Sioux City North 2 Sioux City West 0
Sioux City North 2 MVAOCOU 0
Sioux City North 21-19-15 MOC-Floyd Valley 11-21-10
Sioux City West MOC-Floyd Valley
Sioux City West MVAOCOU
Missouri Valley Tournament 
East Mills 21-21 Exira/Elk Horn-Kimballton 18-18
Boyer Valley 22-21-15 East Mills 24-11-8
Riverside 21-21 East Mills 18-14
Missouri Valley 22-21 East Mills 20-4
Woodbine 21-21 East Mills 11-14
East Mills 16-26-15 Griswold 21-24-11
Griswold 21-21 Woodbine 17-11
Griswold 21-21 Exira/Elk Horn-Kimballton 11-13
Griswold 18-21-15 Boyer Valley 21-12-13 
Riverside 21-21 Griswold 15-14
Missouri Valley 21-21 Griswold 12-16
Missouri Valley 21-21 Riverside 18-17
Missouri Valley 21-21 Exira/Elk Horn-Kimballton 16-7
Missouri Valley 21-21 Boyer Valley 10-14
Missouri Valley 21-21 Woodbine 10-7
Riverside 21-21 Exira/Elk Horn-Kimballton 9-19
Riverside 21-21 Woodbine 17-12
Boyer Valley 21-21 Riverside 18-18
Boyer Valley 21-21 Exira/Elk Horn-Kimballton 8-19
Woodbine 21-11-15 Boyer Valley 16-21-9
Exira/Elk Horn-Kimballton 21-13-15 Woodbine 19-21-9
Coon Rapids-Bayard Tournament  
POOL A
AHSTW 21-21 Madrid 7-10
AHSTW 21-21 Panorama 8-3
AHSTW 21-21 Coon Rapids-Bayard 11-11
Coon Rapids-Bayard 21-21 Collins-Maxwell 17-14
Panorama 21-21 Coon Rapids-Bayard 17-14
Madrid 21-9-15 Coon Rapids-Bayard 10-21-12
POOL B
CAM 21-21 Collins-Maxwell 17-5
CAM 2 Ogden 0
Ankeny Christian Academy 21-21 CAM 12-15
Ankeny Christian Academy 21-21 Collins-Maxwell 10-4
Ankeny Christian Academy 21-21 Ogden 7-7
BRACKET
Championship: Ankeny Christian Academy 13-21-15 AHSTW 21-17-7
Third Place: CAM 2 Madrid 1
South Central Calhoun Tournament 
POOL A
Audubon 21-21 Perry 12-10
South Central Calhoun 21-21 Audubon 16-18
Audubon 21-21 Belmond-Klemme 12-16
BRACKET
Spencer 21-21 Audubon 11-14
Manson NW Webster 24-15-15 Audubon 22-21-5
Ridge View Tournament 
POOL A
Ridge View 21-21 Ar-We-Va 12-10
West Monona 21-19-15 Ar-We-Va 16-21-8
Westwood 21-21 Ar-We-Va 12-13
Ashland-Greenwood Triangular 
Syracuse 25-25 Ashland-Greenwood 9-13
Syracuse 25-25 Douglas County West 10-15
Douglas County West 25-25 Ashland-Greenwood 16-16
Weeping Water Tournament 
POOL A
Weeping Water 25-25 Wilber-Clatonia 23-23
Lourdes Central Catholic 25-23-25 Wilber-Clatonia 23-25-19
Lourdes Central Catholic 25-25 Weeping Water 8-15
Weeping Water East Butler
Lourdes Central Catholic 25-25 East Butler 17-22
POOL B
Yutan 25-25 Conestoga 11-16
Falls City Sacred Heart 25-25 Conestoga 14-12
Humboldt-TRS 25-25 Conestoga 17-12
Falls Sacred Heart Humboldt-TRS 17-11
Falls City Sacred Heart 26-25-25 Yutan 28-13-21
BRACKET
1ST: Falls City Sacred Heart 25-25 Lourdes Central Catholic 22-17
Yutan 25-25 Weeping Water 9-15
Freeman Tournament 
Elmwood-Murdock 25-25 Diller-Odell 12-22
Johnson-Brock 25-25 Elmwood-Murdock 18-18
Johnson-Brock Freeman 10-14
Mead 25-23-25 Johnson-Brock 21-25-16
Sterling 23-25-25 Deshler 25-15-20
Sterling 25-25 Pawnee City 10-11
Freeman 25-25 Sterling 18-23