(KMAland) -- A fun day of running at Iowa Western, another dominant day for the Sioux City North boys and a solid day for both Denison-Schleswig teams highlighted Saturday's KMAland cross country slate. 
AT Lewis Central 
The Glenwood girls edged Harlan by one point, 43 to 44, to claim the team title. Madelyn Berglund paced the Rams with a third-place finish in 21:42.80. Rachel Mullenax was fifth (22:04.50), Breckyn Petersen claimed sixth (22:09.30) and Riley Wiese finished eighth (22:31.60). Harlan's Lindsey Sonderman was the individual champion in 20:15.90 while teammate Kaia Bieker was second in 21:03.20, Ellie Gross ninth (22:36.10) and Jenna Gessert 15th (23:15.10). 
Plattsmouth finished third as a team, paced by Natalie Briggs' seventh-place showing in 22:22.10. Jolie Dix, Jozlyn Barnes and Mila Wehrbein also medaled by finishing 11th, 12th and 14th. St. Albert's Tyler Tingley claimed fourth in 21:57 and Heartland Christian's Grace Steinmetz was 10th. 
On the boys side, Glenwood won the team title with 57 points while Lewis Central's Ethan Eichhorn ran to the title in 16:58.40. St. Albert's Colin Lillie was second (17:27.70) and Glenwood's Bryant Keller took third (17:36.80). Plattsmouth's Carter Moss and Elijah Dix rounded out the top five in respective times of 17:58.20 and 17:59.70. Tyler Shelton (Harlan), Liam Hays (Glenwood), Cole Dooley (Treynor), Kade Diercks (Lewis Central), Dillon Anderson (Glenwood), Bryce Patten (Underwood), Roi Soriano (Thomas Jefferson), Sam Campin (Plattsmouth), Nicholas Milner (Heartland Christian) and Mason Yochum (Treynor) also medaled. 
Lewis Central was second in the team standings, followed by Plattsmouth in third. View the full results here. 
AT Creston
The Creston girls tallied 16 points, led by Riley DeGonia won the title in 22:28.99. Payton Davis, Zoe Ralston and Amber DeGonia were fifth, sixth and seventh, respectively while Autumn Stafford, Sydney Strunk, Mallory Wilson and Tristen Rice finished 9th, 10th, 11th and 12th. East Union's Jillian Valencia finished fourth (24:12.57). Teammates Hayden Waigand and Aaleah Boles came home in 13th and 14th. 
On the boys side, East Union's Jacob Driskill finished second in 19:27.21. He was one of four Eagles to finish in the top 15, joined by Seth Ripperger (11th), Derek Albrechtsen (12th) and Peyton Long (15th). Creston had five top 15 finishers: Riley Wipperman (third), Triston Barncastle (eighth), Tyson Smith (ninth), Gabe Hopkins (13th) and Christian Ahrens (14th). Check out the full results below.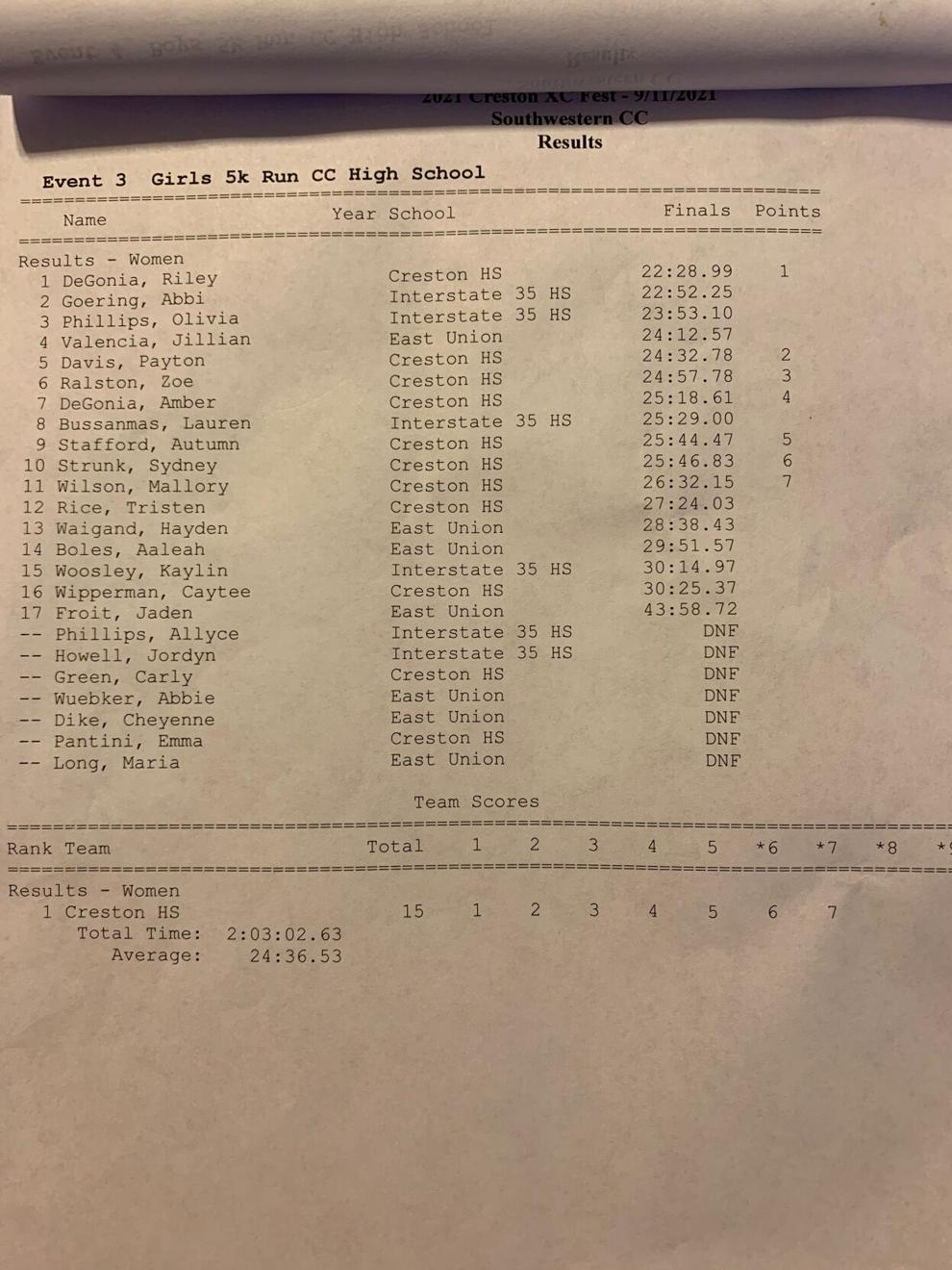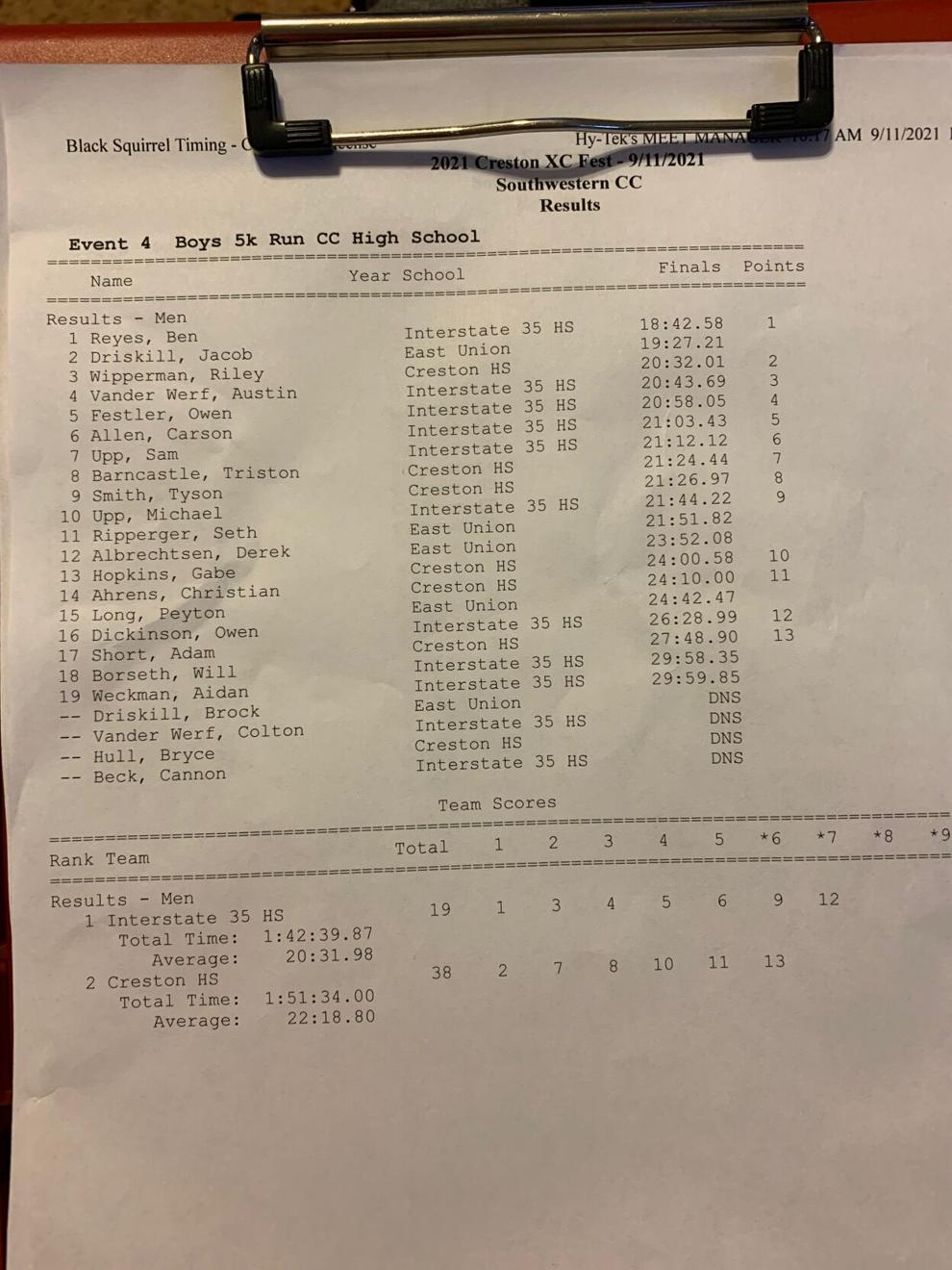 AT Ridge View
Bishop Heelan won the Class A girls crown with 32 points, led by a fifth-place showing from Brooklyn Stanley (21:15.10). Delaney Saulsbury was sixth (21:17.66) and Jada Newburg took eighth (21:30.59). Sioux City East's Kaia Downs won the title in 19:04.65. Teammate Alexys Jones took 13th (22:01.58). 
In Class B, Logan-Magnolia dominated with 44 points. Courtney Sporrer won (19:39.09), followed by Madison Sporrer (19:43.52) in second. Haedyn Hall finished sixth (22:01.66).
On the boys side, Sioux City North finished with four runners in the top five and scored 23 points. Natnael Kifle won it in 15:59.93, Gabe Nash was second (16:13), Yemane Kifle in fourth (16:45.45) and Beshanena Gutema fifth (16:45.90). Sioux City East's Ryan Campbell was sixth (17:11.49), Kuemper's Michael Pottebaum took seventh and Sergeant Bluff-Luton's duo of Carlos Rodriguez and Hayden Gamble medaled with finishes of ningth and 14th. 
In Class B, Woodbine's Landon Bendgen ran to a title and led his team to a second-place finish behind Ogden. Bendgen recorded a time of 17:45.59. Riverside's Mason McCready finished 13th (19:00.17)
View the full results below. 
AT Greene County
Denison-Schleswig's Lola Mendlik won in 21:04.00 while Emily Bahnsen took 10th and the Monarchs finished second as a team. Audubon's Grace Slater medaled with a runner-up finish in 21:49. Teammates Stephi Beisswenger and Hannah Thygesen also medaled with finishes of fifth and 11th, respectively. IKM-Manning's Emily Albertsen claimed seventh. 
In the boys race, the Monarchs won the team title, highlighted by Leo Flores' championship in 17:48.00. Ricky Ledesma claimed fifth (18:58.00), Ethan Perrien was 13th and Yohannes Brihane finished 15th. Audubon's Jackson Deist took 10th in 19:32. IKM-Manning's Lane Smith, Josiah Conner and Kaiden Keller medaled with performances of 6th, 7th and 11th. 
View full results from Denison-Schleswig below. 
AT Raymore-Peculiar 
The Maryville boys won the team title in the small-school portion of the event with 30 points. The Spoofhounds finished second, third and fourth with Jag Galapin (17:18.50), Connor Blackford (17:55.00) and Cale Sterling (17:58.50). Dylan Masters took ninth (19:15.10) and Bradley Deering finished 15th (19:45.30). View the full results here.