(Rosendale) -- North Andrew's Hayden Ecker and Jacob Chittum collected big accolades from Missouri8ManFootball.com on Thursday.
Ecker was named the Offensive Player of the Year, and Chittum collected Defensive Player of the Year honors.
Additionally, East Atchison's Jarrett Spinnato was named the Special Teams Player of the Year. 
Ecker, Chittum and Spinnato were first-team All-State choices at running back, defensive lineman and defensive back. Worth County's Dylan McIntyre (WR), Platte Valley's Trevor Weir (DL) and East Atchison's Charlie Litherbury (LB) were also first-team choices. 
Second-team tabs went to North Andrew's Aiden Miller (OL), Chittum (OL), Worth County's Jase Latham (DL), North Andrew's Dawson Eychaner (LB) and Platte Valley's Carter Luke (DB). 
Worth County's Tyler New (QB), Litherbury (OL), East Atchison's Colin Hedlund (OL) and Weston Klosek (DL), North Andrew's Collin Patterson (DL) and Andrew Goff (LB) and Stanberry's Tucker Schieber (DL/LB) were named to the third team.
View the full teams below.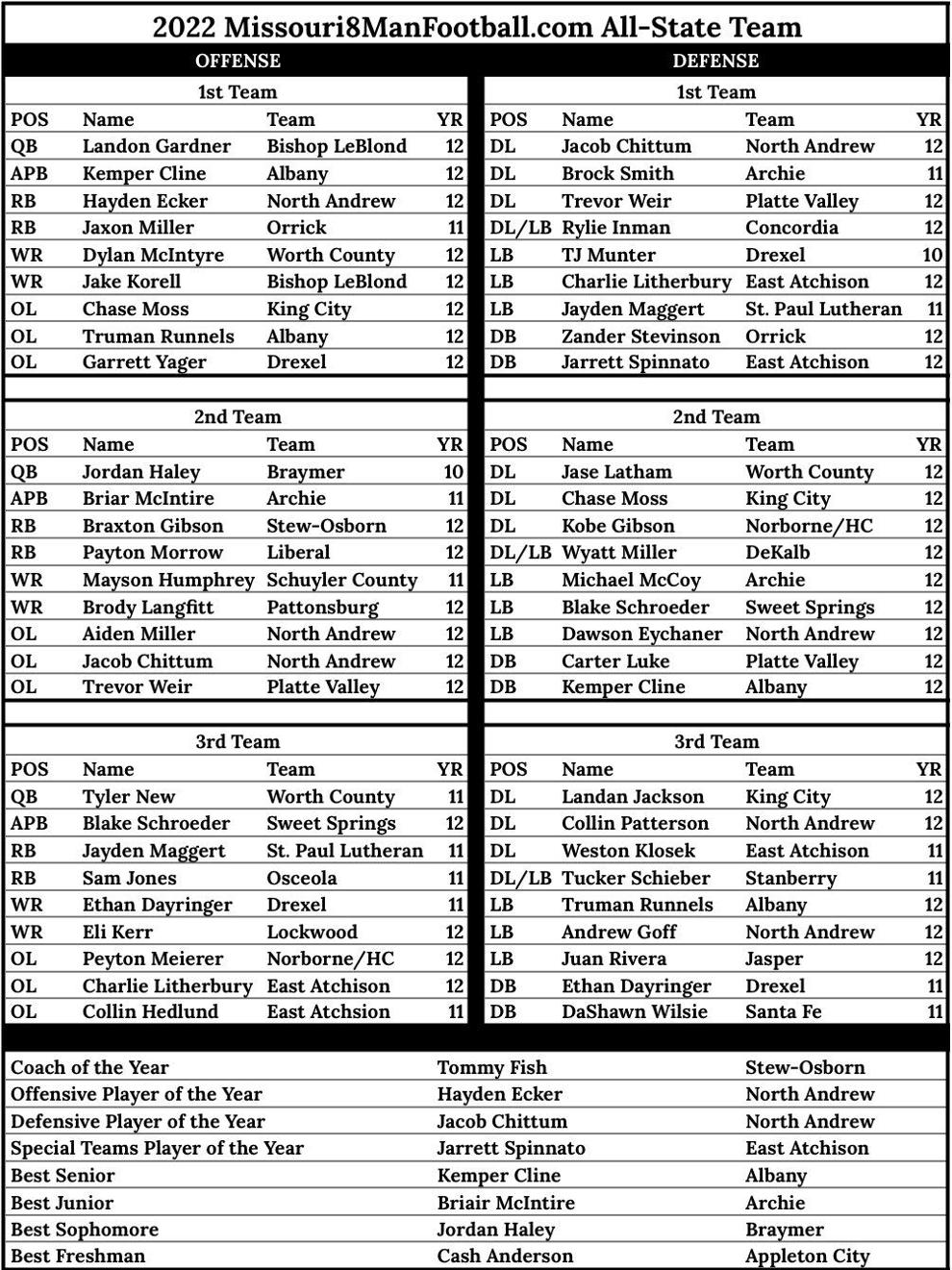 PREVIOUS 2022 KMALAND POSTSEASON AWARDS 
Missouri Class 3 District 16 Volleyball
Rolling Valley Conference Volleyball
Missouri River Conference Volleyball
275 Conference Volleyball & Football
Pride of Iowa Conference Volleyball
Class 8-Player District 10 Football
Midland Empire Conference Softball
Class 8-Player District 8 Football
Western Iowa Conference Volleyball
Hawkeye Ten Conference Volleyball
Midland Empire Conference Volleyball
Bluegrass Conference Volleyball
Class 8-Player District 9 Football
Nebraska Capitol Conference Volleyball
Nebraska Class C-1 District 1 Football
Trailblazer Conference Volleyball
Class 8-Player District 7 Football
Midland Empire Conference Boys Soccer
East Central Nebraska Conference Volleyball