(Avoca) -- There was a lot of parity at the top of both the individual and team results from Tuesday's meet held at Avoca Golf Course.
The Missouri Valley boys and AHSTW girls claimed the team titles while the individual champions came from two different schools. 
Logan-Magnolia's Courtney Sporrer won the girls' race, doing so in a time of 19:49.30.
"This course is always pretty hilly," Sporrer said. "I always try to get out pretty early because I feel like I die down. My strategy is to get out harder and see where I go from there." 
St. Albert sophomore Reese Duncan claimed the runner-up spot in a time of 20:24.30. Duncan's successes this season have come in her first year in the sport of the country.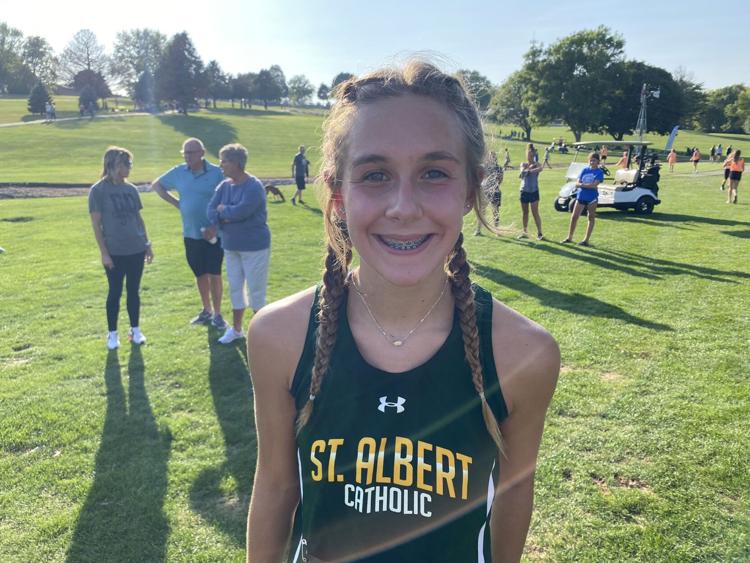 "It's gone a lot better than I thought I would," Duncan said of her season. "I didn't run last year, so to come out here and place pretty well is way better than I thought it would." 
Underwood's Georgia Paulson continued the youth movement with a third-place finish. 
In the team race, the host AHSTW edged Lo-Ma for the title by four points, scoring 49 to Lo-Ma's 53. Julia Kock paced the Lady Vikes with a seventh-place finish while teammates Holly Hoepner and Chloe Falkena were right behind her in eighth and ninth. 
Other medalists from the girls' race included Treynor's Clara Teigland (4th) and Carissa Spainer (14th), St. Albert's Carly McKeever (5th), Audubon's Hannah Thygesen (6th) and Katelyn Nielsen (15th), Lo-Ma's Mya Moss (10th) and Greylan Hornbeck (12th), Missouri Valley's Bre Boruff (11th) and Underwood's Jordyn Reimer (13th).
Complete results from the girls' race can be found here -- TEAM INDIVIDUAL
Treynor's Cole Dooley won a hotly-contested boys race with a time of 16:58.80. Dooley ran with the pack in the first half, but pulled away late for the win, finishing seven seconds ahead of runner-up Quentin Dreyer (IKM-Manning).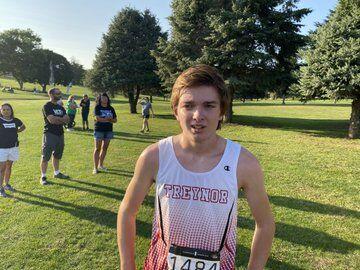 "I just hung with Quentin, at the end, I just kicked it and came out with the dub." 
Dreyer was the leader among four IKM-Manning runners that placed in the top 20.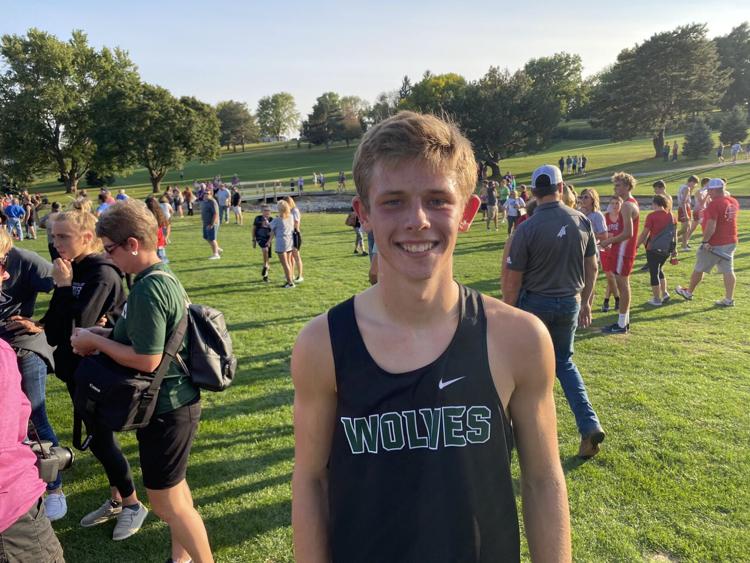 "I knew there was going to be good competition going into the meet," Dreyer said. 
Teammate Connor Keller also medaled with a fifth-place finish, but it wasn't enough for the Wolves to claim the team title as Missouri Valley edged them by four points. 
The Big Reds' championship effort was paced by a third-place finish from Cody Gilpin. Teammates Brek Boruff (6th), Will Gutzmer (8th) and Jackson Hustak (11th) also medaled for Mo. Valley. 
Other area medalists included Underwood's Gable Porter (4th), Kaden Ogle (12th) and Bryce Patten (13th), Woodbine's Landon Bendgen (7th) and Nate Wright (14th), Riverside's Ben Schroder (9th), Treynor's Mason Yochum (10th) and St. Alberts Hadyn Piskorski (15th).
Complete results from the race can be found here -- TEAM INDIVIDUAL 
Complete video interviews with Duncan, Dreyer, Sporrer and Dooley can be viewed below.